Made a very quick run down to the land yesterday to try some hog eradication. If you want to skip the novel and go straight to the pictures they are down there a ways!

It was a beautiful day in West Texas, I was at the office working on some stuff I needed to get done, but it was 60 degrees, sunny and most importantly, the wind wasn't blowing. Looking out the window I couldn't take it anymore and decided I would run down to the land. Work could get done later. I Left the house at 2:00 and made it down to the land at 3:30, and was in the blind by 3:45.

About 4:45 a medium sized boar showed up and was checking out my protein feeder. It is fenced off to keep the pigs out, but he still seemed interested. I took a 175 yard shot with a rest and he took off running. Shot at him again on the run and when he got to the brush he slowed up and I thought he might have been limping. I had felt pretty good about the shot, but was 2nd guessing myself. I left the blind and worked downwind of him and looked around and didn't see a thing. Walked along where he had gone into the brush and didn't see any blood. Went back to the protein feeder about 200 yards away where I had shot and couldn't find any blood. Decided that I must have missed and went back to the blind about 5:30.

Usually the pigs start moving a little before sunset, but 6:00 rolled around and nothing, some coyotes started making quite a ruckus in the direction that the pig I had shot at went, so maybe I did hit him and the coyotes got him. 6:30 or so and the sun goes down, pretty cloudy so not much of a sunset. 7:00 and things are unusually quiet. I decided that it must be the full moon causing everything to sleep in later. I was about to call it a night when I saw a pig in my shooting lane food plot 300 yards away. It was right at the end of legal shooting light, and having just missed a 175 yard shot I decided to try to get closer. The pig was rooting my food plot and went behind a small cedar tree so it looked like I should have a good chance to get closer.

I was torn between getting there fast since it was getting pretty dark, and trying to be quiet. When I was in the blind I squealed a couple times as loud as I could while looking through the binoculars to see if the pig would get curious and head my way, but it never even looked my way. I could see dirt flying out behind him, so I figured he wasn't going to be paying much attention and leaned toward the get there fast option since it was really getting dark in a hurry.

I was walking down my shooting lane food plot trying to stick to the edge and trying to figure out where the pig was or if it was even still there. It was probably 10 minutes past shooting light but that doesn't really matter for pigs from a legal standpoint, but it does matter from whether you can see them to shoot them or not standpoint. I was about 100 yards away, maybe a little less and I heard the pig and he figured something was up. He moved into the center of the shooting lane and stopped. I had put my scope all the way down on 4x so it would be the most effective in the low light and the moon was up and that was helping too and I could just make the pig out in the scope. No time to really think about it, I just dropped to one knee, aimed and fired.

I heard the bullet hit and the pig went down. I'm not really hip on chasing pigs around in the dark, so I got ready to shoot again if he got up and started walking toward him. He was down hard and wasn't getting up. I recognized him as one of the larger boar hogs that I've been getting pictures of on my trail camera. It had been so dark that I thought it was a black pig, but he is actually a medium to light brown color.
Here's a picture of me with the pig.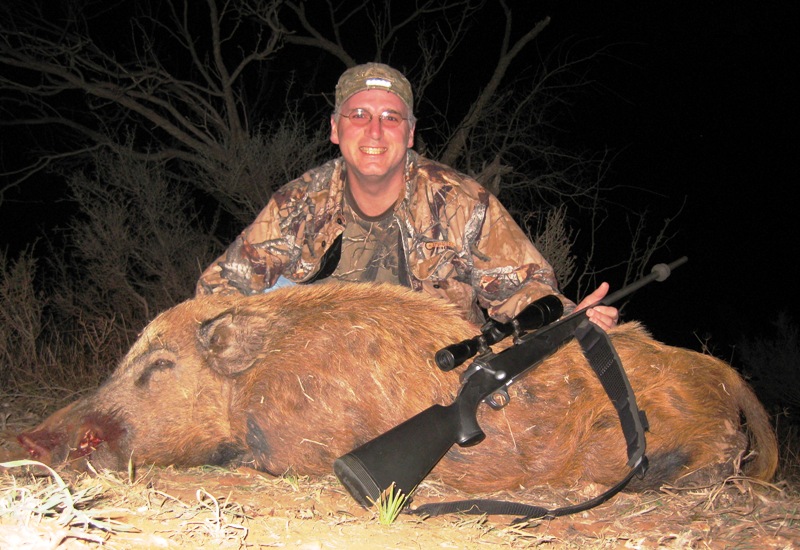 I'm not a fan of the field photos where the guy stands way behind the animal so the animal looks bigger, but it almost seems like that is the way this one turned out. I took the picture on a timer with the camera sitting on my fanny pack and I think it must be the wide angle shot from the ground making it look that way. You can tell my arm holding the rifle is bent, and I was actually all the way up against the pig. My right had was actually holding his head up straight.
I was in my company trailblazer so I couldn't haul it up to my campsite and weigh it, but I would guess it right around 250lbs. I've shot 2 other large boars and both weighed in right around the 250lb mark. I always try to get a picture with a cooler in it to help give a better size perspective.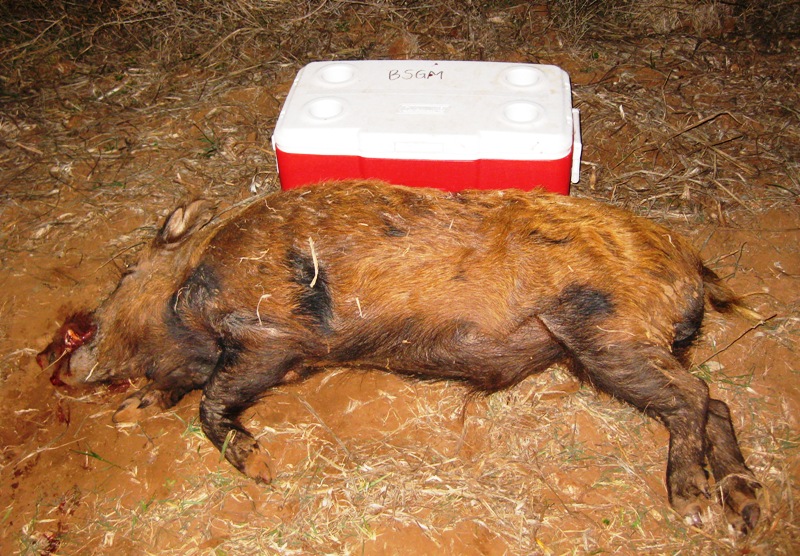 For comparison here's a 150lb pig from last week.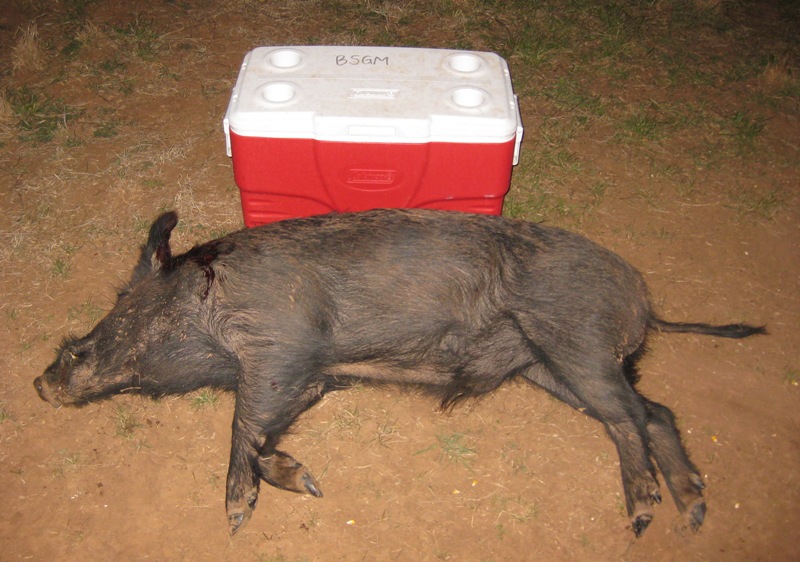 I didn't even notice the cutters until I started moving him around to start processing him. I think he may have the longest cutters of any pig I've shot. His right cutter was broken off though.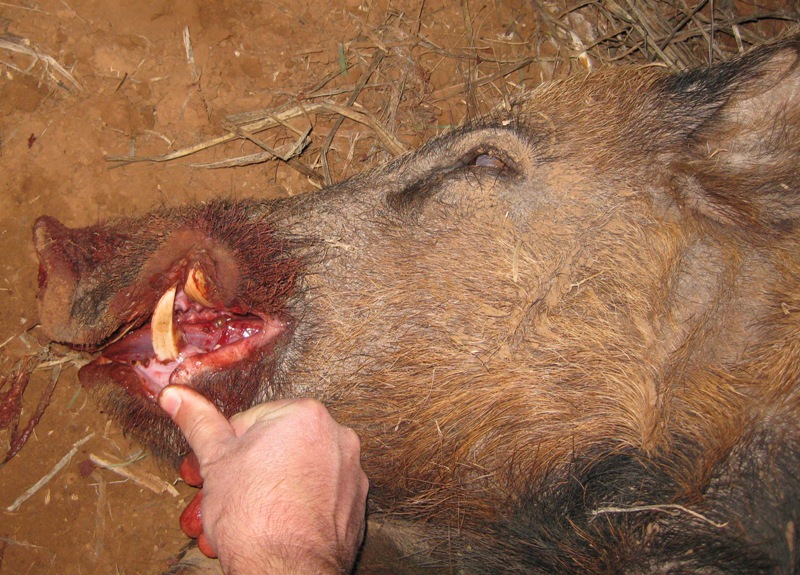 When I was cutting him up and getting him in the cooler I was shocked to find my bullet didn't pass through. I'm shooting a 7mm Rem Mag from 100 yards or less. The bullet was just a cheap soft point, but it actually held together really well. I hit him high and hit the spine, but I would have still expected a pass through.

Here's a link to the picture of the bullet. I'm not posting it as an image in the post because it is kind of graphic. If you want to look at it just click on the link.
http://padens.com/v-web/gallery/albums/album07/pig2_bullet.jpg
The bullet is on the right side of the picture and was pretty much intact although it had mushroomed quite a bit. You can see the exit and you can see where the bullet put a dent in the skin trying to get out. Ignore the part where I wasn't wearing gloves, the entire trip was kind of an impromptu thing and I wasn't as prepared as I should have been.
Here's the explanation for why the bullet didn't pass through.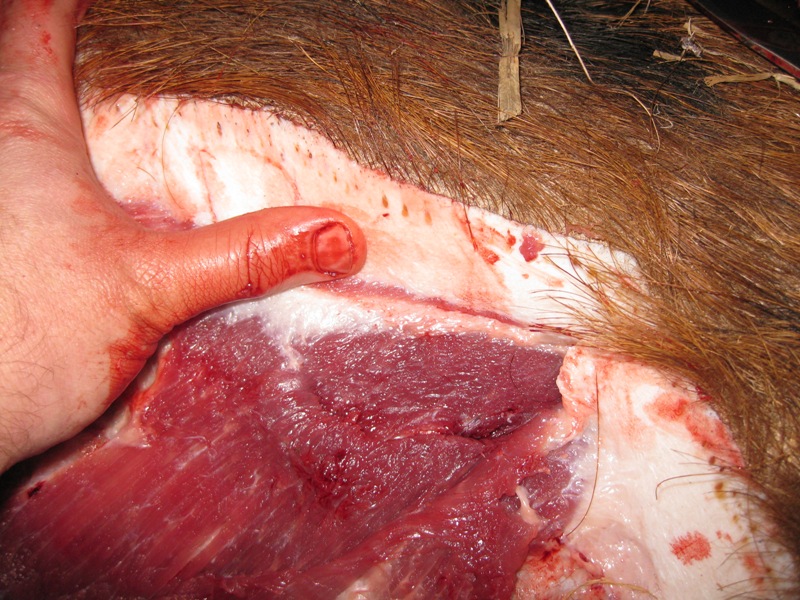 This pig had the thickest armor of any of the large boars that I've shot. It was easily 2" think and that wasn't even high up on the shoulder where it is the thickest. It went all the way down his spine nearly to his hindquarter. This isn't fat, it is almost as hard as bone, like really thick cartilage. The mature boars build up this plate of armor as a defense against the razor sharp cutters of other boars when they are fighting. Really amazing how these mature boars are put together.

Oh well, this ended up being quite the novel. If you read it all, I hope you enjoyed it. It was a pretty fun hunt. Left the house at 2:00 and was back home at 10:30.
Nathan