Well, I'm a little late getting this posted, but I was able to sneak down to my hunting property in Fisher county for a Friday night, Saturday morning hunt last week.
A guy on another hunting forum is working on a solar/lunar type forecasting calendar that also takes into account local weather conditions. Here's a link to his website - http://ranulos.com You just put in the nearest zip code to where you will be hunting and it projects a graph for the next six days based on the long term weather forecast. Anyway, I plugged the zip code nearest my hunting property in there and it showed that Friday evening was going to be an excellent day for hunting. I needed to go down to check on things anyway so I figured I would try to get in a quick hunt while I was at it.
I took the afternoon off work and hitched up the travel trailer and hauled it down to the property, backed it into its spot and headed off to my big blind on top of the hill. It was a little windy and it was going to be a full moon, but a cold front was heading in and I was hoping to get in on some movement from that.
No such luck. In the 4 years I've owned the property I've only sat in that particular blind and completely struck out without seeing a single animal one other time, but I didn't see a thing that evening even if the fancy ranulos software said it was an excellent evening for a hunt. It sounds like the guy is really working on a good program, but for now it doesn't seem to fail proof.
The program showed that the next morning was not going to be a good day to hunt, but I was down there and wasn't going to pass up a chance to hunt. I was in the blind an hour before sunrise and watched the world wake up from my hill top view. Always a great thing. The wind was blowing a bit and the sun came up and nothing was moving. I did see some quail, but I was chalking up my complete strike out of seeing anything else to the fire that burned my place up back in May. I had been keeping my protein feeder filled all summer and there were deer eating at it, but at 12:00am and 4:00am and never during the daylight. I figured they were bedding far away from my property where the fire wasn't as bad and moving to and from my place to eat at night and I was going to be out of luck this year.
I was going to sit for another couple hours, but figured it was pointless then out of no where I spot a nice 3 ½ year old 9 point about 150 yards to the south of the blind. I was surprised I hadn't seen him earlier as with the fire I had thought I would be able to see anything within 300 yards because the brush was basically all gone. He was a nice buck, but not a monster and for sure had a few years of growth before he would reach his full potential. I'd had pictures of him on my trail cameras for the last couple years and I decided I was going to pass on him. I watched him for 30 minutes as he made a complete semi-circle around me. For the anti-baiting folks, I watched him walk within 50 yards of my protein feeder then walk right by two different spin feeders that had spun out some corn earlier that morning without even slowing down. He was for sure more interested in looking for does than looking for corn laying on the ground.
He was gone for a few minutes and then I spotted another buck about 150 yards to the East. I watched him a little bit and reached for my rifle. I was pretty sure that it was "Stubby", a mature buck that I passed on last year and regretted it the rest of the season. I watched him a little and then a doe showed up and he chased her a bit. One thing I noticed was that his tarsal glands were not dark at all and the 3 ½ year old buck I had watched earlier had extensive tarsal staining on his back legs to the point that they were nearly black. Looking at him he was much bigger than the doe he was chasing and his antlers looked very similar to Stubby from the year before so I decided to take him.
Here's a picture of "Stubby" from last year: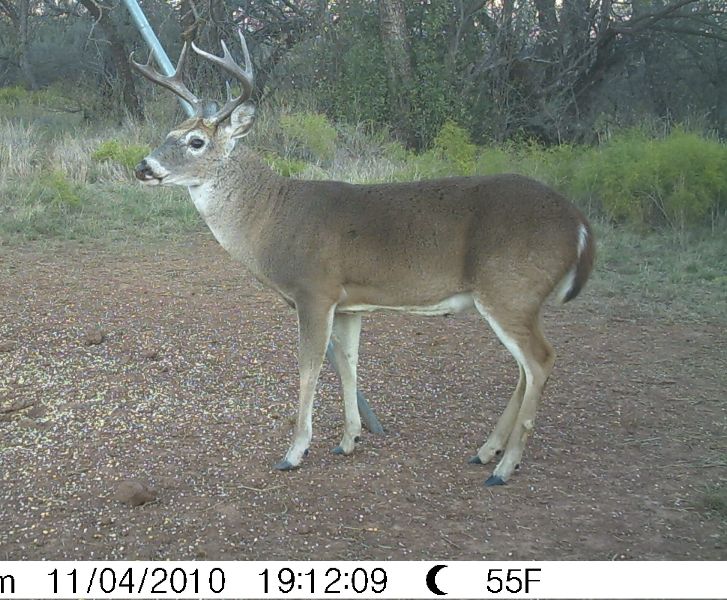 He was right at 100 yards and it was an easy shot. I squeezed the trigger and he jumped and kicked out his back legs and I knew it was a good hit. He ran off about 100 yards and then slowed down and looked back. The doe was still around and she started walking off and he started following her. I decided I better shoot again and as soon as he stopped I shot again and hit him in the front right leg but it was low. The doe took off and he followed right behind her again. They actually came closer to me so evidently they had no clue where the shots were coming from. He stopped about 150 yards broadside and I decided I needed to keep shooting. I shot again and he went down. Somewhere in there I shot 1 more time and remember him jumping and kicking again but I can't remember exactly where it fits in the sequence of events. At some point I thought I must just be missing, but it sure sounded and looked like I hit him with each shot.
I was pretty shocked to have 4 shots at a whitetail with my 7mm Mag with all shots taken at a stationary deer under 200 yards away. I waited a bit and got my stuff together and then walked over to where he was at and was surprised to see that the deer laying on the ground wasn't Stubby. At first I thought he must be a 2 ½ year old buck based on how small his antlers were, but based on his body size, tooth wear, and the mass of the antlers I'm pretty sure he was a 3 ½ year old now. Either way it was clearly a case of mistaken identity, this was not Stubby, but probably one of his sons.
Here's a picture of me with the buck I shot.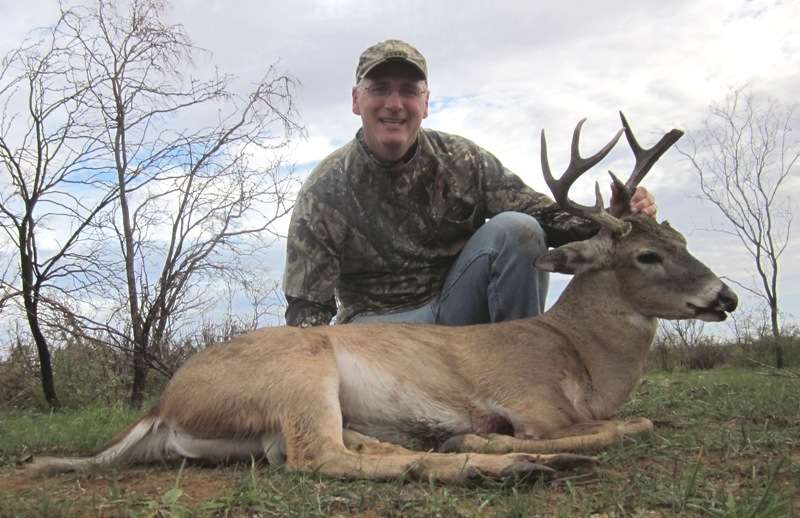 The buck I had passed on earlier in the morning had much larger antlers, but I had passed on him because he was too young and then turned around and shot another buck that was probably the same age but had smaller antlers! Oh well, in theory I guess I could look at him as a management buck because he really had limited potential to grow much bigger antlers and the buck I passed on earlier in the morning should be a really nice buck next year.
Examining him as I skinned and quartered him I could see where I had hit him 3 times. The one that was low on the front leg wasn't fatal but both of the other shots were. Then when I boned him out I found another hole in the front shoulder blade that I think might have been the 4th shot. I may have hit him each time, he just didn't think it was time to go down.
I was lazy and took him to get butchered again and ended up with 59.3lbs of boneless meat off of him. If you do that math that would mean that he weighed somewhere around 180lbs on the hoof, so he was a decent sized deer for around here from a body size perspective, just not from an antler perspective.
So my hunting season is over it looks like. Not sure I'll get a chance to do any trapping or anything else. I could shoot a doe, but I'm going to let my friend Ben hunt on my place if he wants and let him shoot whatever he wants, doe, big buck, little buck, whatever.
That's it for now. Nathan