Well, I felt like I pushed it about as hard as I could and snuck in under the buzzer to go sub 44 minutes. Official time was 43:58.3.
Cool and rainy for the last couple days, race time temperature was 47 degrees, 86% humidity, wind ENE at 7 mph. Heavy overcast, but not raining. Pretty close to perfect race conditions.
Got there a tiny bit late and my warmup was a bit short with just over a mile of easy running with just a couple short strides mixed in. Made a pit stop right before the race and barely got in line and was still messing with my Runkeeper app when the gun went off.
Went out and settled into a 7:05 pace which felt manageable, but by mile 2 I was starting to breath harder than normal. This training cycle I spent a lot of time on intervals and hardly any time on tempos so I actually hadn't been breathing hard for an extended period in a while so I was hoping that it wouldn't end up being an issue. Legs were feeling good and other than breathing a little harder than I expected to be, I decided I could stick with it and tried to keep a 7:05 pace for the first 3 miles. Miles 1, 2 and 3 clicked off at 7:06, 7:07 and 7:05.
At the turn around I was breathing about the same and legs still felt decent so I tried to pick it up a little bit. If I pushed too hard I could feel it and I would find myself thinking I was locked in on a solid pace and then my runkeeper audio cues would tell me I was actually slowing down so I would have to push it back up again. Miles 4 and 5 clicked of at 7:03 and 7:03. I thought I picked it up on mile 6 a bit and my audio cues kept telling me 6:5X split pace for pretty much the entire mile, but I must have slowed a little right at the end and it ticked up to a 7:01 split.
With .2 miles to go I tried to pick it up again and felt that I did to some extent, but I was running out of steam and I wasn't going to catch the guy ahead of me but I still needed to finish strong to make sure I ended up sub 44 minutes. I tried to break into a sprint for the last 100 yards, but it just wasn't happening. I was hurting and didn't have much left in the tank. My wife said that I looked really tight. The clock was ticking down and I gave everything I had and crossed with 43:5X on the clock! For a second I thought I could beat my time from last year by a full minute (last year was 44:51), but I just didn't get there.
I was gassed after I passed the line and it took me about 10 seconds to get my GPS stopped so my GPS splits for the last bit aren't correct. I took 10 seconds off that last split duration and that would calculate out to a 6:40 pace for the last .24 miles which seems about right.
Here's the splits. Very limited elevation gain or loss throughout the whole course. The biggest change is a gradual 25' drop and then back up at about the 2.5 mile mark going out and 3.5 mile mark coming back. Other than that it is pretty close to what most would consider pancake flat.
Splits (

GPS Interval

)
Type
Distance
Duration
Total Duration
Pace






1
Manual
1 mi
7:05.

23

7:05.

23

7:06
2
Manual
1 mi
7:06.

59

14:11.

82

7:07
3
Manual
1 mi
7:04.

41

21:16.

23

7:05
4
Manual
1 mi
7:02.

57

28:18.

8

7:03
5
Manual
1 mi
7:02.

66

35:21.

46

7:03
6
Manual
1 mi
7:00.

72

42:22.

18

7:01
7
Manual
0.24 mi
1:35.

82

43:58.3
6:40
Not sure I left much out there on this one. Felt like I paced it just about perfect and those last few miles I kept thinking I was pushing it up and then my audio cues would tell me that I really wasn't so I would try to push it up again. This seemed to repeat itself from about mile 4 on in. I would push the pace up to 6:5X and then the next audio cue would tell me I had dropped back to 7:0X so I would push it back up, rinse repeat.
Thanks for the input and advice. Don't think I have a 6:59 pace 10K in me right now even with perfect weather. Maybe that needs to be my goal for next years race.
My wife and 7 year old son ran the 2 mile distance of the same race and both finished in the top 3 of their age groups as well. Here's the family with our medals after the race.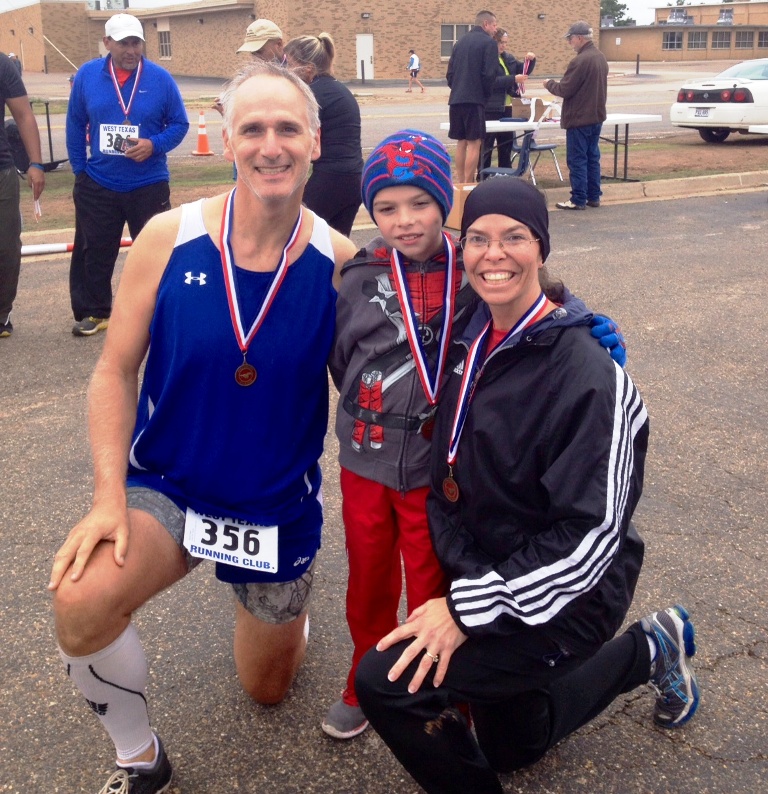 That's it for now. Nathan