Well the New Mexico results are in and I finally got some luck!
When the emails came out last night all I got was an email notifying me that I was successful on my 3rd choice elk tag but didn't get any other emails. They only send out emails to the successful applicants so I figured I struck out on everything else.
I was still happy with the elk tag, but a little disappointed that I didn't draw my 3rd choice deer tag because this will be the last year with really good odds on it since New Mexico will be completely revamping it's drawing system for nonresidents and the odds for the unit I apply in for my 3rd choice are going to go from around 40% to somewhere closer to 10%. I also passed on some decent bucks in that unit last year and shot an older buck instead so hopefully they will have all had a year to grow older and bigger!
The results post to their website at midnight MST time and I actually thought about staying up to check on it, but decided against it and went to bed. When I woke up this morning the first thing I did was go check the results though and was surprised to see 2 green boxes instead of just one for the elk tag. I drew my 3rd choice deer tag too!
Of course if I was REALLY lucky I would have drawn the sheep tag or the ibex tag, but I'll settle for the deer and the elk tag!
Here's my official results!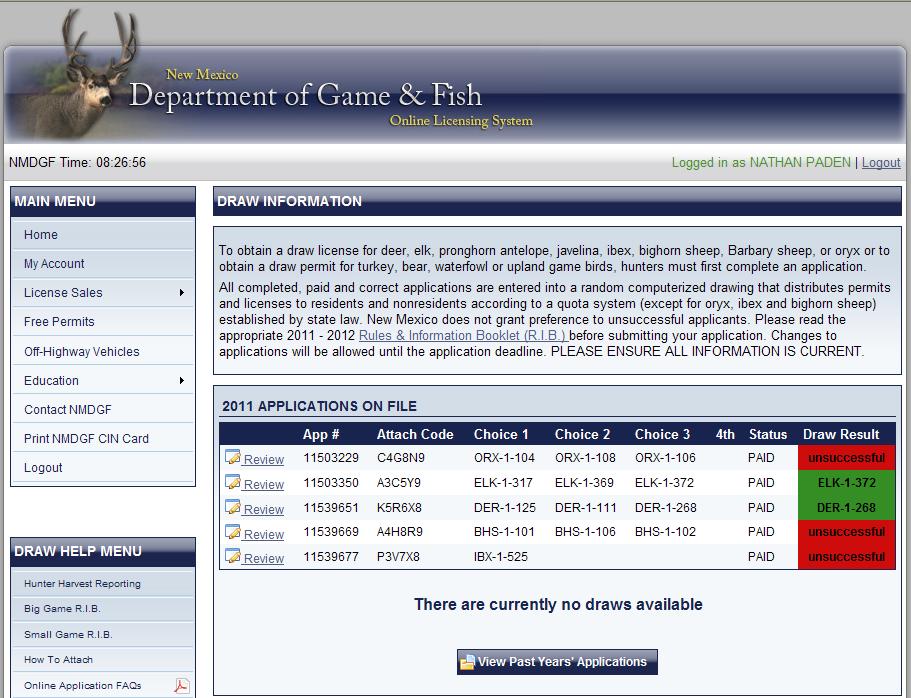 The 3rd choice elk tag is for a unit that I did a lot of research on the computer for, but I haven't stepped foot in the unit in person. The success rates are pretty good and the drawing odds were decent (about 30% last year for nonresidents) but it isn't known for it's quality. From what I understand a 300" bull would be a very good bull for that area, but that's plenty big enough for me.
The other interesting thing about the area I drew is that it is a Wildlife Management Area (WMA). This will be the last year that nonresidents are allowed to hunt them in New Mexico so that will be kind of unique too.
I've got the map of the WMA overlayed on google earth and have been looking at it already. I will definitely need to keep working on getting in shape, the unit is roadless and the elevation starts at 7,700' and tops out at 11,000'! Of course if I stick with my typical strategy I will want to go to the thickest nastiest spot in the WMA because that's probably where the elk will be!
Only negative is that my friend who hunted with me last year on my New Mexico elk hunt also applied for the same areas that I did and he didn't end up drawing. Hopefully I will still be able to talk him into going with me though!
That's it for now. Nathan