Introduction
The Flying Pig. In some ways I think that this is an appropriate marathon for me as somewhat of a nontraditional runner. I for sure qualify for the pig part (I loved being able to eat whatever I want while I was training), not positive about the flying part yet, but I'm getting faster and faster. Maybe one day I will qualify as flying.
My wife has run in 6 marathons before and this was going to be my first. We signed up together back in November and started planning out our training. At one point I wanted to try to help her get a PR by training and running with her, but we decided our training styles and goals were not going to match up very well so we decided to train separately, but maybe try to get one run a week in together. Then i
n January she ended up with Mono and was completely wiped out for the next 3 1/2 months so she had to give up her plans to run this marathon.
Training
I've been following the training plan from Hansons Marathon Method book and felt like it made sense and was something that I could handle. Although this was going to be my first marathon, I decided to follow their Advanced plan because it seemed to have the miles that I thought I would need to get through my first marathon and be able to actually perform well instead of just finishing. I ran several of my recent races through the pace calculators and ended up deciding that 3:50 was a realistic goal time that I was going to shoot for. Their plan has 3 workouts a week with prescribed paces to follow that tend to all work off your goal time and also your recent 5K and 10K times so that was nice to be able to just follow the plan and not have to really think about what to do on each workout.
I was probably too rigid in following the plan and before I knew it I had started a running streak going along with it. The plan actually has a rest day each week, but they do state that one of the easiest ways to add mileage is to add some easy miles on the rest day so that's what I decided to do. Before I knew it my streak was up to 20, then 30, then 50, then 100+ days of running. Having a treadmill at the house is the only way I was able to keep the streak going so well, but as I type this it is still going at 123 days in a row. I think I am going to break it today though!
I was meeting all my target paces in my workouts and even exceeding them sometimes although they specifically warn against that in the book. I don't think I ended up going way over on many of them, but I found myself pushing the last mile of a MP Tempo run or that last interval. I was feeling like my target goal time might be a little soft. I posted a few questions on some of the running forums and my expectations were brought crashing back to earth and I went back to just hoping that I could make my original target time of 3:50. There are a lot of unknowns on the last 6 miles of a marathon and I hadn't experienced any of them.
Day before the race (traveling, expo, carb loading, etc.)
To make sure things would be as hectic as possible, we scheduled our flights to and from Cincinnati with almost no time to do anything else. We got up at 5:00 am on Saturday morning, ate a quick breakfast and headed to the airport. The flights went smoothly and we were in Cincinnati around 2:00 pm that afternoon with plenty of time to get checked in and go to the expo, but really not much else. We ate lunch and then hit the expo. There was tons of booths and it was a maze to go through it all and get your shirt, bag and poster. Cathy was shopping for running shirts with cool sayings on them and I was getting tired of standing around. She decided to take a break on looking at shirts and we zipped through the rest of the booths without stopping. We hit the exit and I never did see the place to change my corral. I had originally signed up in November expecting to possibly run with her and we signed up with an expected 4:30 finish time and I was now hoping to go 3:50. Another trip back to the start of the expo and I found the right booth and the corral change was super smooth. I did make a donation to the one fund for Boston and got a neat little blue wristband that had Boston Strong in yellow on it with a flying pig on both sides. Also bought some body glide with a chance of rain still in the forecast.
I got in a little under a 2 mile jog down to where the starting line was and around the football stadium and that felt good. Just a nice easy run to shake out the legs after a long day of travel.
I had been trying to hydrate and eat plenty of carbs and limit my fiber throughout the week, but I really stepped it up on Saturday. I ate 2 bowls of cereal for breakfast before we left the house, had another breakfast on our layover in Houston with eggs, grits and hashbrowns, then in Cincinnati I ate 2 chicken burritos with lots of rice and probably too much beans for lunch, then for supper I ate 1/2 a sandwich and a bowl of penne pasta. I think I had some oreos and some other candy mixed in there throughout the day as well. I was stuffed! The original plan was to go to bed at 8:00 pm, but it was around 9:00 when we finally went to bed. Of course I had a hard time getting to sleep, but the last number I saw on the clock was 10:30 so not too bad. I tossed and turned a little, but sleep decent and the alarm went off at 5:00.
Race day morning
Checked the weather right off and it said it was raining and it was a 90% chance of rain the rest of the day. Bummer. I had laid all my clothes and gear out the night before and that all went well, but the one thing everyone always says is to never do anything for the race that you haven't already tried on a long run, but I broke that rule by putting body glide on my feet and just about anywhere else I could think of. With a 90% chance of rain I decided it was going to be worth the risk vs. almost a certainty of blisters and chafing if I didn't.
Breakfast was going to end up being a thrown together affair with whatever we had in the room, but the "light refreshments" that the hotel had for sale that morning that no one at the hotel knew what they would be the night before ended up being bagels and bananas which was what I would have eaten if I got to choose. I ate 1 1/2 bagels with peanut butter and a banana and drank a diet coke.
I have been a little concerned about staying "regular" and have had some very close calls on some of my long runs. We had been very observant throughout the last week of my fiber intake (as in tried to not eat any high fiber foods) and I was able to get everything worked out that morning at the hotel room. One last nervous pee right before we left and I was ready to go.
I've now bored everyone to tears and we haven't even gotten to the start line yet!!
We were very happy to note when we left the hotel that it wasn't raining! I guess the weather station must be a little way out of town so although the weather was saying light rain, it wasn't raining on us downtown. Hopefully it would stay that way for a while. We were staying just over 1/2 mile from the start so the walk over wasn't bad at all. Lots of other folks streaming their way to the starting line.
The starting line
We got to the starting line and things were pretty exciting. Lots of people, lights, even a helicopter flying around above. With the security notices the race had sent out and the fact that this was only 3 weeks since the Boston bombing, I was curious what the police presence was going to be like, but it really wasn't too noticeable. Saw a few uniformed policemen and a few with dogs, but nothing crazy. Pretty much about what you would expect for a big event like this. When we got to the corral I was assigned to, I was kind of surprised that it was so close to the start. At my first half marathon last year, the Kentucky Derby Festival miniMarathon, I thought I put us down as 2:00 hour expected finish time and we were barely able to see the starting line from where we ended up. Here we were about 200 yards or so from the start line.
Here's the pace group. Not sure what the little pink balloons are supposed to represent, I forgot to ask, but it was easy to spot them on the course with them carrying them.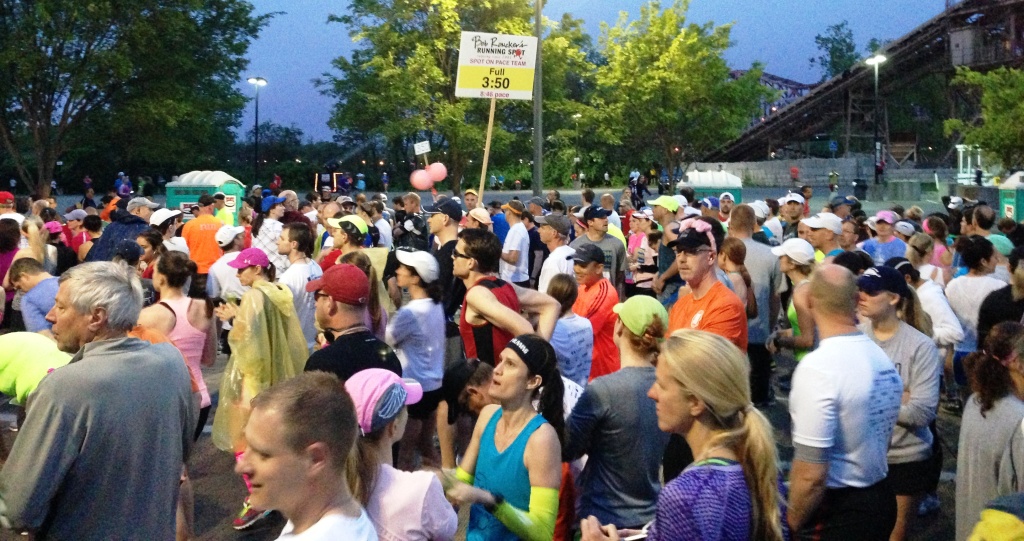 Here's looking toward the starting line. The pace groups were pretty close together in front of us, there was a pretty big gap to the 4:00 pacers behind us though.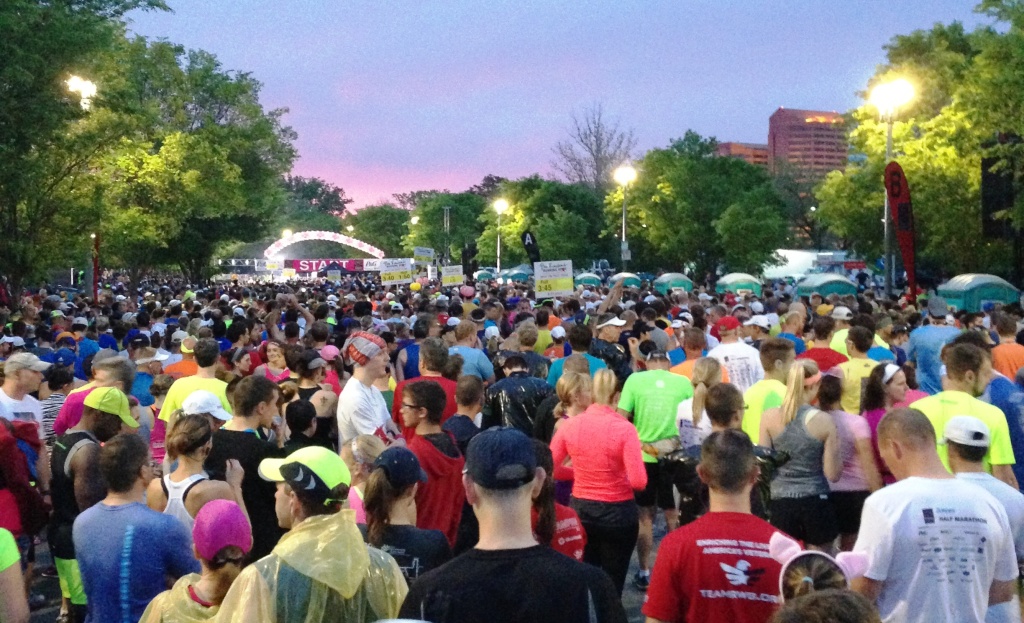 The race!
Did I mention that it was a beautiful morning? 55 degrees and 80% humidity at the start. The rain still hadn't shown up and there was just a light breeze blowing. A moment of silence for Boston, some bagpipes blowing, national anthem sung, a few words said and the gun went off promptly at 6:30. The shuffle toward the starting line started, I was fiddling with my phone, headphones and my heart rate monitor trying to get all the bluetooth stuff talking to each other and a very short 2 minutes later we were already crossing the starting line. Thankfully everything seemed to be working from a technological standpoint. I had my bluetooth headphones but only used one earbud. I had my phone set to give me audio cues on my pace and heart rate every 1/4 mile, but I wasn't planning on listening to any music or anything, just planning on enjoying the atmosphere around me.
Cathy had hung out with me at the corral for a bit but then went up toward the start to see if she could find a spot to take some pictures. The first turn was a left so I was on the left side of the crowd and she was actually able to see me and get a picture as I ran by. I felt like I was grinning ear to ear, it was finally happening and it was going to be a great day!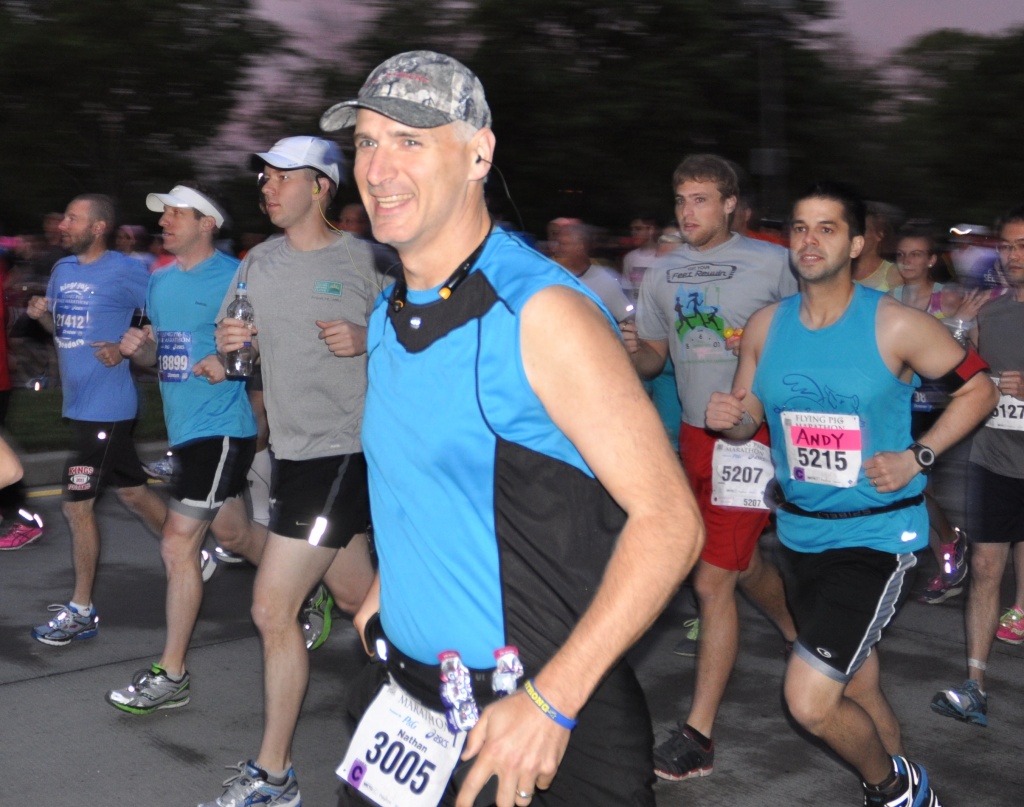 The first 1/2 mile or so was really nice, a few folks going too slow or too fast, but overall the crowd seemed to be in a pretty good rhythm. They were pretty strict about the corral assignments, but I did notice a few folks with the wrong bib code before we started, but not very many. The half marathon folks started with the marathon crowd and there were some relay runners as well and they said there were close to 20,000 runners at the start. At the first turn it started to feel like it as we went from 4 lanes of traffic down to 3 lanes of traffic. It really started to get bunched up here and I couldn't have run much faster or slower if I had wanted to. The next 5 or 6 turns were supposed to be to the right and my plan was to move over to the right side after the first left turn, but it wasn't going to happen. The goal now was to just not trip on the people in front or behind or beside me. A couple more right turns and the congestion was still pretty bad. We climbed a little bit and then started across the first bridge over to the Kentucky side of the river. The first mile mark was just before the bridge and my phone was pretty close to being right on target with the mile split. I don't even remember what the audio cues were telling me on pace, I think I remember it telling me it was 9:00 something, but I wasn't paying much attention. My pace chart that I had worked up based on HR and elevation changes had me running these first two miles at 9:00 so I wasn't too worried about it. This ended up being the second slowest mile of the entire race with a 9:09 split.
As we came down to the other side of the bridge into Kentucky, the first water stop was on the right side of the road. I still hadn't been able to move to the right side with the congestion even though I had intended to because all the first turns were right turns, but the water stop was absolute chaos. No way in the world was I going to get close to that! Another right turn right after the water stop and a pretty straight stretch coming up. My split for mile 2 actually shows that it was my fastest mile of the entire race, but I have no idea how. There was a little downhill in there but not much and I guess with the excitement of the start and finally being able to get a tiny bit of running room, we just picked up the pace a little. I was planning on just keeping an eye on the 3:50 pace group, but not stressing out about hanging right with them. So far so good on that part.
The next water stop was just as bad as the first and I didn't even attempt to go over and mess with it. With the cool overcast weather I felt like I should be okay for a little while and it really was such a cluster of people that there would have been no way to get in and out of it without a complete disruption. Maybe the next one. We turned back toward Ohio and crossed another bridge. It was a tiny bit of a climb going up the bridge and one of the pacers thought he would be funny and turned to run backwards and encourage the group to push it up the hill. About the time he turned around to run backwards, someone in front of him slowed down and in an instant he was on the ground. He jumped right back up and the person in front of him didn't even seem to notice and no one seemed the worse for wear. He didn't seem to have any issues other than a dent in his pride so I got a nice chuckle out of it anyway.
Mile 3 was right before we went over the bridge and my GPS was still tracking very closely on the splits so that was good. We were settling into a pretty good pace and although I was supposed to be running 8:50's for a while according to my pace chart I was feeling good and my HR was pretty close to target so I just kept rolling dogging behind the pace group. The congestion was letting up, but there were still a LOT of people.
Coming down on the other side of the bridge, there was kind of a lull in the spectators and a guy had a video camera taping everyone and that was the first time I thought about safety and security. Not that I was scared, but I thought about how all those cameras and phones had helped catch the bombers at Boston. There wasn't many times along the course that someone wasn't taking pictures or videos of us as we ran by.
There was supposed to be a water stop on the other side of the bridge, and either I missed it somehow or it wasn't there. I think I just missed it. Now I was starting to worry a little bit about hydration, not because I was thirsty, but I didn't want to get behind and have to try to catch up because I knew that was a losing proposition. My fueling strategy was to take a GU every 30 minute and to choke down as much Gatorade as I could manage. Not sure why but Gatorade has never really set well with me. I normally have a cast iron stomach, and other sports drinks don't seem to bother me, but Gatorade does and that's what they were providing at this race. I didn't think it was a big enough deal to alter my strategy and bother carrying any sports drink with me, but I was a little concerned about it. As we were coming up on the mile 4 split, I figured there had to be a water stop coming up pretty soon so I took a GU on a easy stretch in there somewhere. Mile 4 split came and went and my GPS was still matching up pretty good, but there was no water stop in sight. The GU went down pretty good and I still wasn't thirsty, but I knew you were supposed to chase the GU down with water so I was keeping my eye out for the water stop. Another turn and there was the water stop, it was still chaos, but I made myself run the gauntlet. The first dozen people were passing out Gatorade and the next dozen people or so were passing out water and after a few stops and starts trying not to trip over other people dodging in and out I was able to grab a cup of water and chug it down. That was probably the most stressful point of the run up until that point.
I had been looking around a little bit, but really started to relax and look around more now. The route is very pretty with lots of trees, parks, the bridges are really neat to run across, and just a really awesome atmosphere. The spectators were amazing with tons of funny signs, cheering, jeering, the whole spectrum. Mile 5 had us climbing back up to downtown, I didn't even notice the climb when I was running, but checking back on my splits and elevation numbers there was a climb on that mile. I was keeping an eye on my pace, but not paying a ton of attention to it, same with my HR, it was a little higher than it was supposed to be, but not much and we were running a little faster so I figured it was about a wash. It was really nice to just keep my eye on the pace group and hang out far enough behind them to avoid the congestion right around them.
Mile 6 took us back through downtown and a nice long straight stretch of road before the climb we had coming up. Cathy was planning on seeing me here and cheering me on, and I kept a close watch looking for her but never did see her. I was looking on the right side of the street the entire time because I didn't think she would have been able to make it there in time to get to the other side of the street before the first runners started through. Of course she was on the left side of the street and said she was screaming my name, but I didn't ever see her. I think that gives you somewhat of an idea with how many spectators there were and how congested it still was even after we'd been running for 5 miles. She did take a picture of me as I ran by.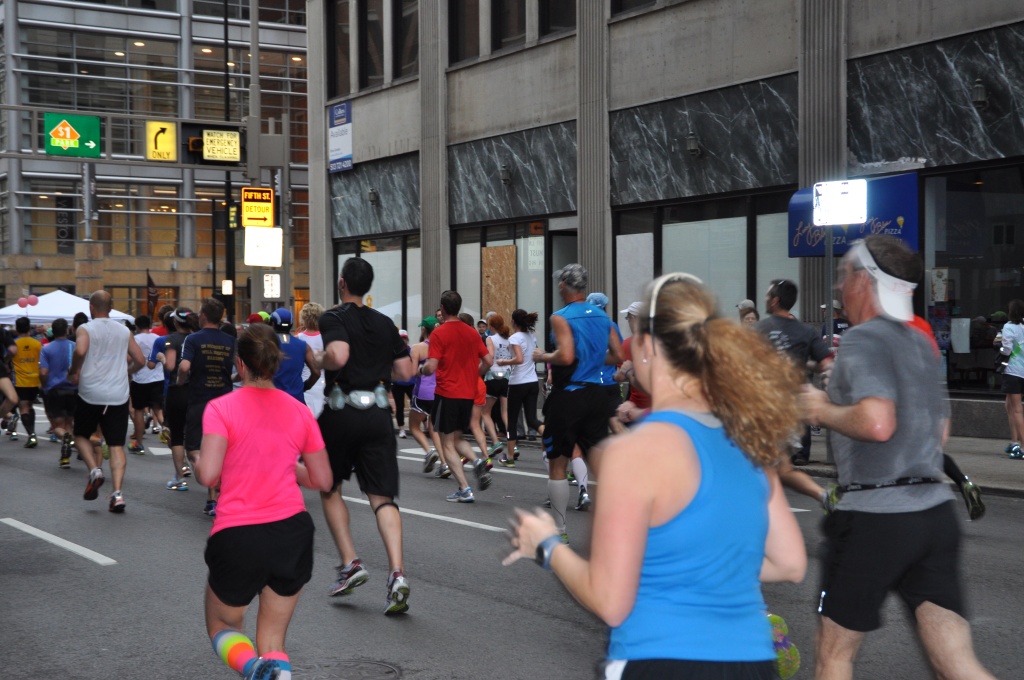 You can just see the pink balloons of the 3:50 pacer on the far left side of the picture.
The next water stop still pretty chaotic, but I was able to grab a Gatorade and a water and get them down without too much of a disruption. You could see the top of the hill that we were going to have to climb ahead and it looked pretty daunting. I really had tried to get as much hill work as I could during my training, but I was still pretty nervous about this one. In almost all of the reviews and race reports I've read on this marathon they all mentioned this hill and it wasn't usually as a positive experience.
Just as we cleared downtown and I was trying to see where we were going to climb the hill, we made a big left turn and there was a nice gradual rise running parallel to the hill! Instead of running straight up it, we were going to get to tackle it in nice manageable chunks! In here was my favorite entertainment of the race, a nice high school pep band playing some upbeat music as you pushed up the hill. We followed the main highway for a bit then took a sharp turn into a neighborhood and a relay swap station, a timing mat, and all kinds of other distractions, Mile 7 ended up in the books in no time and it wasn't bad at all. I was really trying to run even effort and had let the pace group get out in front of me a little bit. Mile 7 did end up being my slowest mile of the race with a 9:17 split, with was pretty close to the 9:20 that I had planned on my pace band. Net elevation gain per my GPS was 159' for that mile. My GPS was still tracking pretty close to the actual splits and everything was going great. My HR was a tiny bit higher than intended, but not bad at all especially since I was climbing the hill. Some of the folks around me had pretty labored breathing though so not everyone was enjoying the hill as much as I was.
Just when you might be getting tired of climbing, you get a nice flat spot for a good 3/4 of a mile or so it seemed to me. There is a beautiful overlook of the Ohio river here and Eden Park is beautiful. The hill was starting to get anti climatic, but I knew it wasn't over so maybe this next part was going to be a bear.
Nope. Mile 8 showed 69' of elevation climb but it was very manageable and not bad at all. My pace band had me running a 9:10 split on this mile and I ended up running an 8:42 split, but my HR actually dropped a bit on this section. Still a tiny bit higher than it was supposed to be, but not bad at all. I think I probably made some folks mad right around here as I started asking when we were supposed to get to the big hill.
Mile 9 was pretty flat and this was where the half marathon runners split off from the marathon runners. I was expecting a huge drop off in the runners and the spectators here since there were 12,000+ half marathon runners and only 4,000+ full marathon runners, but it seemed like the bulk of the folks running around us stuck with the full marathon route. I'm guessing there were plenty of folks like me that were keeping our eyes on the 3:50 pacers and sticking somewhat close to them.
Mile 10 started part of the biggest downhill section on the course with 65' of net elevation drop. Everything was going VERY smoothly, rain was still holding off, overcast sky, spectators were awesome, my HR started dropping, just an awesome time. Someplace in there I took another GU and hit some more water stops, the crowding was much better, but still there was some dodging and ducking to get in and grab some water and keep going. I started to notice a hot spot forming on my left foot between my big toe and the next one, with the rain holding off I started wondering if maybe putting body glide on my feet was the best choice. It gave me something to think about though, and wasn't really painful, so I just kept on chugging. My most nervous time of the entire race came about this time as I started to feel some gas pains. On a couple of my long runs, what started as gas pains early on ended up with some very close calls later in the run trying to make an emergency pit stop. I started thinking about my options and looking for a porta potty, hoping that it was only gas, but dreading the fact that it more than likely wasn't just gas. Shockingly, a few toots later and I felt great and never thought about it again until I started writing the race report! Aren't you glad?!
No idea what happened on mile 11. Thinking it through I think this is where I caught up to the pace group. I'd been keeping them in sight the entire time, but I let them get ahead of me a little on the hill and had been slowly reeling them in, but now I was right on their heels. I was afraid to pass them because there was still a TON of unknowns ahead of me and I wasn't even to the halfway mark yet so I just hung out behind them and even alongside them some now. They had passed the stick with the pink balloons off to the 2nd pacer who was encouraging those around her pretty well the entire time. The positive thing about this mile was that although it was slow, it really have me a chance to recover from the climb and my HR started to really drop down well below what my target was by this point. It was low enough that my overall avg HR was even below what I was expecting by this time.
Mile 12 was pretty uneventful, still lots of spectators through the neighborhoods and hitting right on pace. HR was still doing great, the online tool that I had used said that my HR should be up around 166 by this time and mile 12 clicked off with my HR almost 10 beats lower than that with an average of 157.
Mile 13 was exciting mainly from the perspective that I was almost halfway there. So far everything had go so smoothly, it was almost like a dream, time was flying by, when I was telling some of my co-workers about the race one of them asked me what music I listened to while I ran and although I could have played music on my phone at any time it never even dawned on me. I chit chatted a tiny bit with some of the other runners, but mostly I just listened and soaked it all in.
Went across the 13.1 timing mats and everything was great. I decided to call my wife on a nice little downhill in here, but it ended up going to voicemail so I didn't get to talk to her. I went ahead and left her a message letting her know that everything was going great and that I was halfway done. We had signed up for her to received text messages when I crossed each of the timing mats, but it ended up that she only got a text after the 19.7 mark and at the finish.
Somewhere in there I took another GU and was still able to choke another Gatorade or two down. I was pretty much hitting at least every other water stop, mixing in water and a Gatorade then water combo. About this time I started to feel the fluids sloshing around in my stomach so I skipped the next few water stops. Mile 14 and 15 were pretty uneventful. Still lots of spectators, but nothing really stuck out. There was a singing Elvis in there somewhere, a few 2 or 3 piece bands playing, lots of folks with bullhorns and microphones and amplifiers cheering us on. Being on the heels of the 3:50 pace group I think brought a lot more cheers than if I was just in the regular stream of runners.
Mile 16 started a little out and back and I joked about taking the shortcut across the median. My GPS started to get lost in here with heavy tree cover and lots of sharp turns and it started taking some shortcuts across peoples yards and even over the top of people's houses so my splits started to get off. This helped solidify my decision to stick with the 3:50 pace group although I had already intended to stick with them at least through mile 19. My HR started climbing back up a little bit, but was still well below my original target by this time so I wasn't very concerned about it.
Mile 17 went down a nice wide bike path that was more like a one lane road. I'd seen them a few other times, but this was the one that stuck out in my mind the most as there were 3 policeman in full SWAT gear, bulletproof vests, semi-automatic rifles, etc. standing off to the side watching the race. They cheered us on and joked with us as we ran by, but it did feel kind of like we were running in a 3rd world country from the perspective of seeing that much firepower on display. The last time I saw army/police armed to the hilt standing around like that was in Belize this summer on vacation.
Mile 18 had some zig and zag and got us head back to the finish line. Still feeling really good and my HR was well below target. We got on one of the loneliest stretches of the course on a parkway heading back to town, but even here there were plenty of spectators by my standards and a big group at the water stop cheering us on. There was a station that was supposed to be giving out GU here, but it ended up being powerbar gel or something like that, so being the tightwad I am, I went ahead and grabbed a packet and put it in my pocket, but was afraid to try anything different so ended up eating another packet of the GU I had brought with me. Several spectators were spread out in 2s and 3s along the route, several were pretty dedicated to get out there and walk at least a 1/2 mile or so to get to where they were cheering us on.
Someplace between mile 18 and mile 19 I ended up leaving the pacers. Not even sure if it was intentional, because I was supposed to wait until at least mile 19.5 when there was supposed to be a hill that never seemed to materialize. I'm sure if I hadn't put in the hill work this course would have eaten me up, people are always commenting about the big climb and then the rolling hills after that, but I really didn't seem to notice the hills at all. My GPS was a full 1/4 mile off by now, measuring short, but being out of the tight turns of the neighborhoods it seemed to be tracking well for the current splits anyway. As I got to mile 19 I raised my arms and screamed out that it was the farthest I had ever run in my life, and that got me a few laughs. I quickly pointed out that I still had 7+ miles to go and it was all a big unknown from here on so that's what I turned my attention to. This mile ended up probably being my biggest tactical error of the race. Not sure it mattered much in the grand scheme of things, but I ran this mile too fast. It was slightly downhill, but not enough to warrant the 8:18 split that I ran which ended up being my second fastest mile of the race. When I left the pacers I should have done it more gradually.
Mile 20 through 22 were kind of an uneventful blur. The crowd support wasn't as good as it had been, but was still pretty impressive. I think mile 20 had an entire water stop dressed up in blues brothers clothes but they weren't playing any music when I went by that I could recall. A light rain started to fall, but it was more of a relief than anything as I was just starting to get a little overheated. The rain was the perfect solution for that. Somewhere in here there were some houses with large yards and trees and I could hear a goat bleating in someone's backyard which I thought was funny since we were about 3 miles from downtown Cincinnati. I was still forcing myself to take GU and ended up taking 5 out of the 6 that I had brought with me. My HR was starting to climb now and I felt like I was pushing it in pretty good.
At Mile 23 things started getting a little tougher.
My GPS was giving me audio cues telling me that my splits weren't all that impressive, but I figured it was still taking shortcuts and I was running faster than it was telling me. At mile 24 it was starting to get uncomfortable. Not the weather although it was still raining, but I was starting to work pretty hard and even starting to breath hard. Mile 24 was even worse and although I felt like I was running hard at the time and my HR was climbing, it ended up being the 3rd slowest mile of the race and one of only 3 miles that I logged that was over a 9:00 pace. Mile 1 was a 9:09, Mile 7 climbing the hill was a 9:17 and Mile 24 was a 9:08. By this time I was pretty soaked and my heart rate monitor was starting to glitch out on my throwing up some big false spikes. I had a couple false spikes earlier, but now they were happening pretty frequently and it was getting hard to trust the numbers it was telling me. I knew I only had a couple miles left though so I was going to go all out no matter what numbers it was telling me. I went back and edited out the spikes on the data file but missed one that was showing as a 202 reading there on mile 23. For the most part I could tell when it glitched out and just edited out the readings that were well over my max HR and replaced them with an average of the numbers it recorded before and after the spike.
Mile 25 was more of the same. I felt like I was putting out close to max effort, and overall my HR numbers seemed to confirm that when they weren't glitching out, but my pace numbers weren't. I think there were spectators through this portion of the race, but it was starting to become a tunnel vision to the finish line. It was really getting tough at this point. I was breathing heavy and it was taking a lot of effort just to get one foot out in front of the other.
The Flying Pig has a timing mat set at 1 mile out from the finish and records your last mile which I think is pretty cool. So I crossed the timing mat at 25.2 and really put the pedal to the metal. I had already done the math and knew I could run a 10:00 mile on this final mile and still beat my goal time, but I wanted to set an impressive number for my final mile while I was at it. I was really giving it everything I had at this point. I was hoping to put in my fastest mile of the race and was thinking it might even have a 7 at the front of it. My GPS audio cues kept telling me I wasn't running that fast, but I thought maybe it was still messed up somehow. Someone said just one more turn to go to the finish and I kept looking ahead and couldn't see a turn so that last mile stretched on and on forever. Finally I actually could see the finish line and double checked to make sure the pedal was all the way to the floor. Somehow I felt like I got the it going a little faster and pushed it in that last 1/4 mile. I heard my wife shout my name from somewhere in the spectators but didn't see her. I was passing some people who were going slow, but I wasn't just running everyone down like I did at the end of my half marathon last year. The chip time on that final mile was an 8:44 which ended up being 1 second slower than the average pace for the 25.2 miles before it. I really felt like I was running hard on that last mile and was surprised it was only an 8:44. Not sure if I could have run it any faster though, I really did feel like I was giving it everything I had.
Here's a picture that Cathy took of me about 200 yards from the finish line. I kept looking for how I did compared to the people running around me in the results and couldn't figure out where they were until I remembered that the results are based on chip time and the folks in the picture with me didn't all start right next to me so they actually finished a minute or two ahead or behind me in the official results. I was also surprised when I saw the picture at how many half marathoners were still finishing at the same time I was. I realize with the corral starting that some of them might have been 15 or 20 minutes behind me on the gun time, but I would have thought a brisk walk could get you finished by 3:30 or so for a half marathon.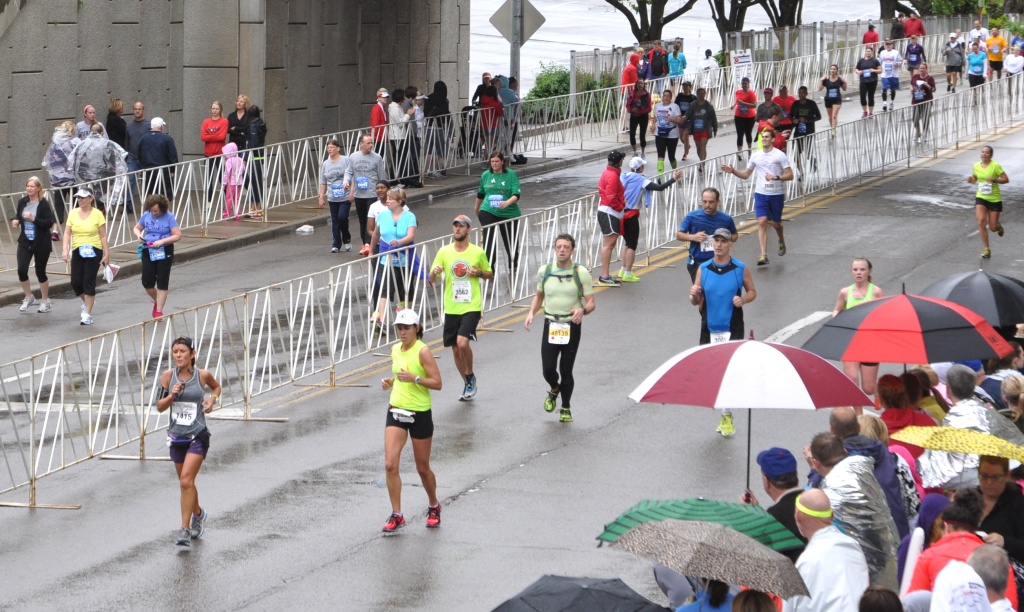 I saw the clock ticking down to 3:50 and thought I might have a chance to get in under 3:50 gun time, but it clicked over and ended up something like 3:50:21 when I crossed the finish line. I knew my chip time was a little over 2 minutes faster than the gun time so I had easily beat my goal of 3:50.
First thing I wanted to do when I crossed the line was to get my medal! Of course I went to the first guy with medals in his hand and he only had half marathon medals that were a different color ribbon than the full marathon medals. That was one nice thing was the half marathon bibs were blue and the full marathon bibs were white so it was easy to keep track of us. I got my correct medal and then went through the receiving line grabbing about everything I could get my hands on. I drank a bottle of water in about 2 drinks, got another, ate 1/2 a banana and grabbed another and ate it before I got to the next booth, grabbed some trail mix, fruit snacks, swiss cake rolls, string cheese, some soup, etc. Lot's of people mention that they can't eat when they are finished with a marathon, but I was eating whatever I could get my hands on .
My wife was supposed to meet me at the reunion area and I was zoned out limping my way there with my pockets stuffed full of food and a water bottle in my hands and a mylar blanket around me. The rain had stopped for a bit so that was nice. Found my wife (more accurately, she found me) and she told me how proud she was off me and that she was very happy that I beat my time. I think she was afraid I would have been disappointed if I didn't beat 3:50, but with the uncertainty of a first marathon I would have been happy to have just beaten 4 hours. I would have been disappointed if I didn't break 4 hours, but I would imagine I would have had a good reason to if I didn't so I didn't worry about it too much.
The first thing I wanted to do after finding Cathy was sit down. I know you are supposed to walk around a bit, but I felt like I had done enough walking already and wanted to sit down. We sat for a while and I ate my soup and some of my snacks and shared some with Cathy. I was tired and not looking forward to getting up and walking the 3/4 of a mile uphill to our hotel, but I couldn't sit there forever. Here's a picture Cathy took while I was sitting there.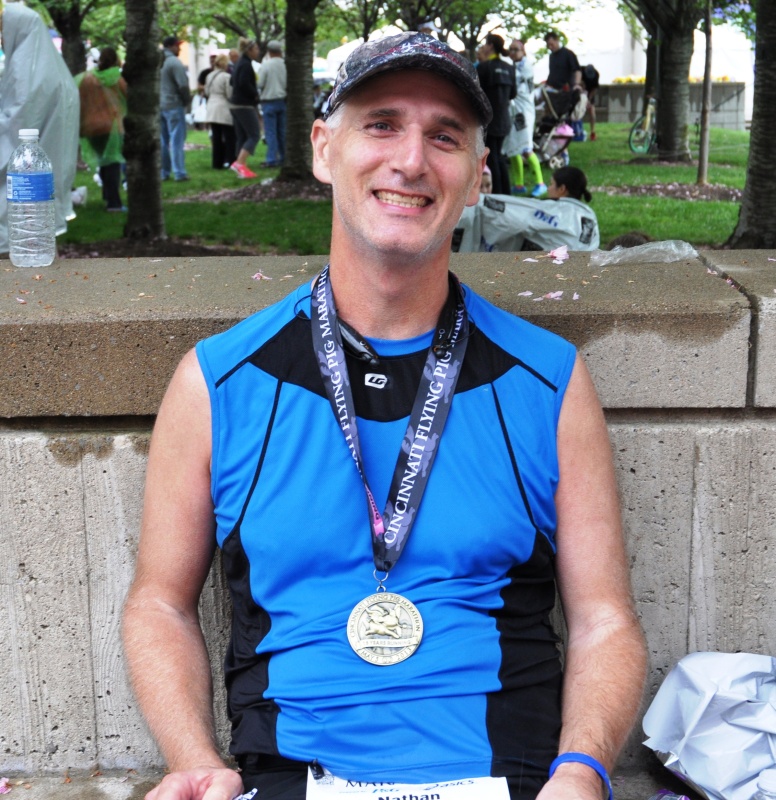 I was pretty happy with the end result. It was easier and tougher than I had imagined at the same time. The medal is super cool and heavy. My son thinks the coolest thing is that it is a dual sided medal and when you flip it over you can see the pigs bottom! One thing I noticed recently and this picture shows pretty well is that so far in 2013 if I have been outside, I've been running. If you look at my left arm, you can see a diamond shape tan line in the crook of my elbow. You can see it a little on my right arm, but it's not as noticeable as on my left. When I run I keep my arms bent and that little crook never sees the light of day so I have a nice little tan line there. Pretty funny I think.
Here's my splits with some comments I added. These are after I went back and adjusted my GPS track to match up with the actual route instead of letting it take shortcuts over houses, etc. When I finished it was showing 25.97 miles, but now after I went back and corrected it, it is showing 26.38 miles. Quite a difference in some of the splits vs. when it was cutting some corners. I have enjoyed using my phone as my GPS, heart rate monitor, music player, etc., but if I can figure out how to get it to quit taking shortcuts I may have to switch to a GPS watch. It used to do a great job, not sure if runkeeper changed something with a software update or if it is just not as accurate anymore.
Splits (

GPS Interval

)
Type
Distance
Duration
Total Duration
Pace
Avg HR
Max HR
Notes
1
Manual
1 mi
9:08.51
9:08.51
9:09
152
165
Very congested at the start
2
Manual
1 mi
8:15.41
17:23.92
8:16
157
169
Still crowded
3
Manual
1 mi
8:38.75
26:02.67
8:39
156
167
Lot's of people!
4
Manual
1 mi
8:25.81
34:28.48
8:26
157
170
Somewhat of a rhythm
5
Manual
1 mi
8:52.12
43:20.6
8:53
161
169
Small climb - 77' gain
6
Manual
1 mi
8:26.44
51:47.04
8:27
159
166
Back through downtown
7
Manual
1 mi
9:16.13
1:01:03.17
9:17
166
174
Start of the big climb - 159' gain
8
Manual
1 mi
8:41.54
1:09:44.71
8:42
165
175
Last of the big climb - 69' gain
9
Manual
1 mi
8:25.9
1:18:10.61
8:26
164
178
Leveled out - Half runners split
10
Manual
1 mi
8:25.62
1:26:36.23
8:26
158
164
65' drop
11
Manual
1 mi
8:51.3
1:35:27.53
8:52
155
169
90' drop - not sure why slow
12
Manual
1 mi
8:40.49
1:44:08.02
8:41
157
169
HR doing really good
13
Manual
1 mi
8:32.83
1:52:40.85
8:33
160
171
Sticking with 3:50 pacers
14
Manual
1 mi
8:21.94
2:01:02.79
8:22
159
171
Feeling really good
15
Manual
1 mi
8:35.21
2:09:38
8:36
161
172
Still feeling great
16
Manual
1 mi
8:21.53
2:17:59.53
8:22
165
171
Beautiful day
17
Manual
1 mi
8:37.58
2:26:37.11
8:38
163
170
56' drop
18
Manual
1 mi
8:37.73
2:35:14.84
8:38
166
176
Still feeling great - left pacers
19
Manual
1 mi
8:17.59
2:43:32.43
8:18
168
176
Farthest I've ever run before
20
Manual
1 mi
8:34.65
2:52:07.08
8:35
170
178
HR starting to creep
21
Manual
1 mi
8:32.22
3:00:39.3
8:33
174
181
Light rain started
22
Manual
1 mi
8:22.62
3:09:01.92
8:23
172
181
Getting tougher
23
Manual
1 mi
8:43.43
3:17:45.35
8:44
176
202
HR error on max
24
Manual
1 mi
9:07.23
3:26:52.58
9:08
177
184
Really having to push it
25
Manual
1 mi
8:53.66
3:35:46.24
8:54
177
183
Are we there yet?
26
Manual
1 mi
8:57
3:44:43.24
8:57
176
183
Really felt like I was sprinting
27
Manual
0.38 mi
3:25.77
3:48:09.01
8:58
179
183
Post Race Comments and Thoughts
The walk back to the hotel was as bad as I was dreading. It started raining again and I used the mylar blanket as an umbrella and limped along toward the hotel. I think it took me a good 30 minutes to make it the 3/4 of a mile back to the hotel. Having Cathy there to help me was really great. If both of us had ended up running it, I think it would have been much harder on us both post race.
We got back to the hotel and I took a hot bath. I know you are supposed to take an ice bath, or at least a cold bath, but I couldn't do it. I quickly posted my official results on Facebook and on the sub 2:00 half marathon on RunningAhead and then relaxed. After a soak in the tub, I took a hot shower and drank a diet coke and was actually feeling quite a bit better. We had arranged for a late checkout at the hotel and our flight wasn't until 4:00 so it was nice to just sit around the hotel and relax for a little bit.
The cab ride to the airport was uneventful, check in was smooth, and then we had a couple hours to kill before our flight. I ended up eating a footlong Philly Cheesesteak sandwich from subway and an ice cream sandwich. Needless to say, I wasn't experiencing any lack of appetite or stomach issues. I'll spare you the rest of the details on what I ate and drank the rest of the day but it was a lot.
At our layover in Denver there was a long line at the escalator and there were 2 flights of stairs right beside it and I was so proud of myself for being able to take the stairs instead of waiting for the escalator. After the soak in the bathtub at the hotel I felt much better and wasn't limping at all. We didn't get home until 10:30 that night and we had been up since 4:00 am local time so we were both very tired, but I was feeling way better than I expected.
The next day I was pretty sore, but I went to work and put in a pretty normal day. I tried to make sure I got up from my desk and walked around every 30 minutes to and hour, and I kept at it pretty good. There was one stretch in there where I sat for a couple hours and I regretted it when I got up to walk downstairs that time. My expectations were that I may end up needing a wheel chair assist at the airport and have to use the elevator when I got to work, so being able to walk around and even go up and down stairs without too much effort was a very positive thing I thought.
After work I even went for a walk around the house to help keep things loosened up. I did break my running streak at 123 days and 971 miles though. I could have squeaked out a couple miles if I felt like I had to, but it was kind of nice to let the streak die and not have to worry about it anymore.
I'm feeling even better today and am having to tell myself that it is a good thing to take a break from running for a while. I want to get out there and get in a few easy miles, and I have it on my training schedule that I worked up to transition me from my marathon to my 10K training plan, but I think I'm going to try to take a complete break for at least a week now. The Hansons book says to take 2 full weeks, but I think that is more directed to elite athletes and I'm for sure not an elite.
I think that about wraps it up. I think it took me longer to type up this race report than it did for me to actually run the race!!
Not sure if I'm going to run another marathon or not. I enjoyed this one and didn't finish saying that I'm never going to run another, but the commitment to training to run a marathon is a lot of time and I'm not sure if I'm ready to commit to that again right away.
I think that about sums it up. I'm sure I forgot some things and repeated some things. Sorry for being so long winded, but I was trying to remember everything I could think of.
Pretty neat experience. VERY happy with the way everything turned out.
Nathan