I'm pretty sure I have 3 years worth of trail camera pictures of this guy and am guessing his age at 7 1/2 years old based on his jawbone. I did a crappy job of getting good pictures of him as it was after dark by the time I was able to get out of my stand and go get him and I was by myself . I guess I'm going to have to get a little tripod to carry around with me.
Here he is hanging.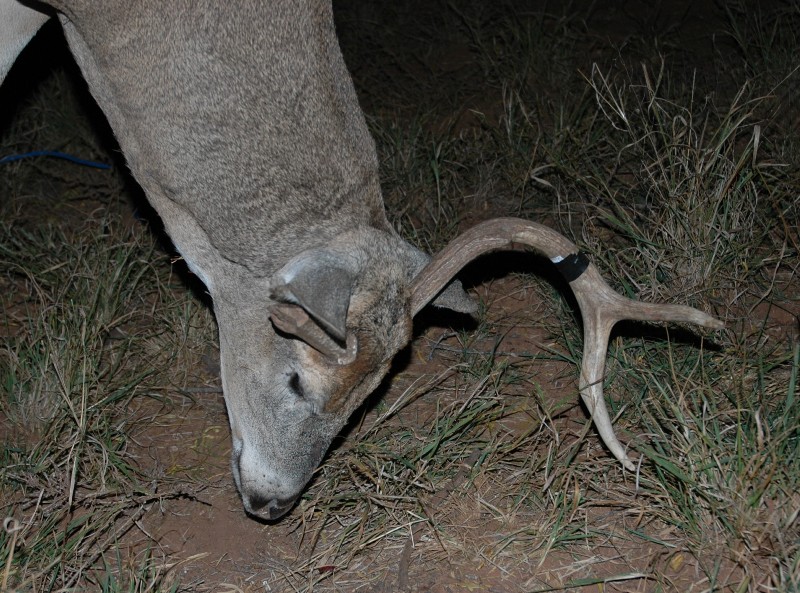 The first odd thing about this buck was that the broken right antler was completely detached from his skull plate. I'm pretty sure that it was broken 2 years ago and since it was detached from his skull plate he never was able to drop that antler and grow another. It never turned white, but it does look like it has been hanging on there for several years.
Here is a picture after I skinned his head -
http://padens.com/v-web/gallery/albums/album07/buck_skinned.jpg
I'm just going to link it since it might be considered a little graphic. Kind of hard to tell, but when I skinned it, the antler was completely detached and meat had grown all around where it had broken. It wasn't much of a jigsaw puzzle because enough bone was missing that it didn't fit back on the skull plate anywhere.
Here's his jawbone.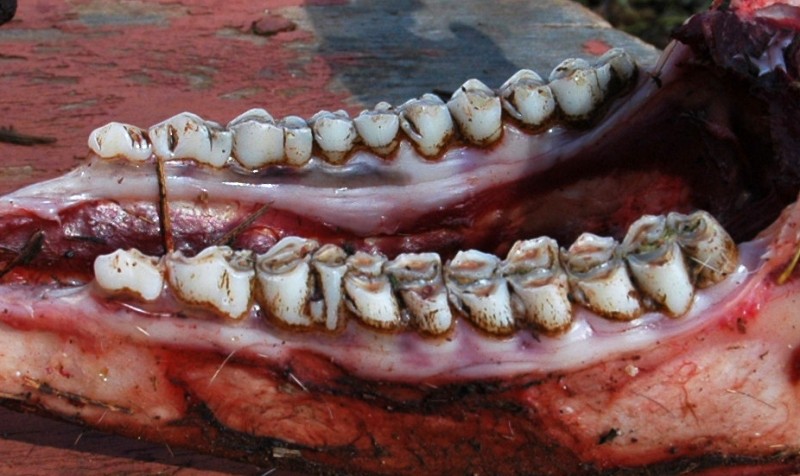 I have the jawbone of the buck I shot last year that was aged by the lab with cementum annuli at 8 1/2 and based on that jawbone and the trail camera pictures I'm fairly confident this buck was 7 1/2. I'm going to go ahead and send the lower incisors off to get aged anyway. I'm starting to collect some pretty impressive jawbones though!
The buck weighed in at 162lbs on the hoof which was 10lbs lighter than the 8 1/2 year old I shot last year. This guy had some heavy tarsal staining and looked like he was about to get going with the rut right around the corner here. I did get some good video footage of him before I decided to go ahead and take him, if I figure out how to get that uploaded I'll do that. My Sony video camera has a weird codec and it is a pain to resize and upload.
The last thing that was interesting was that his right shoulder was fused to his vertebrae with some VERY thick cartilage that was almost as hard as a bone. I had to hack at it pretty hard to get the shoulder off. I should have taken some pictures of it but didn't. When I butchered him, his shoulder muscles were developed a little differently than you would think. I didn't spend a whole lot of time analyzing it, just enough to know that it wasn't exactly normal and I assumed it was related to the shoulder being fused to the vertebrae.
Putting it all together I'm wondering if this guy got hit by a car on his right side or something. I just don't think his antler could have been broken off inside his head like that from fighting and that would explain the shoulder too.
Not a trophy that is going to end up on my wall, but a very unique buck that I was proud to harvest. I don't even know how you would begin to actually score something like him.
I just seem to be shooting these guys after their prime instead of during their prime. Maybe they are easier to kill once they are over the hill than when they are truly in their prime.
I'm not 100% sure, but I'm pretty confident that this is him 2 years ago. He was a pretty nice buck then!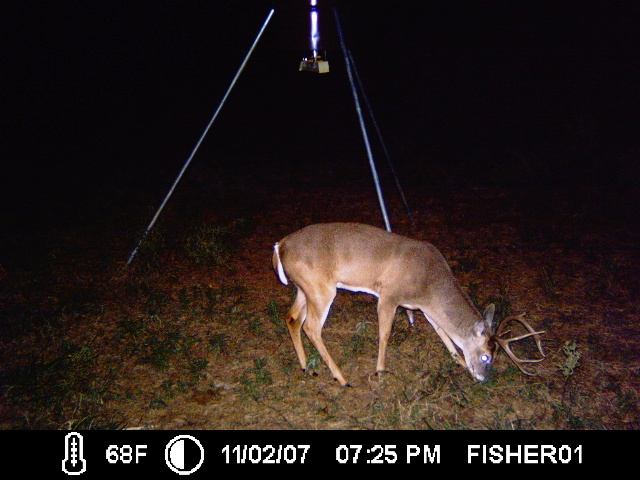 Here he is 4 days later with his right side broken off.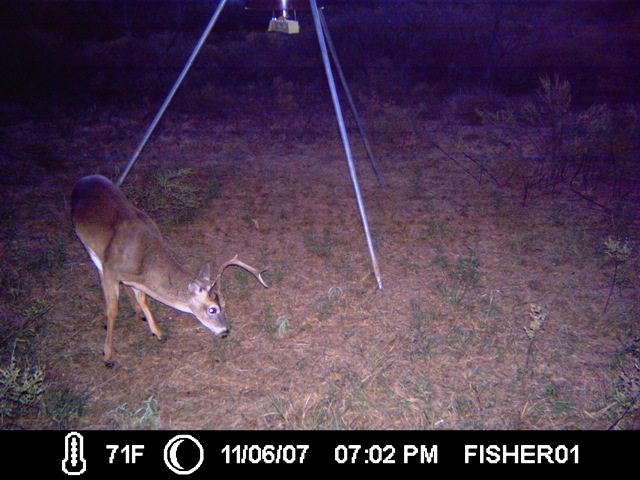 A closer picture of him after the break. This doesn't really fit with the hit by car theory since his shoulder looks fine here.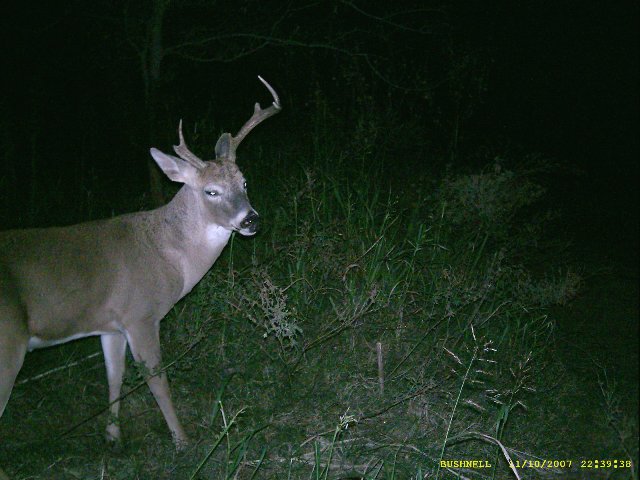 Here's a couple pictures of him last year. He was just a smooth spike on the left side last year. Maybe he got injured during the summer and that's why his left antler grew funny. In the first picture it does look like some scaring on his right shoulder.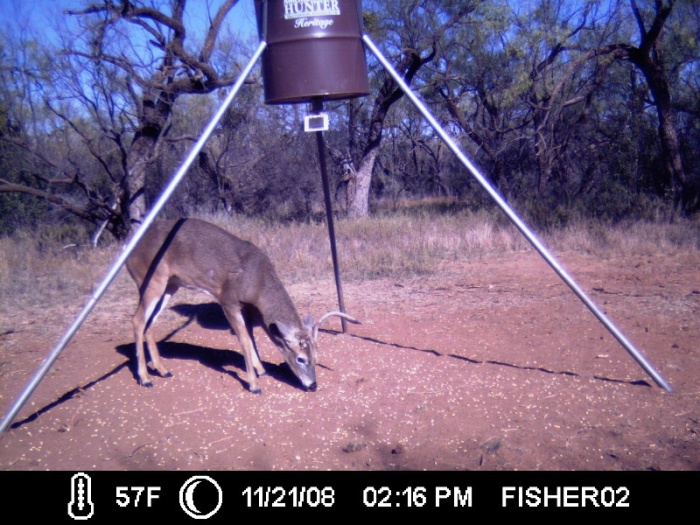 I have some trail camera pictures of him from this year as well. He seemed to be a range shifter as I didn't have any pictures of him during the spring or summer during any year, but he seemed to show up in the late fall.
I did see the 3 1/2 year old that I've been following since last year a couple times and could have easily shot him. I'm sure hoping that he makes it through this year and I get a crack at him next year. I don't think I'll be able to pass him up next year.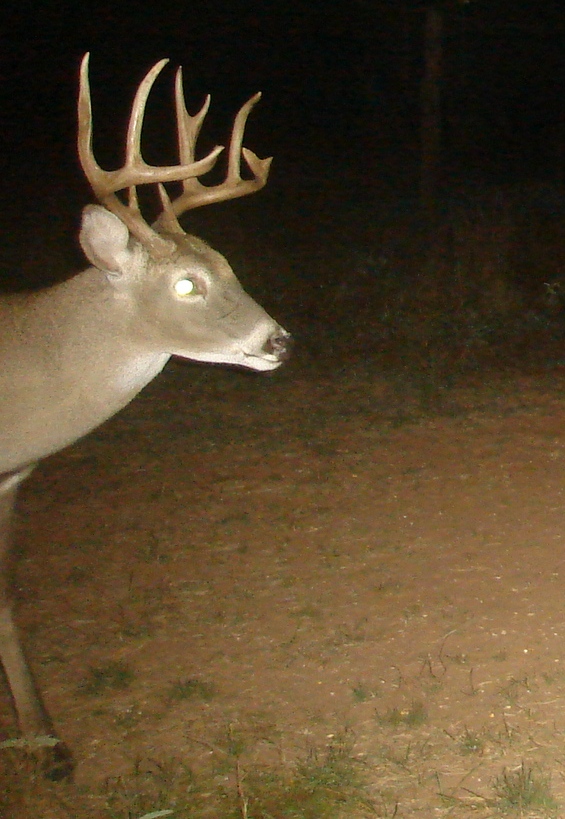 I had a novel started on the hunt, but haven't gotten a chance to finish it and figured no one probably wanted to read it anyway so I went ahead and posted this. Been super busy at work and gonna stay that way for a while.
That's it for now.
Nathan