What better way to spend your 21st anniversary than starting a hike with your wife and child and then abandoning them halfway through the hike to do some off trail mountaineering with your niece? That's what I did for my anniversary and it was a really neat day.
Here we are toward the start of the hike. We went with my brother and his wife and their two daughters for the start of the hike.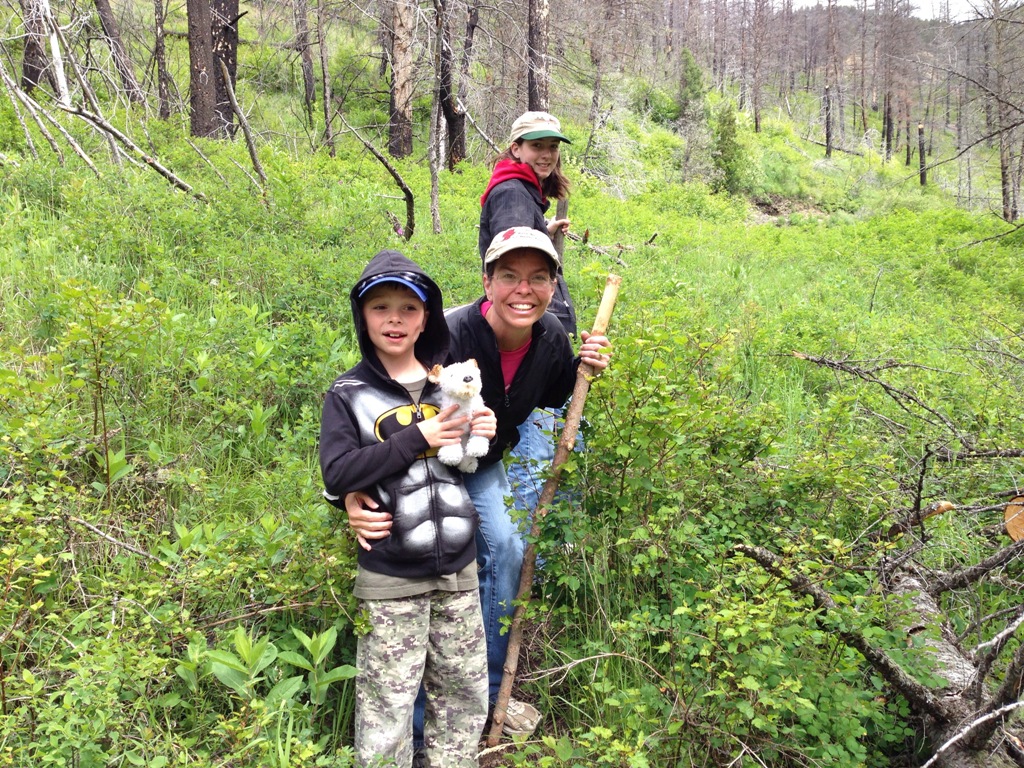 Looking back from where we started that morning. This is looking toward where we were on the ATV trails earlier in the week. If you click on it and look closely you can see some of the logging roads we were riding on.

A little over a mile and a half and we were at the meadow having gained a little over 1,300' of elevation. We had just kept a steady easy pace and everyone seemed to be really enjoying the hike.
We had discussed everything from everyone going on a 3 mile one way hike where we could meet up with another trail head to doing a round trip hike and another option was to leave the trail behind and head up to Knowles Peak since we were already on the backside of the mountain. With 7 of us eating lunch in the meadow we ended up deciding to do all 3 options. My brother and his wife decided to do the round trip hike, one of my nieces wanted to go up to Knowles Peak so I volunteered to take her up there, and my wife and son and the other niece decided to just hike down to the trail head and head back to camp. Here we are eating lunch in a meadow before we split up.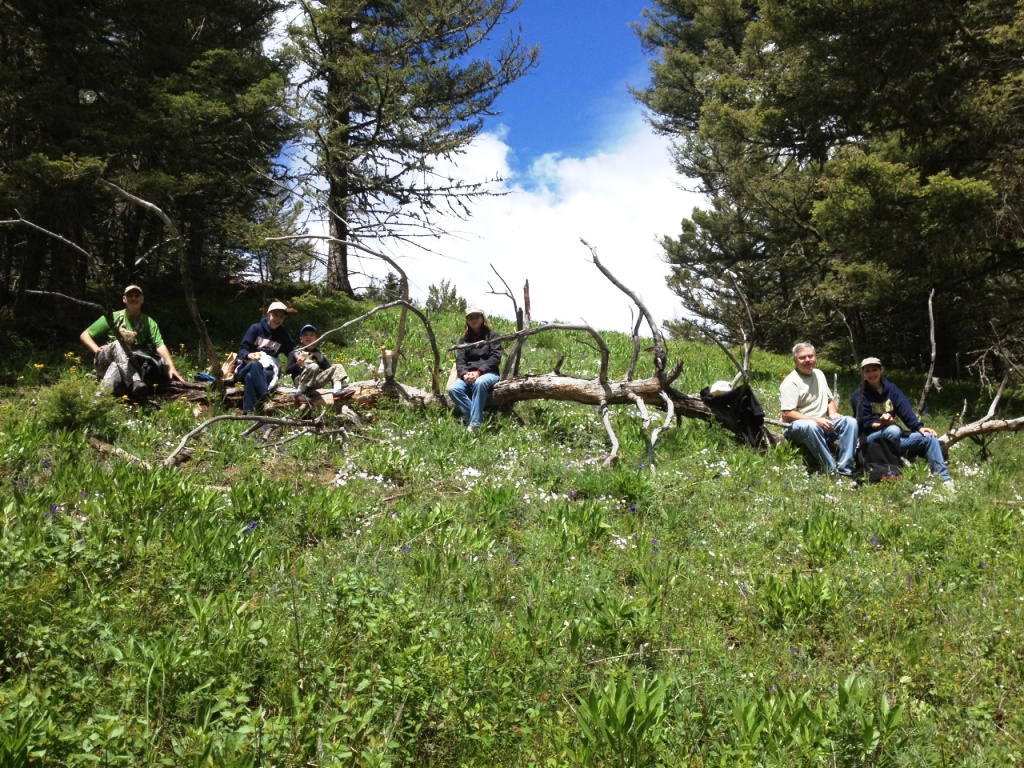 Once we split up the climbing began. The only drawback to this route to going up to Knowles Peak is that you have to do some ups and downs going across the ridge line. I've hiked this route a few times in the past and their is a neat rock cairn that someone stacked up along the ridge line. Here's a picture of my niece next to it.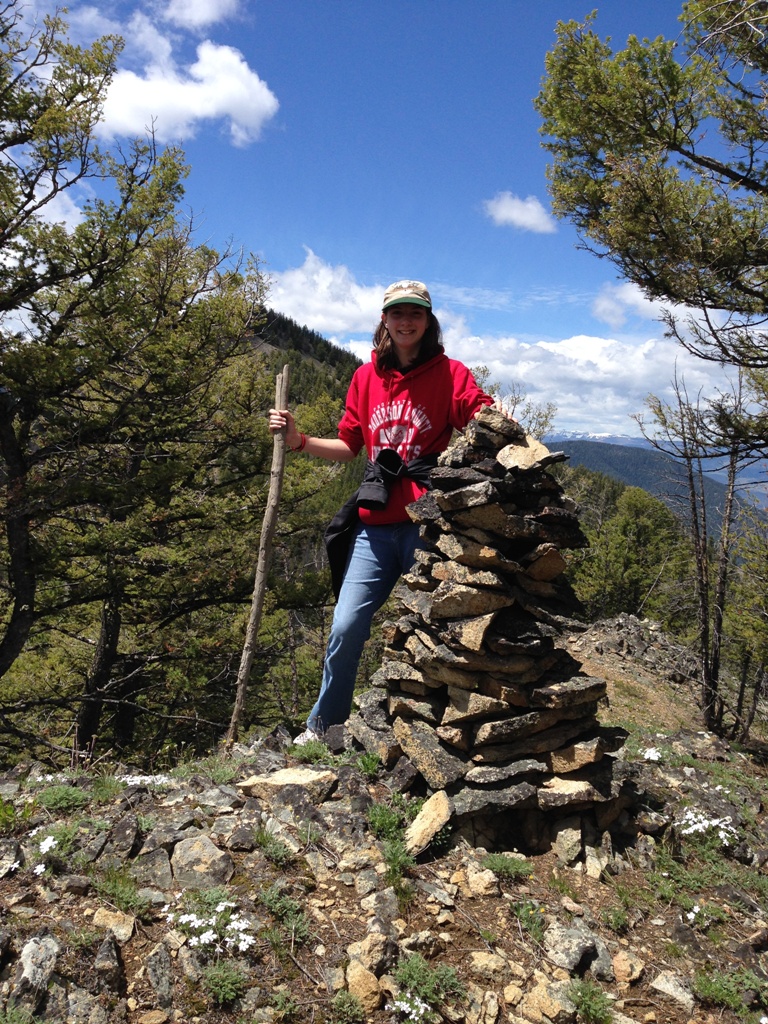 You can see the peak that we are headed to over her left shoulder. Doesn't look like much of a climb, but there are a few steep spots between where the picture was taken and the peak.
A little bit of effort and about 1,000' of elevation gain from where we ate lunch and we were on the top. I propped up the camera on my backpack and got a picture of us using the timer.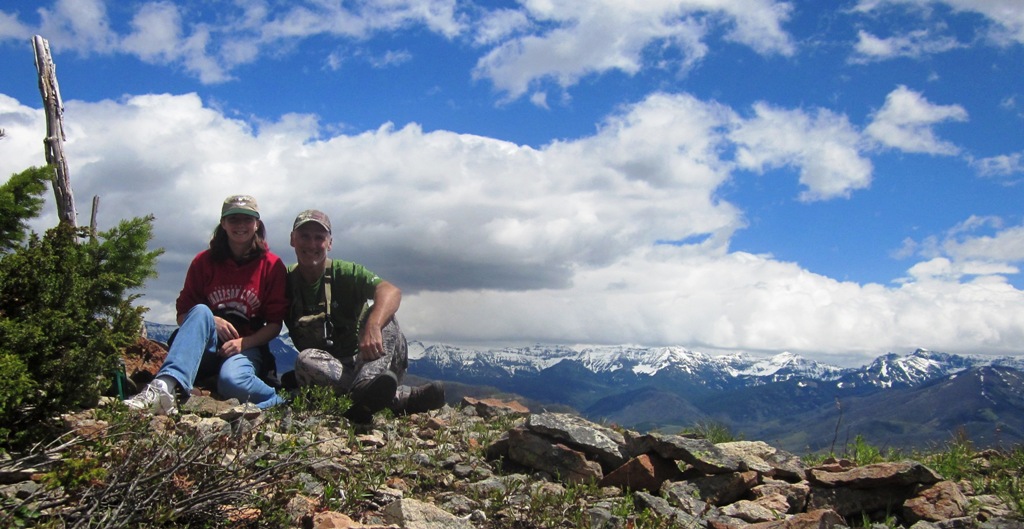 Here's a panoramic view from the top.

We had decided that we would just head down the front side of the mountain and head back toward camp instead of going back the way we had come so off the top we went. The next mile was the slowest mile logged per my GPS with it taking us over an hour and fifteen minutes. Of course we dropped 1,859' during that mile with all of it off trail so I guess that's our excuse.
As we got toward the bottom I couldn't remember exactly when I had dropped off the ridge in the past, but remembered having cliff problems at least one of the times I came down. I ended up sending us off the ridge a little early and we had to come down some pretty steep stuff with lots of loose rocks for about the last 1/2 mile or so. Right at the bottom we had to do some pretty good maneuvering to avoid getting cliffed out. I really didn't want to have to climb up the very steep loose rock and dirt we had been coming down, and I was able to find a way down.
Here is my niece coming down the last bit. As always the camera seems to make it look not nearly as steep, but we had to do lots of side hilling back and forth and several times we were standing up with one hand hanging onto the side of the mountain. The cliff at the top of the picture is where we started this little descent.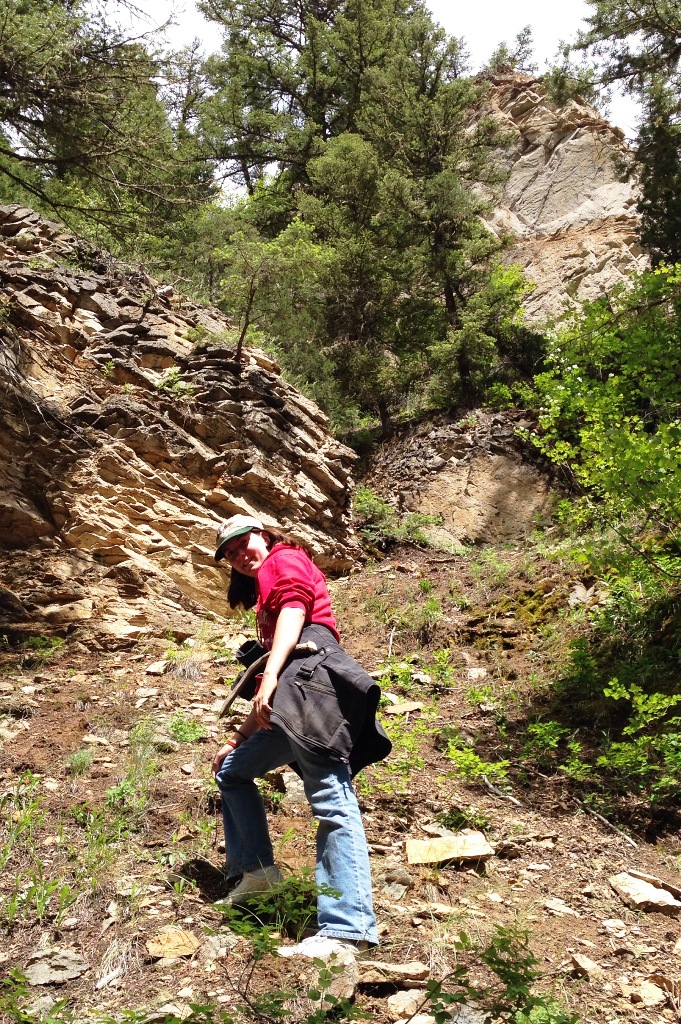 One unexpected part of the hike was that I found a couple shed antlers and one of them was a pretty nice one from this year. I let my niece carry it on the way down and for some reason she thought that meant it was hers! After much consideration on my part and promises from her that she would cherish it and not just throw it in her closet or something I let her keep it. Here's my backpack back at camp with the sheds.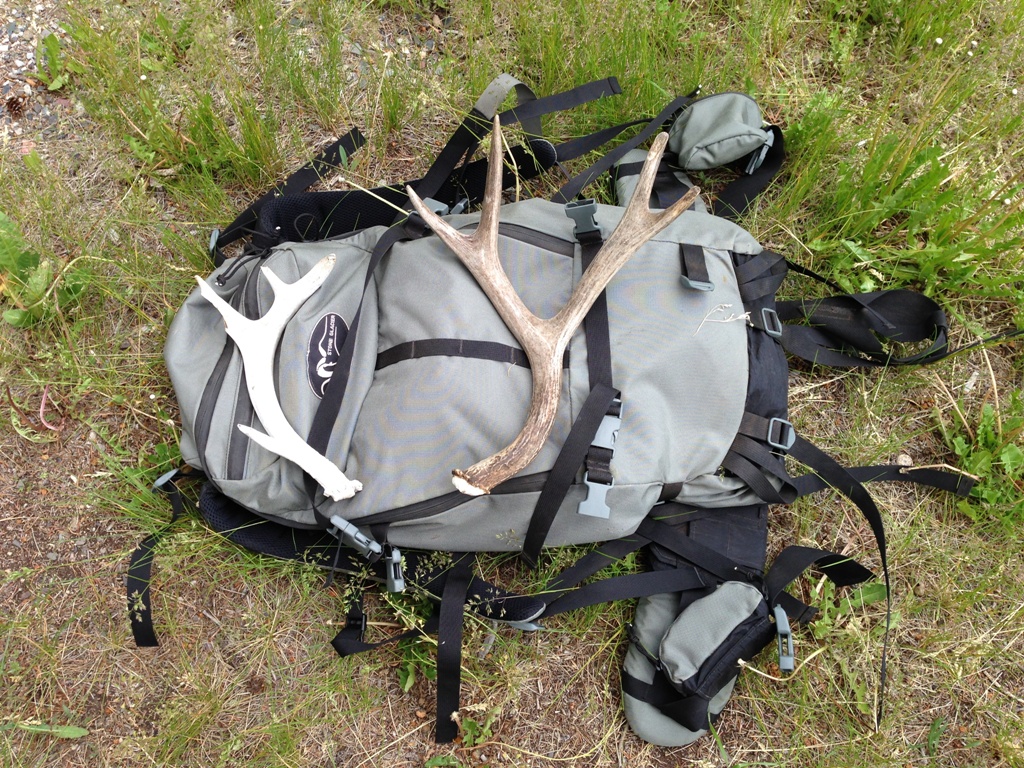 Overall it was a very nice hike and fun to get to share some of it with my niece. She did a little complaining about my choice of routes down the mountain but overall was a trooper.