Well, after doing some good deeds after church, I ended up finally getting away around 4:45 to head down to the land. It's a 1 1/2 hour drive and the sun is setting around 7:00 right now so it wasn't looking very good for an evening hunt.

The stated purpose for the trip was to fix one of my feeders, and I got to the property just after 6:15 and it took about 30 minutes to fix my feeder and swap out cards and batteries on my trail cameras. I decided to just park my pickup at the bottom of the hill that my big blind is on instead of driving back out to the front of the property since it was so late I didn't think I had time to drive back out to the front of the property and walk back to the blind before sunset and that would increase the chances of spooking something away. So I just grabbed my AR-15 and went to the blind.

I figured it was a lost cause since I had just been driving around and my scent was all over at the feeder from fixing it and messing with the camera, but I was down there so I figured I could sit for 45 minutes until it got dark.

It was looking like my hunch was right and then about 5 minutes before the end of shooting light a lone pig came into the feeder. 99% of the time a lone pig is a boar and after waiting a few seconds to see if anything else was going to come in with him I took aim and eased the trigger back on the RRA predator pursuit. Bang! The pig dropped in it's tracks.

It was a pretty decent sized pig and I was a little worried on making a shot behind the shoulder with the .223 because the vitals on a pig are tucked right up behind the shoulder and with it getting dark I really didn't want to mess around on a tracking job. So I aimed right behind his ear where the spine connects to the head. Pigs have such a thick skull that a true heat shot is sometimes iffy, but tucking the shot in behind the ear is deadly.

Cathy had our little canon camera with her this weekend so I had the Nikon DSLR and couldn't figure out how to take a timed picture with it so you don't get to see my ugly mug on this one.

Pigs are kind of like bears in the fact that they are pretty hard to judge the size without something else in the picture for a reference. I took this shot with just the rifle and the pig in it and the pig looks pretty small.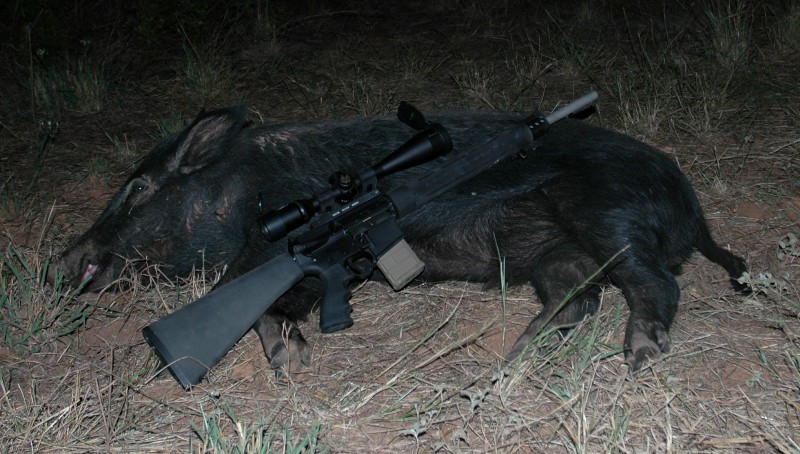 Then I took a picture with the cooler behind the pig for a reference. The cooler is a 68 quart cooler and is 30" long and 18" tall.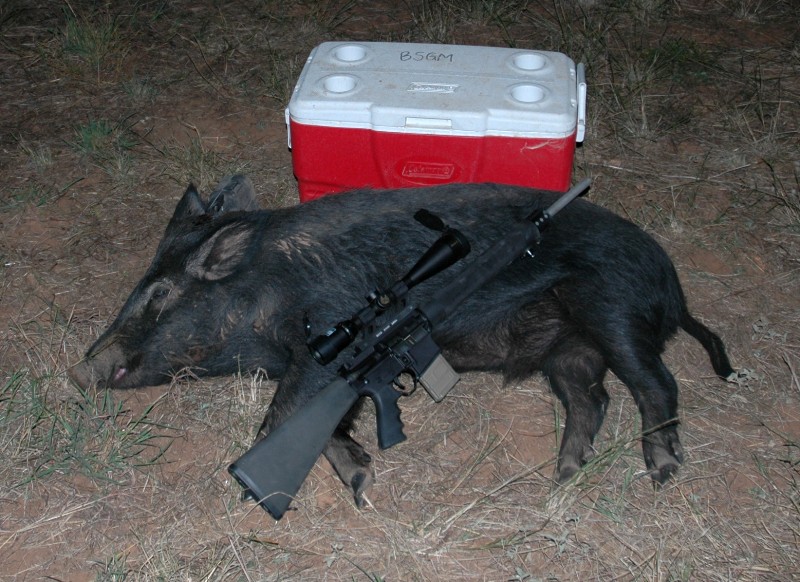 Gives a little different perspective to me anyway. I've shot almost 2 dozen pigs in the last 3 years and weigh most of them on a scale, but this pig wasn't going to set any records and I didn't feel like messing with it so I didn't weigh this one. I tried to load him up in the back of the truck to move him to the front of the property to carve him up, but I couldn't get him in the back of the truck. Either I was tired or he was heavier than I thought or maybe a little of both. I'm guessing him right around the 200lb mark based on other pigs that I've weighed.
Here's a look at the shot placement.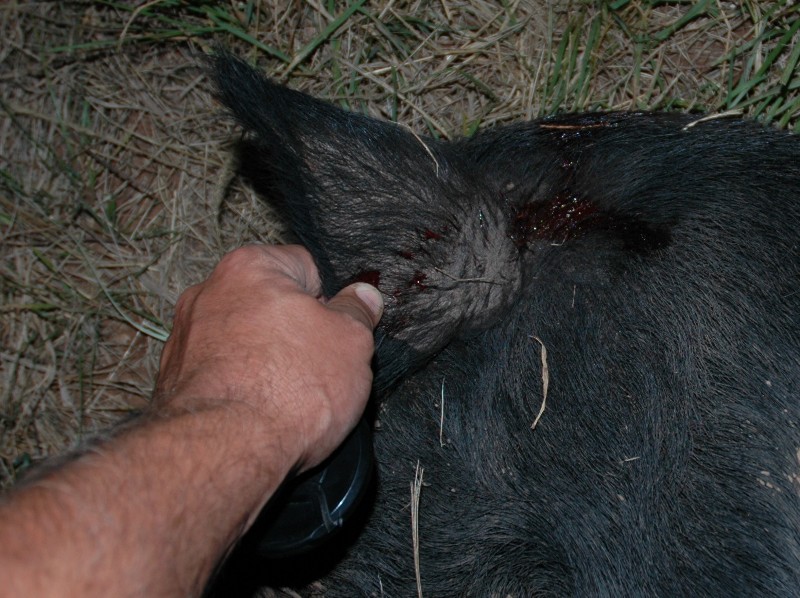 The amazing thing was that the bullet didn't exit. I should have spent some time figuring out exactly what happened to it, but it was late and I had an 1 1/2 drive left ahead of me so didn't mess with it.
I've got the meat on ice and will be turning him into sausage sometime this week. I'll probably turn the backstraps into Canadian Bacon and smoke them though, the last few I've done that with have turned out really good.
That's it for now. Nathan