In my post on my New Mexico Elk hunt, I mentioned that something went down on the night before the opening day of the season that I would expand on later. Well, I'm finally getting back to that.

After scouting that afternoon I was tired and we decided on a 3:30 AM wake up call so we tried to go to bed around 9:00 PM that night. Of course my head was filled with thoughts of the 350 class bull we had seen and the key thing for me was that I "tried" to sleep. I just couldn't get my mind to quit racing so for the most part I was just lying there hoping to maybe get some sleep before the alarm rang.

Somewhere around 10:00 or so I heard some folks in one of the other campsites arguing. I didn't think much of it other than I wished they would be quiet and go to bed so I might be able to get some sleep. A little while later they fire up a generator and I can hear them arguing again, but after a little while they shut the generator off and seemed to quiet down. I didn't look at my clock so my timeline is probably off, but around midnight they started shooting off fireworks! Insanity!

I got out of bed and looked out the window of the trailer and was surprised to see flames about 20 feet in the air over at their campsite! The first thing I thought of was whether or not I needed to get the truck hooked up to the trailer and get it moving out of there, but the wind was fairly calm and actually blowing away from us so it looked like we were pretty safe. Ben got up (I think he had actually been asleep unlike me) and we watched the fire for a while and tried to figure it out. Somewhere in there we heard an explosion and the flames were even higher. A few more small explosions and the fireworks are still going off and I decided that some of the juniper trees must have caught on fire and the popping noise was knots in the wood as it burned. About that time the campground manager got over there with his forest service truck with a tank of water and started spraying it all down. He didn't seem to be very aggressive in getting in close with the hose and we figured out why when we heard even a bigger explosion that had to have been a propane tank. Then we figured out that it was a travel trailer that was on fire, not a juniper tree!

We watched for a while longer, but I was tired and the alarm was less than 4 hours away so I went back to bed. I heard the campground manager make a trip for a second tank of water but it seemed that things were pretty much under control. An hour or so after the fire started a couple fire trucks arrived, but the fire was already out by then thanks to the campground manager and his forest service truck. Somewhere in there I finally did get some sleep, but it sure didn't feel like it when the alarm went off at 3:30 AM.

We left camp in the dark and got back to camp in the dark for the next couple days so we didn't know what had actually happened. I hadn't ever worried about our trailer burning down before, but it got me thinking about the propane heater, propane fridge, propane water heater, stove, oven, etc. and wondered how the fire could have started. I came up with about a dozen different ways the fire could have started but never had a chance to find out.

After I shot my bull and we were waiting around camp for the packers to come back with it, we had a chance to talk to the campground manager and find out the story. It is so unbelievable that I had a hard time believing it, but there is a saying that I've used many times that seems to apply here. "Only in New Mexico."

The folks at the campsite next to us were two brothers and two of their friends. The campground manager knew them and said they were a pretty rough crowd. Evidently when they got to arguing, he snuck over in the trees around their campsite to see what they were up to and make sure they didn't get too far out of hand. I have no idea how much alcohol they consumed, but I'm guessing it was a lot!

This is the story that the campground manager told us. I have no reason to not believe what he said, there may be a few holes in the story, but that could be as much of my recollection of the story as anything else. I've been checking the Ruidoso News website to see if there is a story on this, but the website is a bit out of date and so far nothing similar has been posted.

Evidently the two brothers ended up getting into a heated argument. From what the campground manager said, this wasn't anything new. What was new was that this time the argument escalated out of control. At one point in the argument one of the brothers pulls a gun to shoot his brother. One of the friends sees this and knocks the pistol out of his hand. The brother that pulled the gun then reaches down and pulls a knife and swings out and cuts his brother's throat! Thankfully the cut wasn't deep enough to cut the jugular, but according to the camp manager it required 28 stitches to close.

So the friends come to the brother's aide that just had his throat cut and proceed to beat the brother that did the throat cutting senseless. Evidently the brother that had his throat cut was still okay enough to get in some punches and kicks and the brother that did the throat cutting ended up in worse shape than the one that got his throat cut. Missing teeth, etc. After beating him senseless, the friends and the brother with the throat cut jumped in a truck and headed down the mountain and ended up at the hospital to get medical attention for the cut throat.

The brother that was left who did the throat cutting, evidently wasn't down for too long because according to the campground manager he proceeded to get up, grab a 5 gallon can of gasoline, soak the travel trailer with it and light it on fire! I'm not sure exactly what the campground manager was doing here and didn't think to ask him, but I'm assuming that the gun was still around there somewhere and I'm not sure I would want to confront someone who had just pulled a gun on his brother and then cut his throat.

The brother then jumped in his truck and headed down the mountain leaving a travel trailer ablaze behind him.

The rest of the night unfolded as we had seen, the big difference was that the fire was by no means and accident. The fireworks that we had heard was ammo exploding in the fire. It must have been several hundred rounds popping off over the course of the fire.

Talking with a few different folks, we really weren't in that much danger from the ammo exploding as the bullet needs the barrel to really gather enough pressure to go somewhere and do some damage. Without the chamber of the barrel it might hurt you if you are within a few feet of it, but we were probably 50 yards away and not in too much danger. We couldn't find any evidence that the trailer or the pickup were hit by any flying debris.

Still nothing in the news, but talking to the campground manager, even if the brother who got his throat cut and his trailer burned down won't press charges against his brother they are going to pursue charges against him for reckless endangerment for starting a huge fire in the middle of a national forest service campground were 30 or more people were staying that night. If things had gone differently and the wind had picked up it could have gotten out of hand really quickly and put everyone in the campsite at risk.

We took a couple pictures of the burned up trailer. It was a really nice 5th wheel trailer and I had actually thought about going over and talking with those guys that afternoon before we headed off to get some scouting in. In retrospect I'm pretty happy I kept my distance. Not much left of the trailer.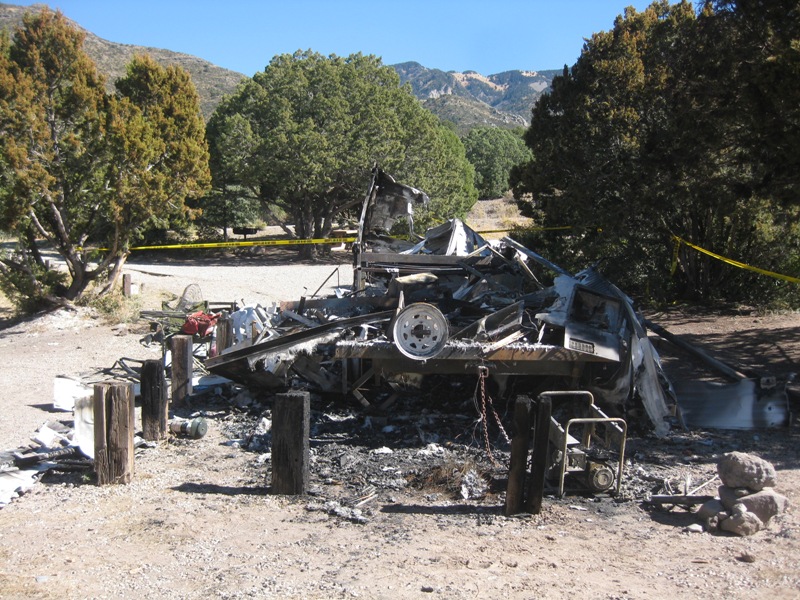 I think some of the smaller explosions were heard were the tires and maybe the generator. It really is amazing that none of the trees around the campsite caught on fire, the flames were at least 20 feet tall.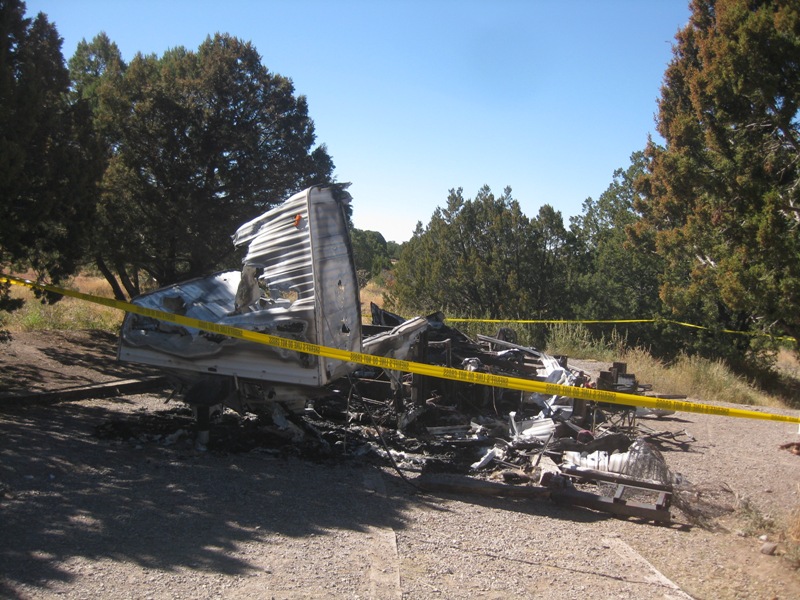 Not much that was even identifiable let alone salvageable.
So that was our first night in camp! You can't say that it was uneventful that's for sure!
Nathan