Is it still dumpster diving if you pulled it out of the ditch?

Periodically we have a problem with people dumping trash along the county road going out to our house. A fridge here, washer there, etc... It's really not that common, but it does happen. Eventually a county maintenance crew finds there way out there and hauls it off, but sometimes it can take several weeks. I can honestly say that I've never been tempted to stop and pick anything up out of the ditch... until today!

When we were going out to run in the canyon this morning we noticed one of those battery operated cars in the ditch along with some other trash and decided to go back and check it out. It didn't look to be in too bad of shape so we loaded it up and brought it home to clean up and to figure out if I could get it to work or not.

I'm trying to charge the battery with a trickle charger so that is taking some patience, but everything else actually seems to be in working order. This evening Eli and I cleaned it up (hopefully it can get wet, cause I used a hose!) and played around with it some. If he pushes the little gas pedal you can push it pretty easily, but if he lets off the gas pedal the wheels lock up so at least that part seems to work. It has a few scratches, but overall it seems to be in pretty good shape. Not sure why someone would leave it in a ditch 3 miles from town, not sure if they didn't want to buy a new battery or what. Of course I thought about it some more and maybe they stole it and didn't have the charger so they just tossed it in the ditch. It doesn't really look that big in the pictures, but it is probably too big to fit in a normal sized dumpster.

Oh well, it will be interesting to see if I can get it to work or not. A new one costs $350 and there is no way we would have ever bought him one new. A replacement battery costs $56 and a charger is only $18 so we might spring for those if everything else works.
Here's some pictures of Eli playing with it.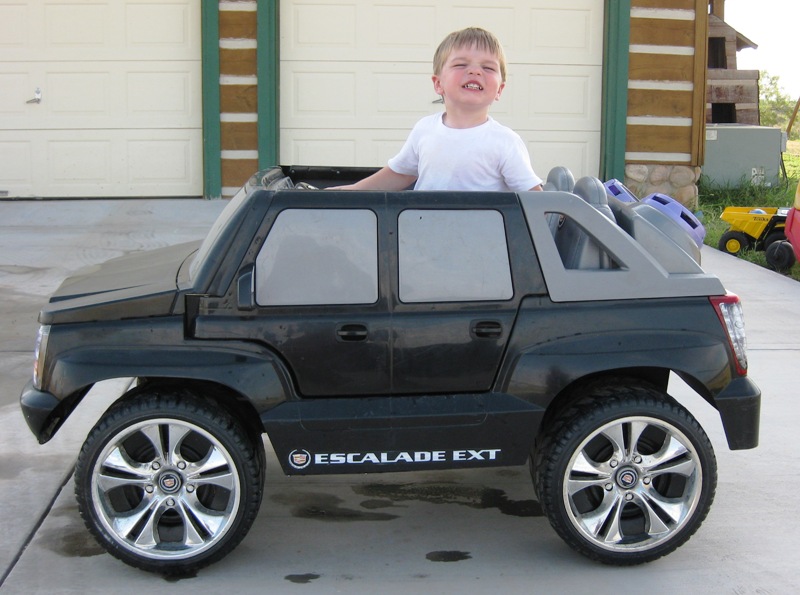 He is turning into quite the ham. He's smiling for the camera here.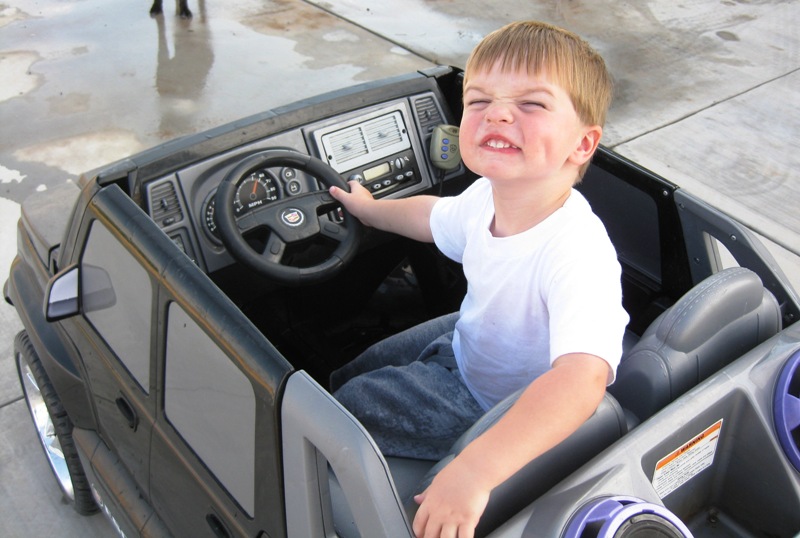 And here's the current mode of operation for it!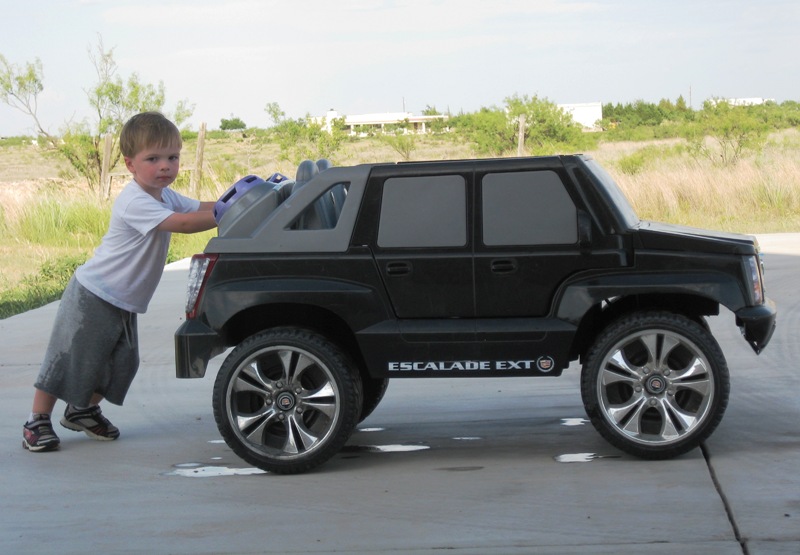 Been a long time since I've picked up someone else's trash with the intention of using it myself, but Eli seems to really like it and the price was right! Hopefully we can get it working without spending too much money on it.
I've been working out, getting ready for elk hunting in just under a month. Got in 2 - 4 mile runs and a 30 and 35 minute hill climb session on the elliptical for the equivalent of about 14 1/2 miles this week. Last week I peaked at 18 miles in a week with a 6 mile run so I think I'll get there pretty easily this year. At one point I had a thought of running a 1/2 marathon this year, but I think I've had second thoughts on that. It will be good to be in decent shape bushwacking through the brush in Wyoming though.
That's it for now. Nathan