Continuing with the baseball theme, it turned out that the Wyoming elk hunting trip turned out to be a solid double. My friend Mike was able to connect on a nice bull a few days after I got mine.

We continued to hunt hard after I shot my bull, but things weren't looking too good. Mike had a black bear tag, so the next day we decided to stop by the carcass of my elk and see if anything was coming into it. Sure enough, a bear had been on it overnight, we just weren't sure what kind of bear. The area that we hunt has as many if not more grizzly bears than black bears so it is pretty hit or miss on what kind of bear is on a kill site. We decided to hang around a while and after a bit, we see a very dark colored bear coming in to the kill. At first glance it looked like a large black bear and then all the sudden it spooked and took off.

A few minutes later it showed back up and came in to the kill site pretty fast. It grabbed a large piece of meat from the carcass (I'm guessing the liver) and turned around and took off on a dead run. It ran at least 100 yards until it went out of sight down the canyon. Now, this wasn't a huge grizzly bear, but it wasn't a small one either. It was about the size of the carcass so we were thinking somewhere in the neighborhood of a 300 - 400lb bear.

The whole episode really made us scratch our heads. Generally in the area that we hunt, once a grizzly bear finds a kill site, it stays on it until it wants to leave. Even if a hunter shows up, most of the time a grizzly will be very reluctant to leave a kill site, that's why you always move the good meat a good 100 yards away from the carcass before you haul the first load out. The only reasons we could come up with for why this bear was so skittish was that there was another VERY large bear in the area, or this bear had been shot at or harassed in some way at a kill site before. The idea of a bear large enough to have this one acting so skittish seemed the most likely explanation, however that didn't give us a warm fuzzy feeling knowing that we'd been stumbling around in the dark and would probably be doing it again for the next few days.

Okay, back to the elk hunting. We did hear one bull bugle on Tuesday morning, and tracked him a bit, but he was moving away and not talking much. We weren't seeing near as much sign as usual and for sure weren't hearing or seeing anything.

Wednesday we went into a spot where we've always seen lots of sign. We were within a few hundred yards of where I shot my first bull elk a couple years earlier waiting for shooting light to get there. As opposed to a couple years ago, we didn't see or hear anything once shooting light got there. We investigated a few wallows we had marked on the GPS and although there was plenty of water and the spots looked good, nothing had been using them to wallow in. We continued to look around and although the habitat looked great, we just didn't see much sign that the elk were hanging out there at all. We headed back to camp early feeling pretty dejected.

Thursday morning we decided to go ahead and go back into a canyon that we always dread going in and out of, but where there generally are some elk to be found. We had been sleeping in the last few mornings until 4:30 and leaving camp at 5:00 and we did the same on Thursday.

We parked in the same spot we had on Monday and Tuesday and headed up the hill in the dark watching the GPS to take us where we wanted to go. We were headed for the least steep part of the canyon where you drop about 600' of elevation in less than 1/4 mile. Usually it's not a big issue going down, (it is always an issue coming back up, especially if you shoot an elk down there) but we were a little early and we decided to at least wait for shooting light before heading down. We were just about to sit down to wait for shooting light when we heard something blow about 100 yards away and start crashing through the brush. We cow called to try to convince whatever it was that we were an elk and not a couple of hunters bumbling around and to our surprise whatever it was stopped to listen. Of course then I started thinking of the fact that I had killed my elk less than 1/2 mile from where we were now and the grizzly we had seen coming into the kill site was coming from the direction that we were now. That and the fact that it was still nearly 1/2 an hour before shooting light and I was about to convince myself that the animal crashing through the brush 100 yards away was a bear and with us cow calling we were ringing the dinner bell for it when to our relief we heard a very weak bugle.

Instead of worrying about getting eaten, now the challenge was going to be keeping the elk interested without bringing it in before shooting light. We also discussed that it sounded pretty small and we both agreed that even a spike up on top sounded like a better deal than a mediocre bull down in the canyon. Of course being the positive thinker that I am, I figured on the worst case scenario would be to shoot a spike at the top of the canyon and have it end up running down into the canyon and we would still have to end up packing it out of the bottom.

We tried to lay off the cow calls but we could hear him moving away from us and periodically we would cow call. About the 3rd time he bugled for us, he added a pretty impressive growl at the end and we decided he might not be that bad of a bull, but we still didn't want to get him too excited before shooting light. A few calls back and forth later and shooting light arrived. We started to cow call in earnest and even threw in a weak bugle a couple times and it quickly became obvious that the bull was not going to come to us. He had moved off a couple hundred yards and was actually starting to move away farther. A few of his bugles had a really nice growl at the end of them that really started to get us excited.

We talked it over and decided that we were going to have to get aggressive and go after him. Mike headed out first and I stayed back about 30 to 40 yards and would periodically cow call to see if we could get a response to help us locate him. We started this at around 6:45 and kept after it slow and steady. About every 5 or 6 minutes I would cow call or if the bull bugled I would answer him. I bought a mouth diaphragm call this summer and had been practicing with it and I guess I'm getting decent with it. The bull wouldn't respond to any other calls, but would bugle for my mouth call.

We went about 200 yards and through a clearing and could hear the bull in the dark timber behind it. At one point it sounded like he was just barely into the dark timber, but we never could see him. He was sounding bigger and bigger, there was no way he was a spike. He would still just let out a soft short bugle and then throw in a big growl at the end with the last of his breath. We got to the edge of the dark timber and Mike kept after him while I hung back and cow called periodically. At one point Mike must have tripped and made some pretty good noise crashing through some deadfall so I cow called and got a bugle in response. I was into the dark timber by this time and it sounded like we were getting pretty close. A few minutes later I cow called again and got an immediate response. Maybe a minute later I hear a shot! I didn't hear the traditional thump of the bullet hitting and Mike started to cow call so I threw in some cow calls as well. I heard some crashing in the brush and Mike shot again and I kept cow calling. I figured he either missed or made a bad shot and the bull was running away.

I started running his way and kept throwing in cow calls and heard a 3rd shot. Again I am just hearing the shots without hearing them hitting anything so I'm guessing misses, but as I get closer there is Mike standing over a nice bull!

We debriefed quickly and it turns out that there were at least 2 bulls the entire time. Mike had seen a raghorn and was about to pull the trigger on him when I cow called and the larger bull responded and he decided to pass on the raghorn to see if he could connect on the larger one. The larger bull evidently decided to move the raghorn off, because he immediately moved toward where the raghorn was and gave Mike a shot opportunity. The first shot was a hit but he was so close that explained why I had only heard the shot and not the hit. Doing the post mortem, be determined that the first shot hit him in the neck and he went down immediately. The crashing through the brush that I heard was actually the bull thrashing after he went down. The bull tried to get back up and that was when Mike shot again and based on the post mortem it looked like that shot was a miss. The 3rd shot was a finishing shot that Mike actually made with his lead based bear spray (a 44 mag).

Mike went back to the spot where he had made his first shot and I ranged it at a whopping 37 yards! Even at that short of a distance he was only able to see glimpses of the bull it was so thick.

Okay, after the novel, here are some pictures.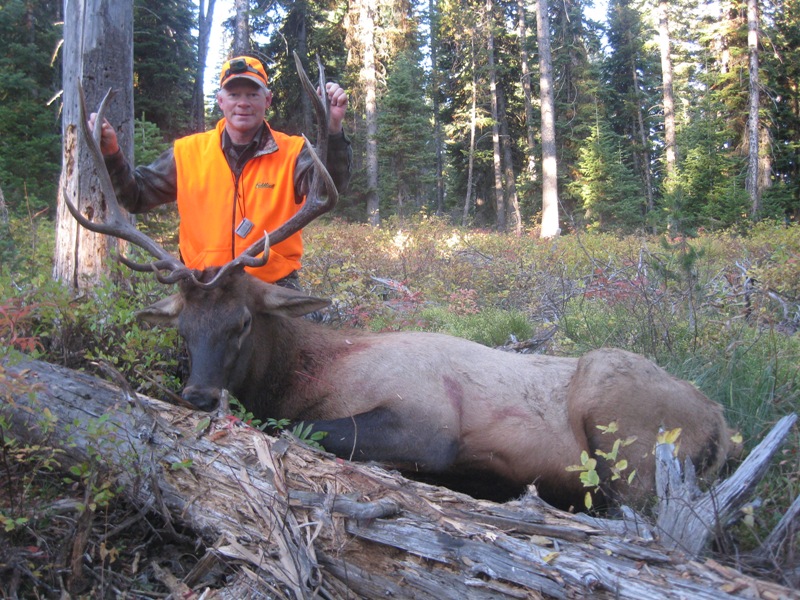 Here's both of us with the bull.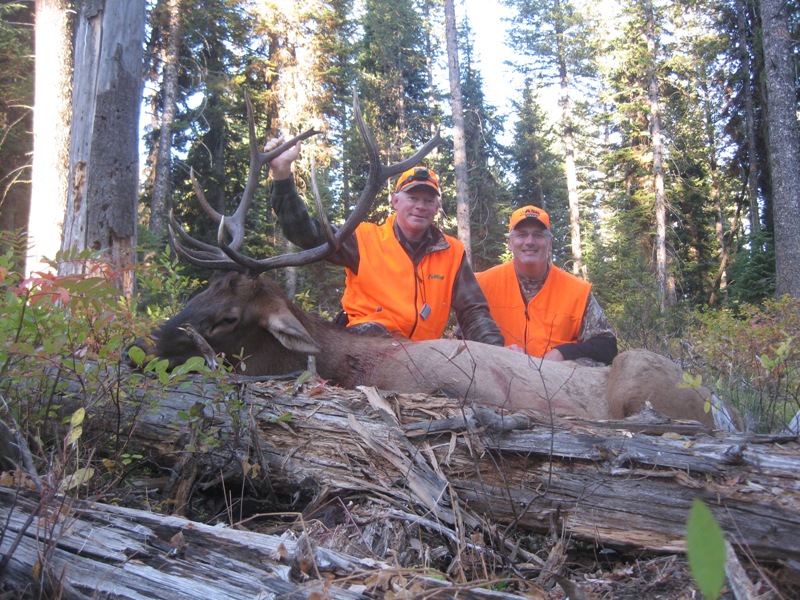 Although I didn't pull the trigger, I really felt like I really contributed to getting this bull on the ground.
My pessimistic thoughts on shooting a spike and having it run down into the canyon didn't turn out either. The entire time we were shadowing the bull it was actually moving closer to the truck! When it was all said and done he went down a whopping .37 miles from the truck.
A couple hours of cutting and we were headed down the hill toward the truck.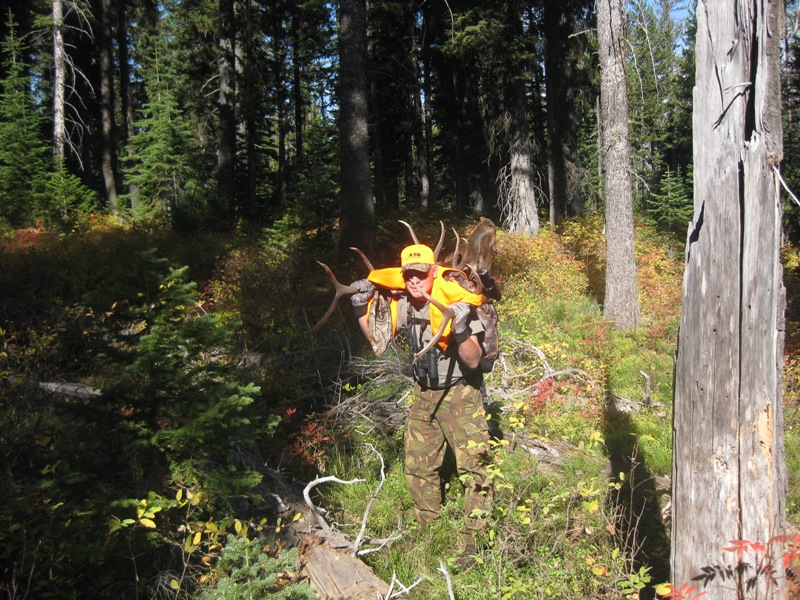 So Thursday around lunchtime and we are both tagged out and back at camp! It was a beautiful day and we took the opportunity to take some pictures.
We ended up going back over to where we normally camp and asked how they were doing. We figured that with horses they were able to cover a lot of ground that we weren't able to cover on foot and were curious what they were seeing. None of the 6 hunters had seen an elk in the 4 days they had been there! We had shot both of our elk less than 3 miles from where they were camped and they still hadn't even seen one. I would like to think it was our mad skills as hunters, but I know that a whole lot of it was just luck and being in the right place at the right time. I think that was a big key as both elk were on the ground by 8:00 in the morning and both times we were back where we wanted to be long before shooting light arrived. I think the 2nd bull did take some skill along with the luck, but I know that luck did play a big part in it.

Anyway, I doubt many people took the time to read through this entire post, but I wanted to get it written so I could remember it for myself if nothing else. We really had a great time in Wyoming and I would have considered it a great trip even if we hadn't connected, but the fact that we both tagged out early was really nice.

The 24 hour drive going and coming home wasn't all that fun but the time spent when we were up there was worth it!

That's it for this one. Nathan