Well, I'm doing the running thing. So far in 2012 I've run 1,116.8 miles according to my running log. I'm afraid that at some point in here my running has gone from being done to get in shape for hunting to running to get better at running!
I had a couple goals for this fall and one was to run a 10K race in under 50 minutes and the other was to run a 5K race in under 24 minutes. I was able to make the 10K goal back in September when I ran the Shallowater Stampede 10K in 49:18. That's an average pace of 7:56 per mile which is WAY faster than I would have ever dreamed I would be able to run 6.2 miles at even a year ago.
There are all kinds of running calculators on the Internet and plugging my 10K time into them made it seem like I should be able to run a 23:45 5K based on that race so I felt pretty confident that I would make that. Too confident it turned out! After some posts on the Internet I even thought I might have a chance to run a 22:00 5K which sounds crazy fast to me. So we signed up for the next 5K which was the Red Raider Road Race which is one of the biggest races of the year for the running club and I did some speed training and showed up expecting to nail it. I did have some allergy issues and was taking antihistamines though, so that had me a little worried. Race morning was pretty decent temperature wise, but we had a pretty good wind going about 20 mph that wasn't looking to great. I warmed up and was ready to go, the gun went off and so did I. The first mile was a 6:55 split which was what the running calculators said was the pace I should be able to run a mile at IF I was only running a mile! But I still had 2.1 miles to go. I slowed down to a 7:25 pace on mile 2 and completely blew up on mile 3 slowing down to an 8:15 pace. I finished the race with a 24:06 time and missed my goal.
So that brings us to the Make A Wish 5K race! I couldn't let that disappointing race result sit with me any longer than I had to and I found another 5K on the calendar just two weeks away. I did some more 5K specific training and felt like I really could get close to a 23:00 5K based on my training times. The big thing I learned from the previous race was that if you go out too fast you will pay for it in spades. I couldn't believe how slow I got on that last mile and I really was giving it everything I had.
They had a costume themed race and our family decided to dress up as hunters. Not too big of a stretch for us!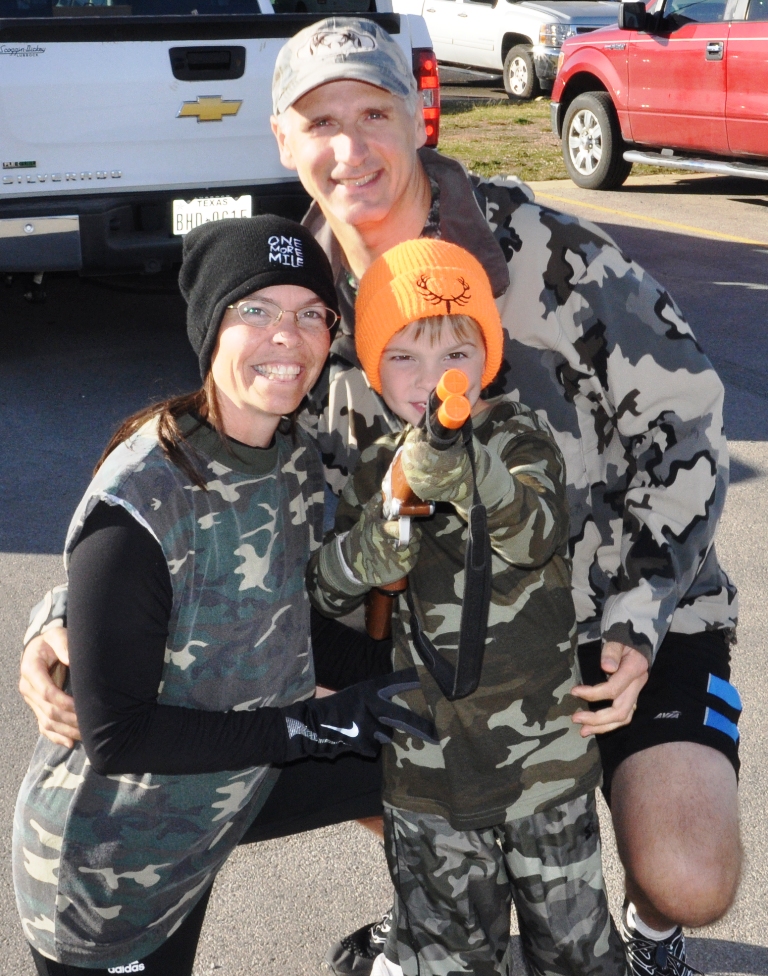 Cathy and Eli ran the 1 mile run/walk and Eli got 1st place! The course was a tiny bit under a mile and Eli finished it in 9:38! He ran nearly the entire way. Of course we won't mention that the race was a little unorganized and the fastest 3 runners in the 1 mile ended up going out much farther than they were supposed too, but Eli did still cross the finish line first. Maybe we'll make a runner out of him yet.
It was a brisk morning with the temperature at 38 degrees at the start, but it was sunny and only a light breeze at 7 mph so it really wasn't too bad. In fact, that is about perfect conditions for a fat boy like me who needs some help dissipating heat that I build up on a run!
It was a very small race, less than 100 total runners with most of those in the 1 mile Run/Walk. The 5K had about 30 and the 10K had about 15. Got in a good warm up, but the race started almost 10 minutes late so was getting a little anxious by the time it finally started.
We finally got lined up and I was right on the front line. They gave us some last minute instructions and blew a whistle and we were off. Had a nice little group of about 5 of us that settled in right at the start with a couple 10K runners pulling out in front of everyone. Our friend Larry was running with me and I had my phone set to give me audio cues every minute so I was NOT going to go out too fast and blow up this time.
One minute in and my phone tells me I'm running a 7:03 pace, I didn't feel that at all so I just kept the same pace and tried to run smooth. Two minutes in and my phone again tells me I'm running a 7:03 pace and this time I believe it and slow down just a little. Next minute clicks off and I'm down to a 7:15 pace, another minute and I'm down to a 7:20 pace and that's where I wanted to keep it for the rest of the race.
Kept it real steady and Larry just hung with me and the pack just kind of stuck around. At one point we were actually leading the 5K! At about 2 miles in a couple of high school cross country girls went ahead of us and another guy a little younger than me pulled ahead. I was staying really consistent and was afraid to blow up like last time so I just let them go. At 2.25 miles I could tell my buddy wanted to go win the 5K and if we waited much longer the 3 ahead of us might pull away so I told him to go. It was getting harder, but I still felt WAY better than I did two weeks ago when I blew up. What little breeze there was was behind us so I felt like I had 24:00 in the bag for sure. He took off and left everyone so it was the two girls and the 35ish guy in front of me. They ended up about 50 yards ahead of me and then either they slowed down or I picked it up slightly or probably a little of both because it stayed that way to about 2.75 miles.
The way the course was laid out you couldn't actually see the finish line until you made one last turn, and I was still worried about blowing up like last time so I didn't start picking up the pace until about 200 yards to go. In retrospect I should have picked it up at least 400 yards out and I really think I might could have caught up with the guy in front of me as I felt great going across the finish line. Still, I was VERY happy with my time as I smoked my original 24:00 goal and beat my 23:00 fairly well.
Here's a couple pictures Cathy took as I was approaching the finish. Here's where I should have already been kicking to try to catch the guy in front of me.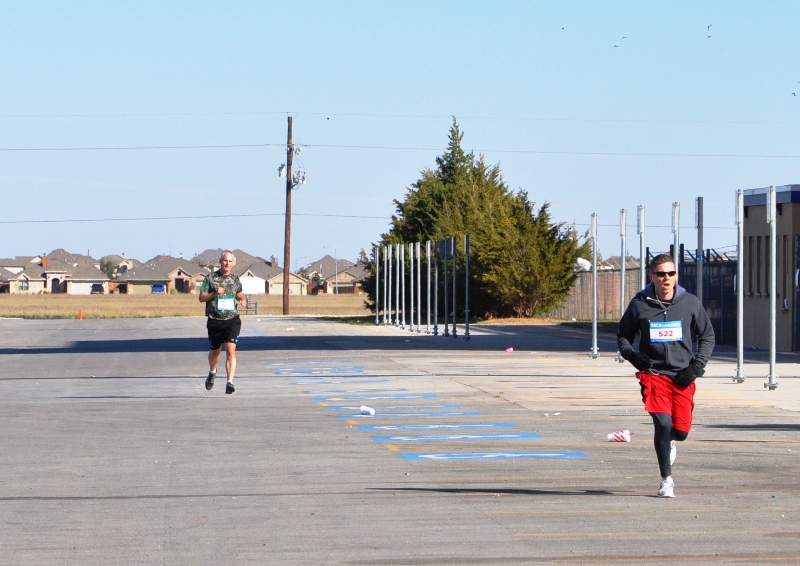 Here's a closer up picture of me. I'm going to have to start admitting that not only am I nearly completely gray, but I'm going bald as well!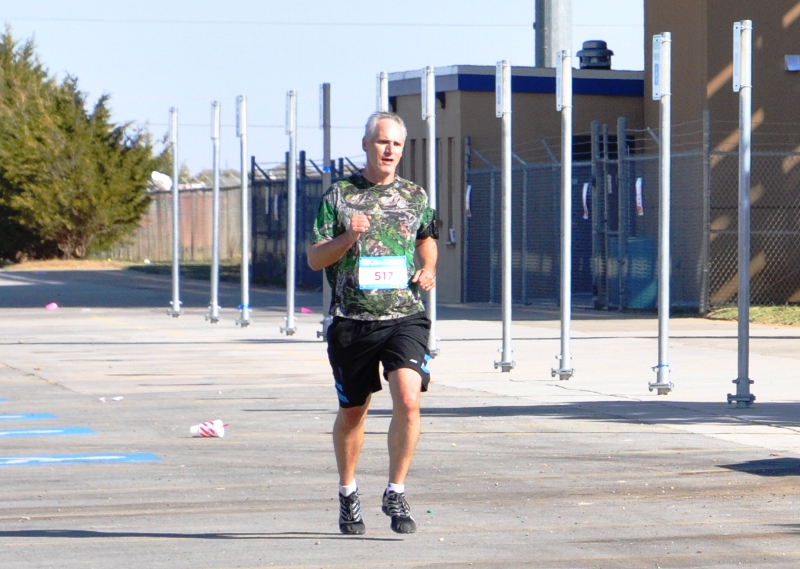 A couple more pictures of the finish. I'm still a little upset with myself for not catching this guy in front of me. They split the age divisions into 30 and under and 30 and over since it was such a small race and turns out he was the first place finisher for the 30 and over Male. I took 2nd. I was running more to get my time than to win a race as I just never would have dreamed I would have a chance of actually winning my age group.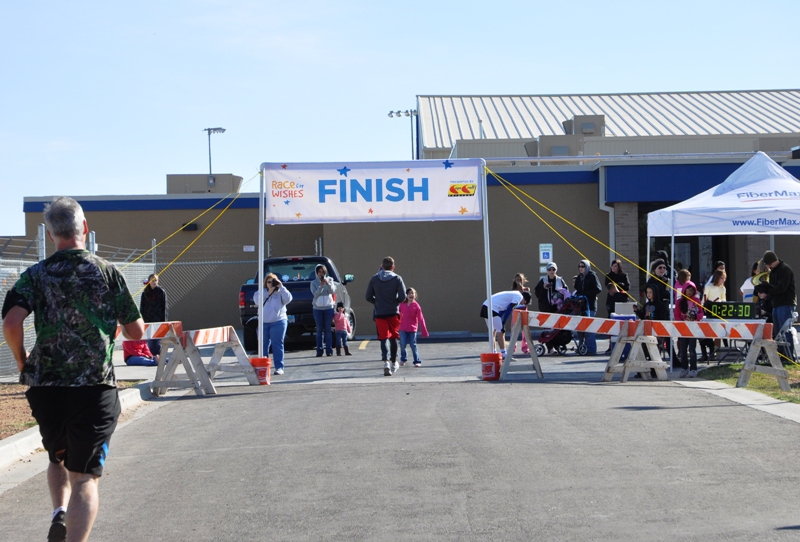 Here's me going across the finish line. The clock shows 22:34 and it looks like I'm only a couple steps from the finish so you would think I would have ended up with a 22:35 or maybe 22:36, but they have me down as 22:39 for my official time. Still a very good time for me. Eli was chasing after me to congratulate me as soon as I crossed the finish line.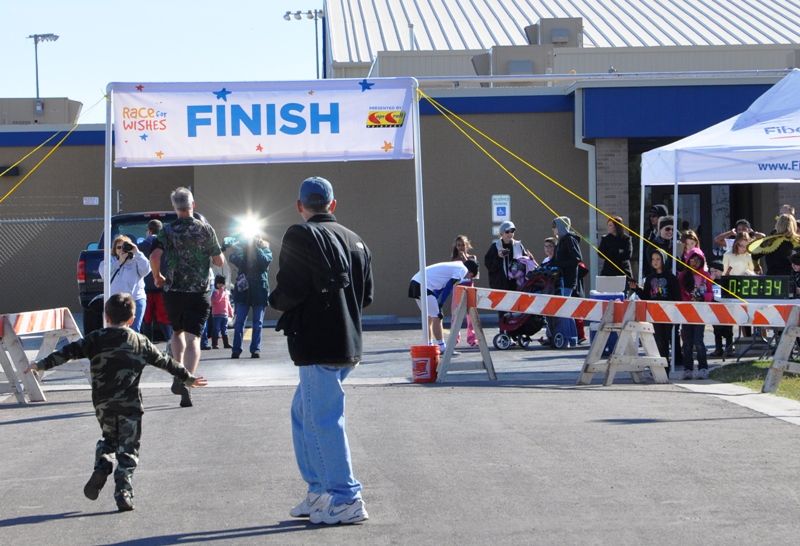 If you are interested in the details, here's my splits with HR info.
Distance Duration Total Duration Pace Avg HR Max HR
1 mi 7:20.59 7:20.59 7:21 164 181
1 mi 7:18.88 14:39.47 7:19 177 182
1 mi 7:12.52 21:51.99 7:13 180 183
0.12 mi 0:48 22:39.99 6:40 181 183
I don't know how to really analyze these numbers, I didn't even get close to my Max HR of 194 at the end of the run so I think that means that I should have kicked much earlier. I think my avg HR being at 177 (91%) for the 2nd mile and 180 (93%) for the 3rd mile means I was not going to be able to keep that pace much longer though. Also not sure if the low temperature helped keep my HR low also.
I felt MUCH better than I did at the end of my 5K two weeks ago that I ran a 24:06 on. A little sore in my quads, but not just beat down like I did after the last one.
Pacing was just about perfect when it is all said and done I think. Should have kicked a little earlier, but I was so worried about blowing up after the last race I was too conservative at the end.
Oh well, it's been a while since I posted and I thought I would update things. I have another half marathon scheduled for two weeks from now, but I'm not going to stress about getting a specific goal time on it. It's a tough course and I'll just be happy to finish under 2 hours which should be pretty easy, but you never know until the day of the race.
That's it for now. Nathan