Well, I'm more than a month late posting this, but we had a great time visiting family in Kentucky and spending some time on the lake.
Eli is such a great little traveler, we flew on an unscheduled Southwest Airlines flight because they only let you change planes twice on a scheduled flight. To get from Lubbock to Louisville we had to change planes 3 times going and coming so we used some rapid reward tickets and with some very quick connections the flights all turned out great. Eli even managed to catch a few Z's on one of the flights.
After some family visiting, we went with one of my brother's down to Dale Hollow lake which is right on the border between Kentucky and Tennessee. You actually drive into Tennessee to go the Marina where his boat(s) are. He just purchased a new 58' house boat and hasn't sold his smaller one yet so we were able to pack a bunch of folks on them. I think there were 15 of us there for supper one night.
Here's a picture of the boats parked in a cove.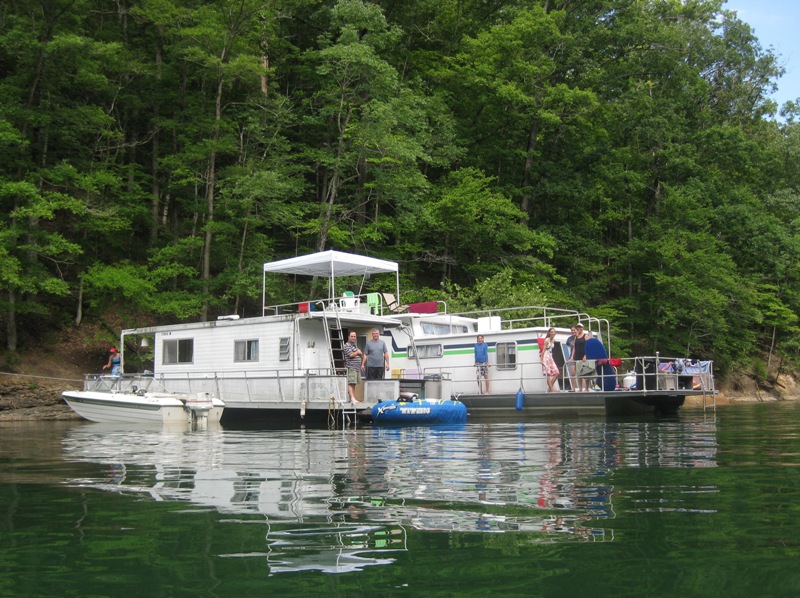 We had a lot of fun and spent a lot of time just relaxing. We spent some time knee boarding (and I either cracked a rib or pulled a muscle as it still hurts a little even over a month later) and the highlight for me was doing some diving. My brother has a subsurface air delivery setup where the air compressor floats on a inner tube and you are hooked up with a 100' long air hose. We dove along the bottom of the cove we were in and it was pretty neat. Between the 2 of us we recovered 2 boat anchors, 5 swim masks, a snorkel, 6 golf balls, and ended up picking up a 32 gallon trash can full of beer cans and bottles from off the bottom. It averaged about 30' deep and there was a thermocline at about 25' so it was pretty interesting going from the cold water down deep to the warm water when you surfaced to get rid of the items you had collected.
Here's a picture of me after unloading my catch. My brother is diving at the end of the other air line and my nieces are snorkeling above where he is diving.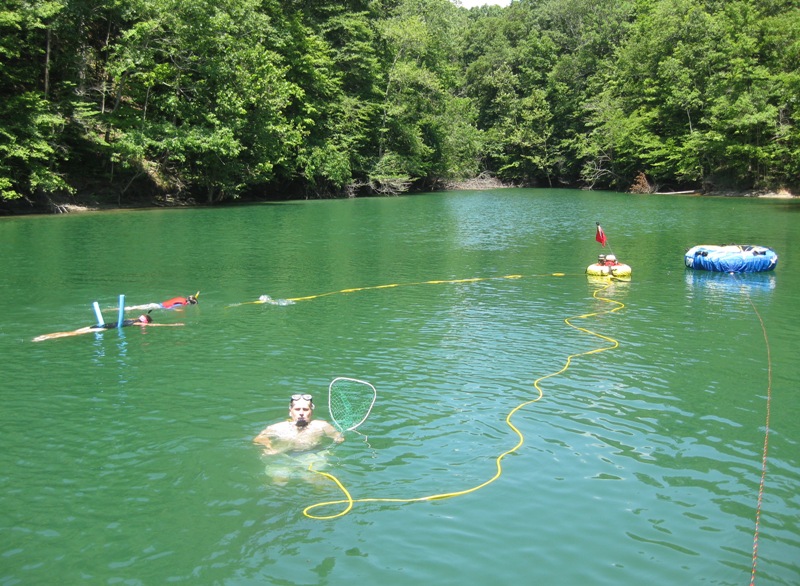 Overall we had a great trip and it was really good to see my brothers and sisters who live there. I'm WAY behind on my blog and I'm going to try to get it caught up over the next week or so.
That's it for now though. Nathan