Well, we spent the weekend in Vegas and really had a good time. We stayed at the Wynn and got a really good deal on it using
hotwire
.com and
betterbidding
.com to get a good idea of which hotel it was before we booked it. It was really nice and we ended up paying less than we would have for nearly any of the other hotels on the strip that weekend. I should have taken some pictures of the room, but I didn't even think of that.
This was our "
babymoon
". Our first trip without Eli since he was born. We were a little nervous leaving him, but Cathy's sister came and stayed at the house along with Cathy's parents so we felt like he was in pretty good hands. Everything went very well from that perspective, everyone had a good time, although I think they went back home a little tired from keeping up with Eli.
I played a little poker at the Wynn, but the tables were really tight because they were having a free roll tournament this week and lots of locals were playing to get enough hours in for the free roll so the tables were anything but loose.
The high point of the weekend was spending a day at Red Rock Canyon. We got to go out there for a few hours with Eli back in December, but we were able to do some real hiking and climbing this time without him. It was a perfect day for outdoor activities with the temperature starting that morning in the upper 60's and ending that afternoon in the upper 70's with plenty of sun and light winds.
When we got married, Cathy was afraid of heights and for the last 16 years she has steadily improved in that area since I've drug her around with me on several different hikes and climbs. She did VERY this time and actually seemed like she enjoyed herself.
Oh well, I took a lot of pictures and will post a few and then give a link to the rest of them.
Here's probably my favorite picture of the day. This picture was taken up near the top of our climb. If you look closely you can see some cars on the road down below on the left for perspective.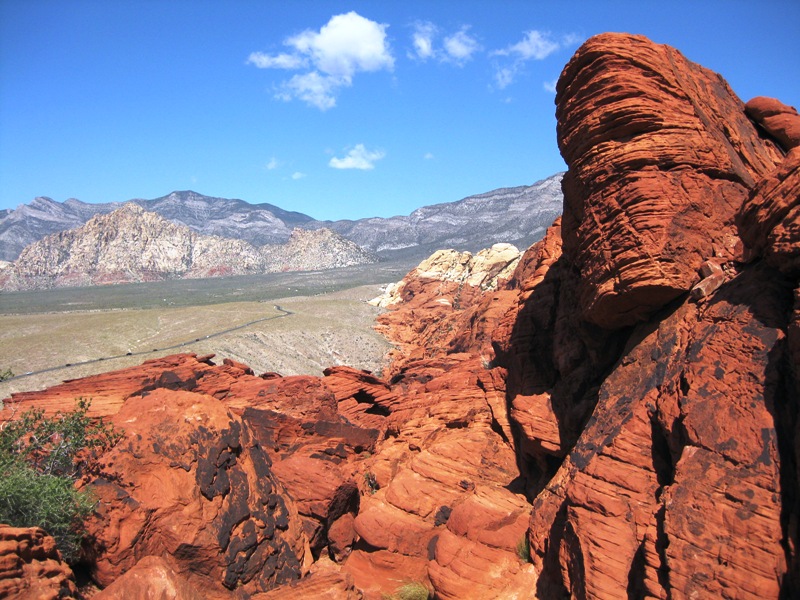 Here's a picture of Cathy on one of the rock faces. The camera perspective is always deceiving on how steep things are to me. This picture looks like it was almost a sheer cliff, but she was able to walk up it. Other pictures where we were actually climbing and pulling ourselves up look almost flat.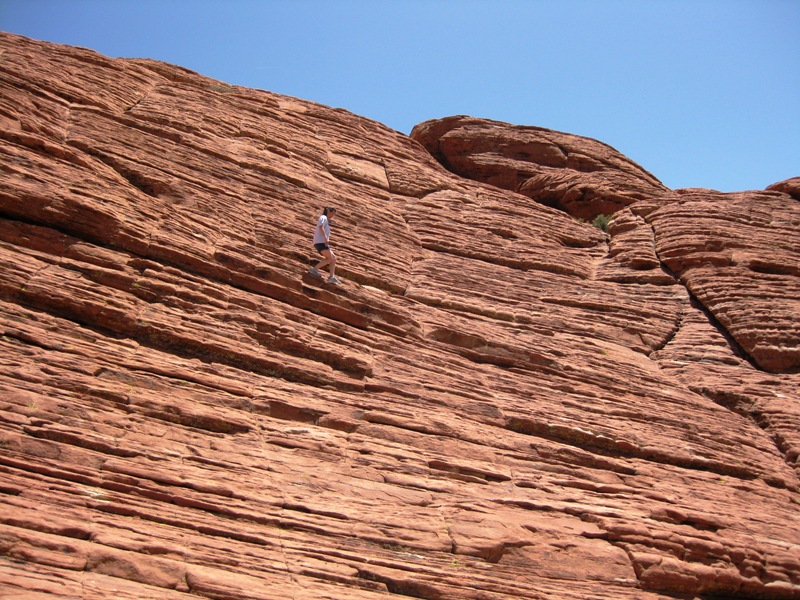 This was probably the best picture of me. This was at the top of our climb. Another one where the perspective is off as about 3 feet behind me, and on both sides was a sheer drop of about 200 feet. I tried to convince Cathy to come out and try a timed picture with the camera, but she was happier taking the picture where she was.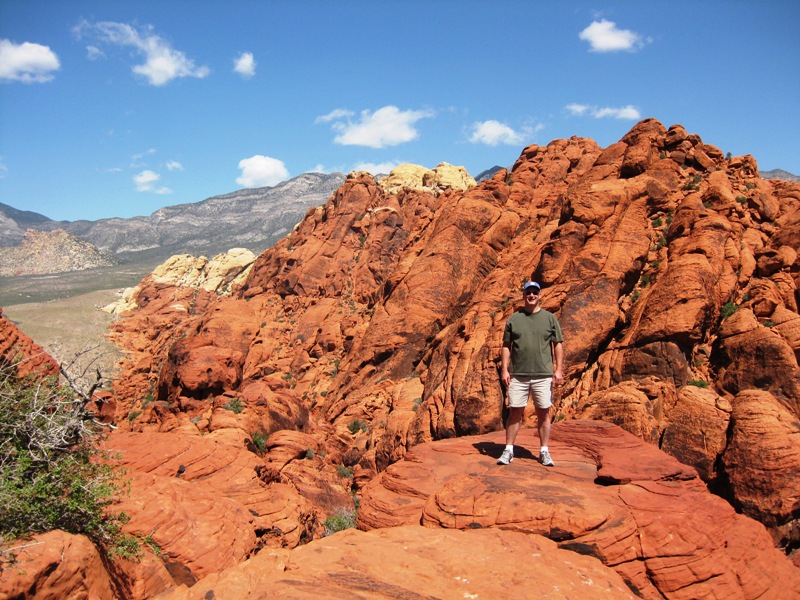 This is basically our climb. We ended up climbing up on the far left hand side of this picture and then going across the top and coming down along the ledge you can see that starts and the top right and ends up down a little to the left of center. That's a sheer cliff in the center and if you click on the picture to enlarge it you can actually see some climbers on it to give you some perspective on how big it is. There are also some hikers in the very bottom front of the picture for perspective as well.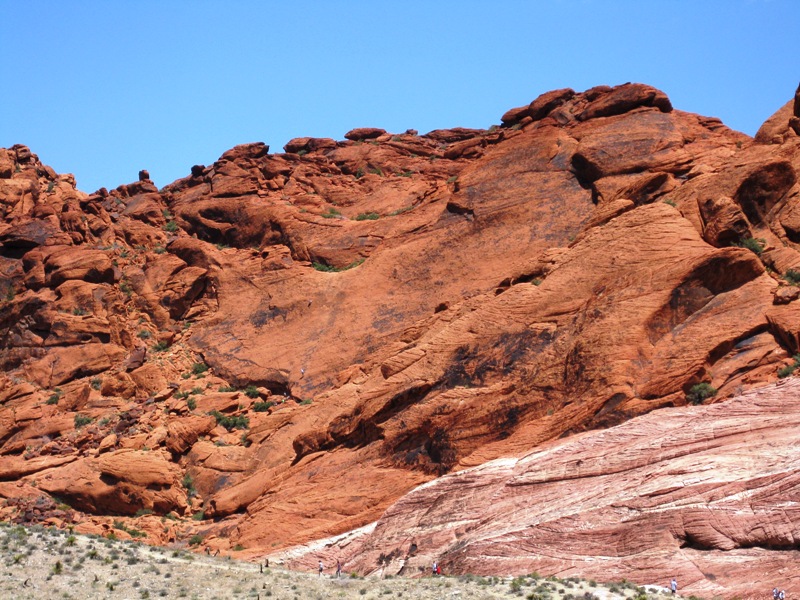 Here's another picture from the same spot. It looks like the spot that we climbed in the center was way shorter than the area on the right hand side of the picture, but the right hand side of the picture is just closer so it looks taller. It was actually about the same height.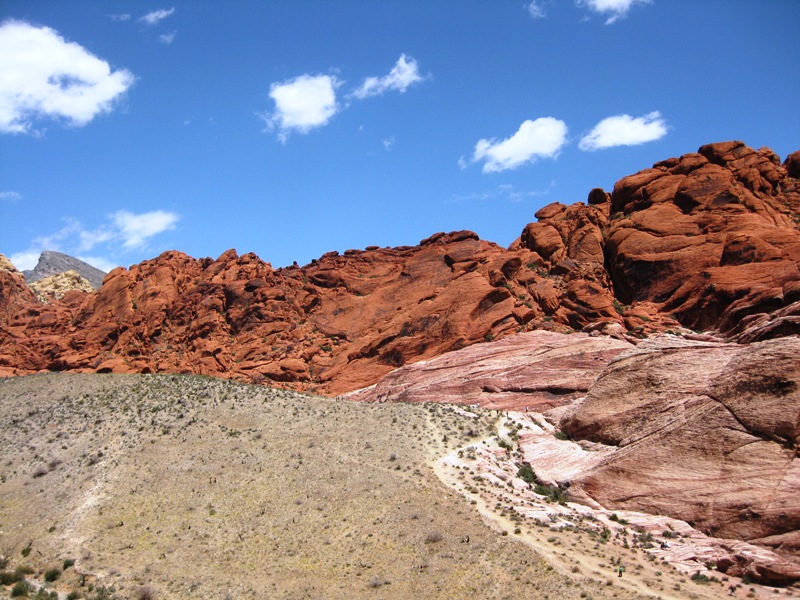 Lots (as in over 30) more pictures in the photo gallery if you are interested. I really like that place and sometime I'm going to have to spend a whole week out there, but for now I'll just enjoy it when I get to.
Here's a link to the photo gallery - http://padens.com/v-web/gallery/album06?page=3
I did break my record with 7 posts in April!
That's it for now.
Nathan