Natural Bridge Caverns Trail Run - Race Report
Okay, here's the short version. Sub 2 hour for my first trail half marathon - Check. Don't fall - Check. Have fun - Check!
The LONG version.
I'm still happy the way that this all worked out and I got to run my very first trail race. Due to some last minute scheduling conflicts, I ended up having to go to a meeting in San Antonio on Saturday the 1st of February. The meeting was going to be too late in the evening to get back home the same day so I was going to have to spend the night. Last time I had something like this come up, we turned it into a date night and my wife Cathy came with me and we enjoyed an evening on the Riverwalk in San Antonio. Since this was over the weekend, I decided to check and see if there were any races in San Antonio while we were there. Sure enough there were a few, and this one really seemed interesting being a trail run and the very unique aspect that it actually starts inside a cave. There were 5K, 10K and a Half Marathon distance options so I signed up for the Half and signed Cathy up for the 5K.
Travel to San Antonio was fairly uneventful, my meeting Saturday evening went really well, and now we were down to the race. I ran a little 2 mile shakedown run Saturday afternoon after we got there and it was downright warm. 79 degrees and 49% humidity at around 3:30 in the afternoon. The forecast was for mid 50's and rain overnight so I was hoping for a cool down. I ended up getting it and then some.
Race day morning, I grabbed a banana and bagel from the hotel breakfast stuff and drank a diet coke on the drive to the race. It was only about a 15 minute drive from the hotel and we were there by 7:00 for the 7:30 start time. It was gloomy with some off and on light rain and windy. The cold front had indeed come through and it was in the mid 40's instead of the mid 50's. That was still okay with me, but Cathy ended up wearing nearly every article of clothing that she had brought on the trip. We had gone to packet pickup the day before so we pretty much just hung out in the car until it was 10 minutes until race time and the pre-race meeting started. The Half started first so we listened to the announcements with most of them centered around the start inside the cave and the pretty strict rules about not touching anything, no headphones, and a couple no running or passing zones.
Another very unique aspect to this race is that it starts in a time trial format (because of the previously mentioned no running and no passing zones). When you register it asks for your "one mile pace" whatever that is. I had read a review from the year before on a person who put their time down as their fastest one mile ever, and they had realized that most people put their approximate expected race pace so I put down 8:00 for mine. Standing in line the guy in front of me said he put down 8:30 and he was ahead of me though so who knows. The end result is they try to line you up so there aren't any super slow people in the front that are going to clog things up for faster people behind them on the narrow tunnels through the cave.
Here's a picture that I stole off the internet showing where the cave gets it's name. This is where we walked down into the cave at the start of the race. We exited the cave in a different location about 1/2 mile away.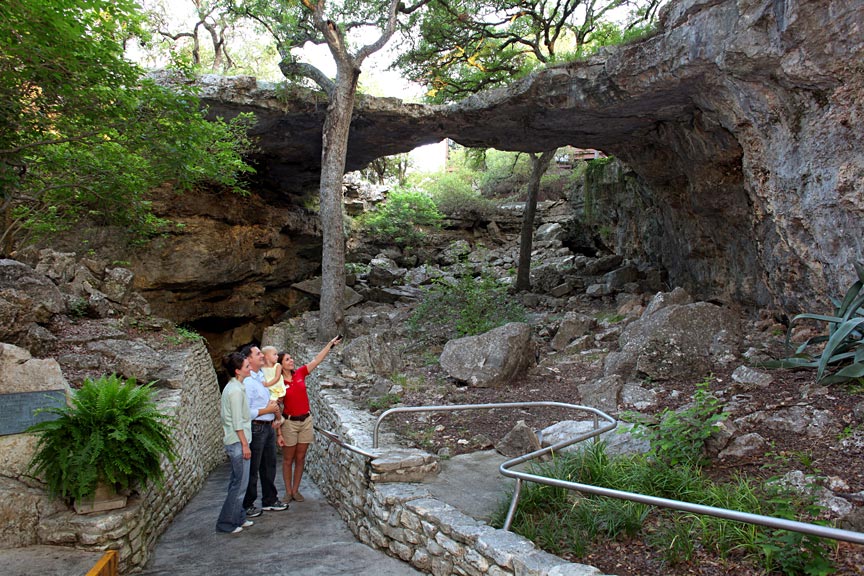 Okay, we walk down into the bowels of the cave, down, down, down, and you know the saying, what goes down must come up. We get to the starting line and within a minute or so the first runners start going off. They would wait 8 or 9 seconds for the runner to get up the cave a little and then start the next one. They had a timing mat that made a nice loud beep when you went over it so you felt pretty confident about your start time anyway.
The cave itself was really neat. It is privately owned so they aren't limited to a lot of things that a publicly owned park would be and it shows. Nice railings along the tunnels, well lit passageways and really neat paved trail going right through the middle of it all. The race director said you end up running almost 1/2 mile inside the cave and it seemed pretty close to that. Things went pretty smoothly through the cave, they had people marking the no running no passing zones and the only difficult thing was not stopping to take pictures. I did end up catching up to a little traffic jam on the final climb out of the cave though as a lady and her boyfriend must have overestimated their "one mile pace". Of course it was the last no passing zone, but it was a very steep incline and we were using the railing to help pull yourself up with your arms. If anything, catching the traffic jam made me not overdo it right at the start of the race.
This is another picture that I stole off the internet. This is the last no passing zone coming up and out of the cave. If you look really close you can see some tiny people toward the top of the picture. Very neat place.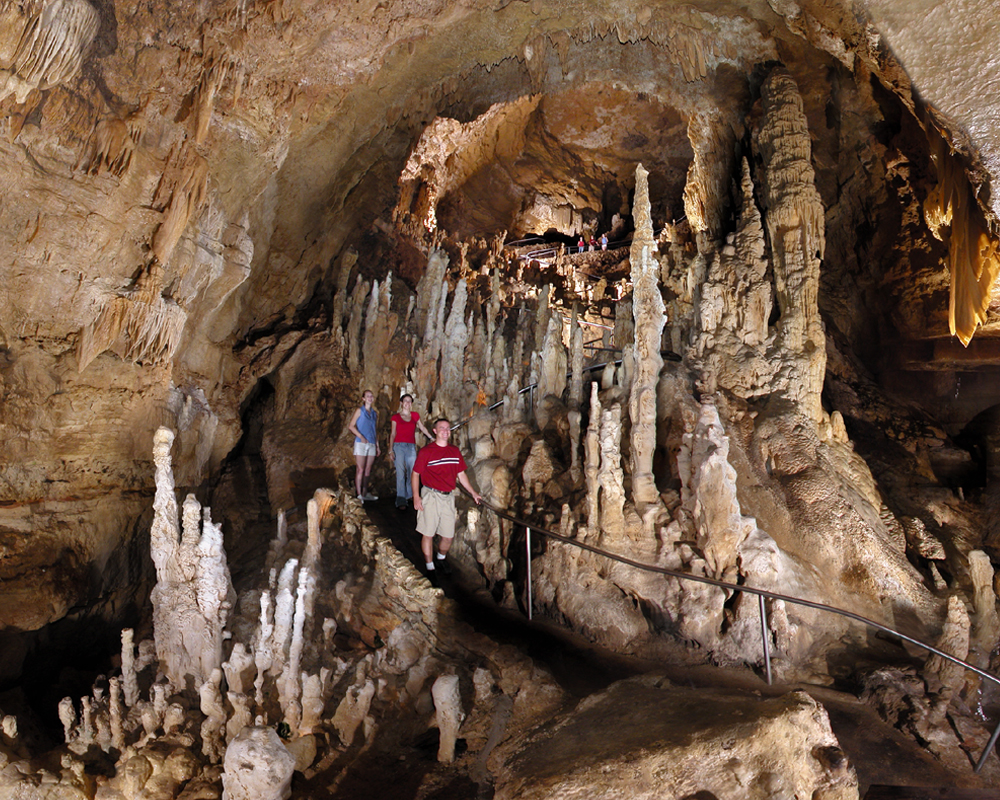 2 things happened when we exited the cave. First, everyone's GPS started beeping announcing that they had found signal, second, the shock of the mid 40 degree weather smacked you with a wake up call after running through the cave that is 70 degrees with 100% humidity year round.
I had started my runkeeper app when I went over the timing mat, but obviously with 100'+ of rock over my head in the cave, I didn't get a GPS signal. I knew my overall time would be right though and was hoping I could at least pay attention to my current pace and get some kind of feel for how fast I was running. Based on the light rain in the forecast I had left my headphones at home, but I had my phone set to give me my Time, Distance, Avg Pace and Split Pace every 1/4 mile and had the volume turned up all the way. About 1/4 mile after exiting the cave it called out my first numbers and of course everything was way off. Something like a 16:00 pace. We ran out the cave, along a caliche (gravel) road and then through the paved parking lot and out the paved main entry road to the cave. We were pretty clumped together still through here, and stayed that way for about the first mile. We left the pavement a little past the 1 mile mark and turned back onto a caliche road again and I was starting to think this was going to be pretty easy when they turned us off the caliche road straight onto basically rough pasture. There wasn't a trail anywhere to be found, they had just pulled a rotary cutter behind a tractor and basically mowed a patch through the grass and brush about 5 or 6 feet wide. There were broken branches about the size of my arm mixed in with rocks, cactus, etc. You could see where you were supposed to run based on the mowed path, and it was marked well, there just wasn't any kind of actual trail to run on.
Right about mile 2 we got back onto a caliche road and the going got easier again. By now we had all kind of gotten into a rhythm and were spaced out single file about 10 yards apart or so. We had a long uphill in here and gained about 200' of elevation from mile 2.5 to 3.5, it wasn't steep, just a long climb. At about mile 3.5 we left the caliche road for a 2 track jeep trail that was a nice change of pace, not as easy as the caliche road, but WAY easier than running across the pasture. Mile 4 had another excursion across the pasture and then back onto the caliche road, then back onto a jeep trail. The rain was staying away for the most part, but it was completely overcast and the wind was blowing 20+ mph the entire race. It always seemed that when we were down in the bottom we were running with the wind and when we were up on the top we were running against the wind. This area right here was right on an exposed ridge line and smack dab into the teeth of the wind and I might actually admit to have gotten a little chilled on this part of the race in my sleeveless shirt and shorts.
Somewhere in here a guy that had started behind me caught up to me and we struck up a broken conversation that would end up lasting the next 7 or 8 miles. We would tend to run side by side on the jeep trails or caliche roads and then get into single file on the single track trails and on the pasture crossings. I soon found out that he was in my age group and while I hadn't come out and declared it to anyone, I had looked at the previous race results and was thinking that I might actually have a shot at an age group award on this race. Without really knowing who was ahead of us I had no idea if he was going to be the one to pick up that 3rd place age group award instead of me or not. My phone was giving me my audio cues every 1/4 mile and he mentioned that based on my time vs. his stopwatch time, he had started 28 seconds after me. I then knew that if I was going to beat him I would need to beat him by 28 seconds. At that point in the race I really had no idea whether I would be able to maintain that level of effort or not so we just kept running.
The jeep trail continued for the most part with a few pasture excursions. We started to drop down into the bottom and at about mile 5.5 there was a really steep drop of about 150' in less than 1/4 mile. It was a little muddy in here as well and I could tell the mud was building up on my shoes a little. I made up a little ground on the descent and even more when I bypassed the 2nd aid station at the bottom of the hill. This stretch in here was probably the prettiest part of the course to me (other than inside the cave). Nice and flat along a river bottom, nice smooth ground out of the wind, some little ponds along the river, big oak trees, just really nice. We pretty much stuck to a 2 track jeep trail for then next couple miles along the bottom. One other interesting thing was that the entire run was on private property and there were deer blinds scattered throughout the course. Don't think I've ever seen that during a race before.
Somewhere along in here I pretty much gave up even listening to my audio cues on my phone. With all the tree cover and twists and turns, even the current mile split pace wasn't believable. The mile markers were nearly a full mile off from the distance per my phone GPS and getting worse. My phone was giving me current split paces as quick at 7:30 and as slow as 10:30. The guy who had caught up with me around mile 3 was still with me, we had passed a few folks and a couple people had passed us, but I really felt like I was keeping a pretty even effort and by mile 8 or so I felt that I could at least keep this up another 5 miles. I started listening more to the time that my phone was telling me than anything else. I did grab a cup of gatorade and a cup of water and drank those at the 8.5 mile aid station, and that was my only aid station stop the entire race
Around the 9 mile mark the inevitable happened... What goes down must go back up and a really ugly hill was staring us in the face. We had ended back on a caliche road again and could see it coming up ahead. We also joined in with the tail end of the 10K runners. The hill was a little over 220' climb in just over 1 mile, but the bulk of it was about a 150' climb in 1/2 mile. I walked it. Everyone walked it. I didn't see anyone run the entire way up it, but we were still a little spread out. With the 10K runners mixed in there was probably a dozen of us walking that hill at the same time though.
At the top of the hill, the half marathon route split back off the caliche road over a glorious pasture track again. Rough, rocky, no trail, just a mowed path through the brush and cactus. Then back to the caliche road, then off through the pasture, then on again then off again. I was so turned around by this time I had no idea which direction I was running at any given time, I just followed the trail. Somewhere along in here on the single track through the pasture I left the guy who had caught up with me. I doubted I could put 28 seconds between us, but I knew I had a little left to give and maybe if he slowed down some and I was able to pick it up I would have a chance.
I saw the mile 12 marker and we were back on the caliche road again to stay this time. I tried to pick it up some more, I knew I had something left and tried to pick it up anyway. My splits are so messed up I'm not sure if I really did pick it up that last bit or not, but I know I tried to. I passed a younger guy that had passed me earlier and moved on out, maybe I could put 28 seconds between me and the guy that had caught up to me. I see the 6 mile marker for the 10K so I know I have less than 1/4 mile to go and tried to pick it up again. We end up back in the paved parking lot zigging and zagging through parked cars. That last 1/4 mile seemed to be getting longer and longer and I still can't see the finish line. I turn one last corner and there it is. There are some 10K finishers in front of me and a guy in a black shirt that had been about 50 yards ahead of me pretty much the entire race. I try to pick it up to a sprint and might have gotten there, I'm running against time and have no idea how far behind me my competition is.
Cathy is there cheering for me after finishing her 5K and I cross the line after almost catching the guy in the black shirt. They had me a water bottle and my finishers medal (rock) and I am finished. I am finished! I bend over and spend the next few minutes trying to catch my breath. After a few minutes I can walk around and grab some of the finisher food and after a couple minutes of that I'm plenty cooled down with the temperatures continuing to fall even lower. Around the 11 mile mark one of that staff had called out that it was down to 37 degrees out and I believe them. The official weather for San Antonio had it at 45 degrees, 81% humidity and 23 mph wind out of the north, but we were about 20 miles northeast of downtown so I'm sure it was cooler at the race location. I found the spot to check your time by scanning your bib and my chip time was 1:47:02 and I was very surprised that it showed that I was 1st place for my age group! Cathy checked her's and it showed her as 2nd place for her age group so we were both very excited about that. I grabbed a long sleeve shirt out of the rent car and put it on over my other shirt, that's about all I had brought, I was still pretty cold with the mist and the wind so we decided we could wait for the official results inside. I found the guy that I had raced with for most of the time and asked him about his time and he hadn't checked it yet so I followed him over to check and it gave him an error when he tried to check it. He went to check with the race officials to see what was up and I headed back inside to get warm.
Here's my finish picture. You can see the guy that I ran with most of the time coming in behind me in the black with red sleeve jacket although I didn't know he was that close behind me at the time.
Here's a picture of Cathy when she crossed the line.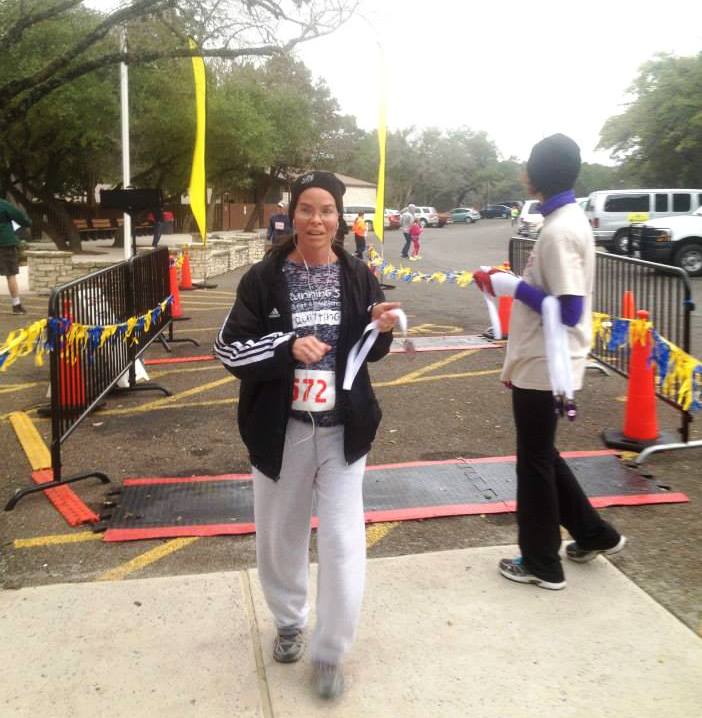 And a picture of us together with our medals.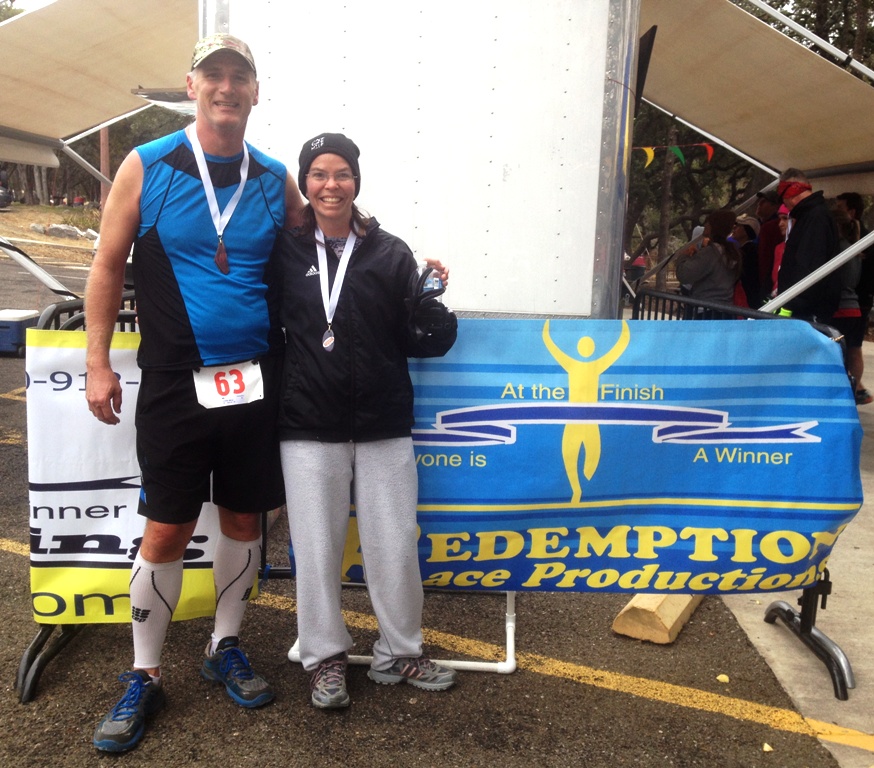 The 5K awards got started and it turned out that Cathy ended up getting 1st in her age group instead of 2nd. The woman that had finished in front of her for her age group won the overall masters female so that bumped Cathy up to 1st place in her age group. They give a neat little slice of agate for the age group awards and it was really neat. She finished with a 35:11 and 1st out of 16 in her age group. She was 12th female overall out of 81 and 33rd overall out of 125 total finishers.
Turned out the same thing happened to me when the Half Marathon awards rolled around. The guy that I had been running with for most of the race got his bib problem sorted out and ended up being 1st place male masters with a 1:46:42. I was only 21 seconds behind him with my 1:47:03 (they rounded my time up a second for the official results I guess). It was kind of odd because looking at my finish photo I can see him coming in behind me and evidently I beat him by 7 seconds from the time we were running together, but because of the time trial start and the fact that he started 28 seconds after me, he won the overall masters male by 21 seconds.
I ended up 1st out of 16 in my age group and 12th overall out of 149 finishers. 2 women beat me, one ended up taking second place with a 1:34:27. Pretty impressive time on that course. The first place male and overall winner was 1:32:45.
Here's a picture of one of our race shirts and our awards. I picked the blue age group award rock and her's is the green one.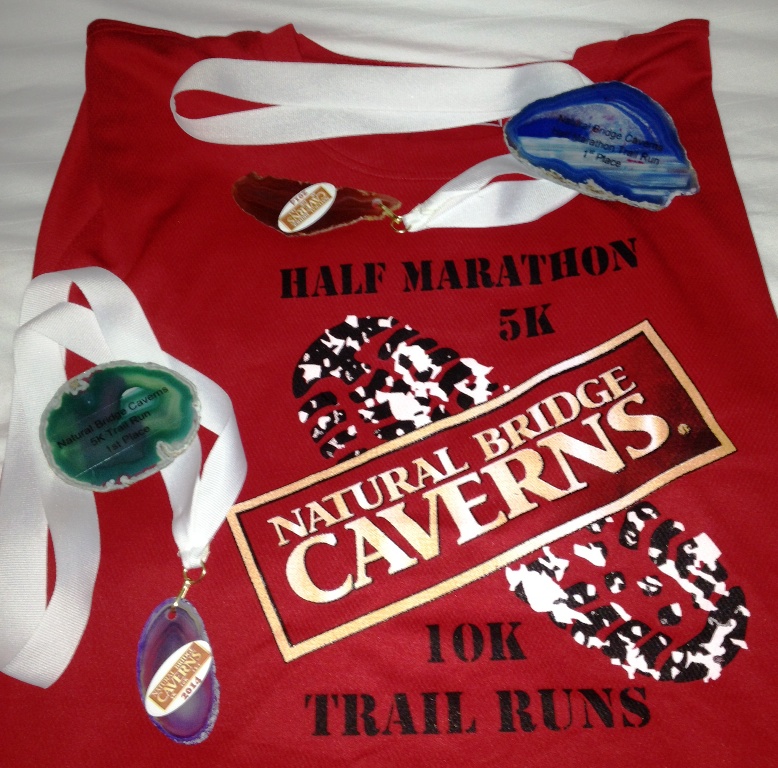 Okay, I knew that was going to be long, but it was even longer than I was expecting and I'm not done yet!
Final thoughts. In some ways I wished I wouldn't have run so hard. The scenery was very pretty and I wanted to stop and take pictures at least a dozen times along the way. I would have liked to take pictures of the "trails" across the pasture, some of the windy jeep trails through the trees, for sure I would have liked to take several pictures along the river bottom, pictures of the deer blinds to show people, of course pictures in the cave, etc., but instead I was too busy running. I wanted an age group award and I got it, but in many ways it would have been nicer to just run and relax along the way and take pictures. Of course I might have frozen to death dressed the way I was if I wasn't putting out 100% effort!
I did enjoy the trail race and the varied terrain and the scenery while I was running though. Not as much as I would have if I had run slower, but I did get to enjoy it. The rocks and stuff were pretty difficult, but there was probably only 2 or 3 miles of true pasture crossings, maybe 5 miles of jeep trails, 4 miles of caliche road and a mile of pavement counting the parking lot.
I was surprised to find my arms sore when I was finished with my run. Not 100% sure if it was just the cold weather or if it was from being tensed up running over the rocks and stuff and trying to keep my balance and not fall, or a combination of both, but I can still feel a couple spots in my right forearm and my left tricep where I was tensed up for so long it made me sore.
My feet are sore. I did a big no no and ran this race in a pair of trail shoes that my longest distance to date in them was only a 6 mile run and I only had about 20 miles total on them coming into this run, but I'm glad I wore them. They have good lugs on them, and a much firmer sole than most of my shoes and that helped a ton in the rougher stuff. They also didn't hold onto the mud very bad and as soon as we got back to anything hard packed what little mud there was would come off. I ended up with some cactus spines in my left foot and didn't even realize it until after the race. I think if I had worn my normal running shoes my feet would have been screaming at me after that first trip across the pasture.
I'm sure there are some other things that I'm missing, but I need to wrap this up and get to work. Overall it was a great experience for my first trail race and I'm looking forward to more. I'm about to sign up for my first 50K trail race this May and hopefully it ends up being as good of an experience as this was.
That's it for now. Nathan