Okay, so my blog has been dead for about 6 months. Sorry. I did work up a race report from my last half marathon to post on one of the running forums that I frequent though, so I thought I would share it here as well.
This was my 3rd half marathon that I've run.
The race was set to start at 8:00 AM and it was about a 25 minute drive from my house so I had my alarm set for 6:30. Woke up before the alarm, dressed in the clothes I had set out the night before, toasted a bagel and put honey and peanut butter on it, grabbed a banana and a diet coke and out the door.
Weather was good, 50 degrees at the start increasing to about 60 degrees at my anticipated finish time, wind not terrible at 12 mph out of the west.
Got there plenty early, parked, checked out the start/finish areas, did a 1.5 mile warmup at a nice slow jog and got to the starting line about 10 minutes before the start. My heart rate monitor wasn't working so I started fiddling with it and listening to the race director giving the last minute instructions.
After 10 minutes of fiddling, my HRM was still not working and then the gun goes off and the race is started. I get going at a nice easy pace, I recognized a couple other runners from the running club and it was nice to know they were about the same pace as me so I just kind of fell in with them at the start. We ran around a circle and as we come out of the circle, we are supposed to follow a service type road along the airport perimeter. There were a couple of bicycles leading the race and they went straight instead of making the turn. The first 20 or 30 runners are following them. A lady comes running over pointing to us saying that they are going the wrong way and that we need to follow the correct course so we make the turn. About 100' farther a guy comes running over screaming at us that we are going the wrong way and that we need to follow the rest of the runners who are following the bicycles so our little pack makes a quick turn and runs after the leaders.
I was pretty confident that we weren't following the correct course (I knew it wasn't the course map that was posted online), but they had mentioned getting the course certified and I hadn't ever actually looked at the certified course so thought maybe it was short so they had changed this part at the start. We end up running on the interstate access road and traffic isn't terrible, but not closed off by any means and we had been instructed to run on the right side of the road, but with traffic merging onto the interstate, we all ended up moving over to the left to keep from getting hit or playing chicken with large moving vehicles. About that time we looked over and noticed that a large group of runners is running parallel to us on the service type road along the airport perimeter that was the original course map online. At some point 20 or 30 runners behind us they had evidently quit having the runners follow the bicycles and run the correct route instead. Pretty disheartening to see a large group of runners that had started behind you and that were running slower than you already ahead of you because you took the long cut (opposite of short cut) at the direction of the race officials. We get to the next intersection and turn back toward the correct course. Several of the group that was behind us are now in front of us already and we still have about 100 yards to go to get to where they are turning. Probably 40 or 50 people who started behind us, and are running slower than us, are now in front of us because we ended up running .22 miles extra right there at the start. VERY frustrating!
Oh well, still a long way to go and now I can focus on the fact that my HRM isn't working so I can freak out about that a little. I felt pretty good about my pacing and was falling right in at a 8:10 pace which was my target and feeling pretty good so I figured I would be okay without the HRM. It isn't a complete crutch for me, but I do use it to reassure myself of where I'm at and how I'm doing during a race.
This stretch was with the wind and in retrospect I could have probably pushed it a little more here, but at the time I was trying to be conservative especially with my HRM on the blink. Splits were running right around 8:10, feeling relaxed, just focusing on running smooth and staying hydrated.
Just before mile 4 we turned back into the wind and it wasn't bad, but it took noticeably more effort for sure. I tried to just hang back and draft behind some other runners, but they kept slowing down and I was getting down close to an 8:45 pace and knew I needed to break out and go on my own so I did. The next 5 miles were mostly into the wind with a little jog south and then back north to break it up and I ended up averaging about an 8:25 pace through there. Took a GU before the mile 7 water stop just to practice for my marathon coming up. Seemed to work fine. With the extra bit at the start and this stretch into the wind, I pretty much realized I wasn't going to make my A goal of 1:46:59, I still felt like I was giving it the right amount of effort, but this is where having a working HRM would have really helped me zero in on the correct level of effort.
At mile 9 we turned back to the North and the forecast had predicted the wind shifting to the southwest, so I was expecting to get a little boost, but was surprised to find out that the wind was northwest instead and so I was still pushing into it. Another mile slower than I wanted at a 8:23 pace for mile 10. They had water stops every mile or so and I was drinking a cup and pouring a cup on me by this time. It was only 60 degrees, but being a big guy I tend to overheat pretty easy so I'm always battling that. I do need to remember that I don't have to drink the entire cup of water every time, by about mile 10 I was getting a little water logged and would have probably been better off only drinking about a 1/2 cup at each stop.
At mile 11 we turned back to the east and did get the wind behind us. 8:02 for mile 11 and 8:12 for mile 12, feeling pretty decent still, but not sure I have enough left to really push it in for the next 1.? miles. Make the last turn right just after the 12 mile mark and realize the wind has shifted even more from the north and for sure is a net headwind more than a crosswind. At the time I felt like I was pushing it in, but mile 13 shows a 8:27 avg pace so in fact I actually slowed down. At about mile 13.1 we turned one last time and did have the wind at our back going into the finish. Pretty discouraged at this point, not really even paying attention to time or anything, just working at getting to the finish line.
My wife and son were there to cheer me on at the finish and my wife took a couple pictures that I'll throw in here.
Here's me coming toward the finish. The flags are an good indicator of the wind here. Too bad this was only about the last 1/4 mile of the race in this direction!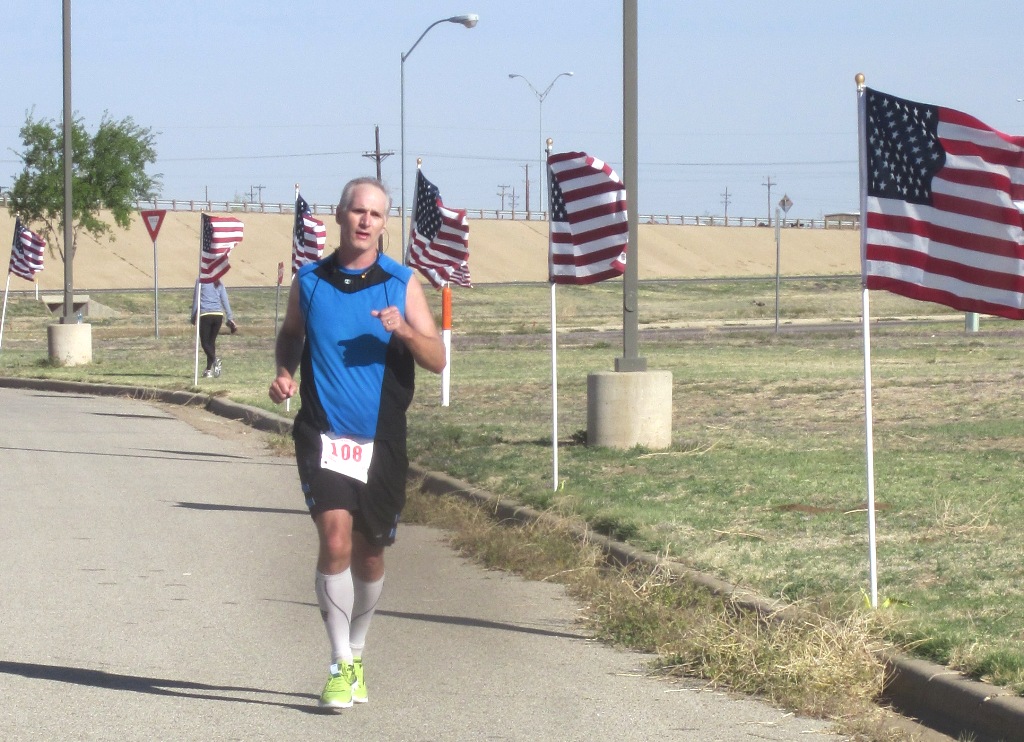 My son decided to run that last 1/4 mile or so with me and that was really neat. He was struggling toward the end though so I didn't sprint toward the finish line like I normally would and it ended up costing me that sub 1:50 mark this time. It was still worth it to run that last little bit with him.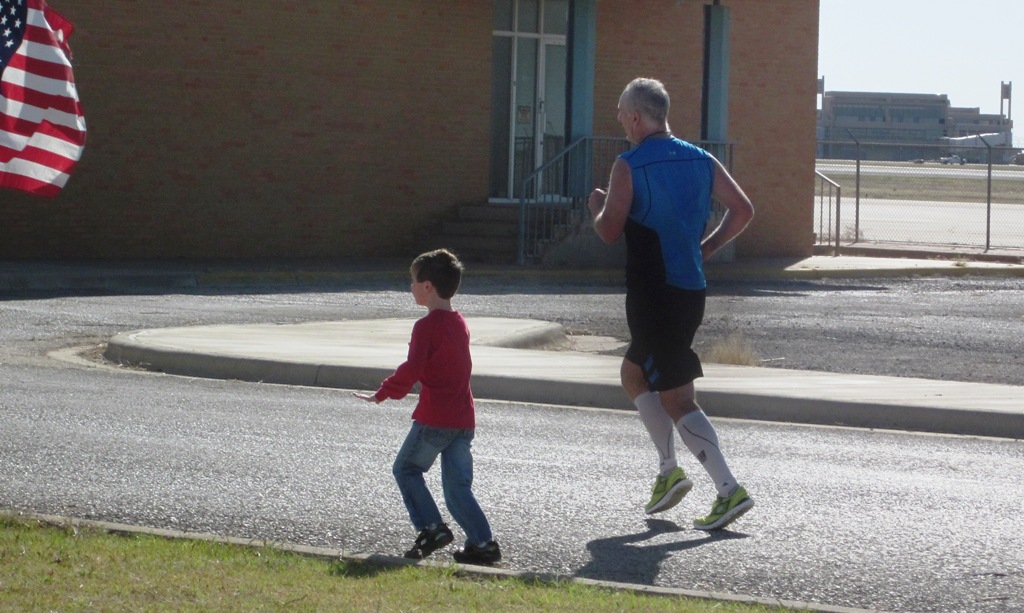 Here were are crossing the finish line. My son was running right beside me then moved off to the left because he didn't want to get in trouble for crossing the finish line with me. I told him I would have loved him to cross the finish line with me, but he didn't know it was okay at the time.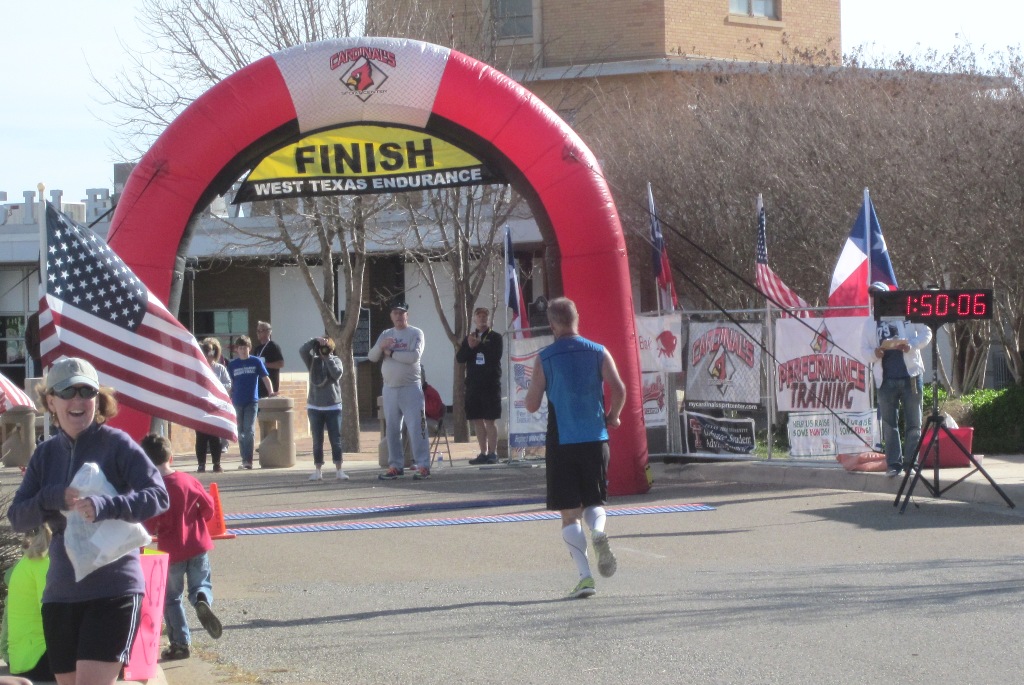 You can see him ducking out of the way on the left. Also not sure how I ended up with a 1:50:05 gun time looking at this picture I would think it would be closer to 1:50:10 or something like that, but with the fiasco that was the start, I'm taking every second they give me. I went back and added the time up that I spent running directly off course for the .22 miles at the start and it was 1:35, so I would have run a correct length half marathon in 1:48:29. Oh well, I guess this will make me keep training and put a goal for me to beat sometime this fall or next winter.
Here we are at the other side of the finish line. He's looking out for me showing me where the donuts and chocolate milk are. Something tells me that he was looking out for himself as well because I ended up sharing with him.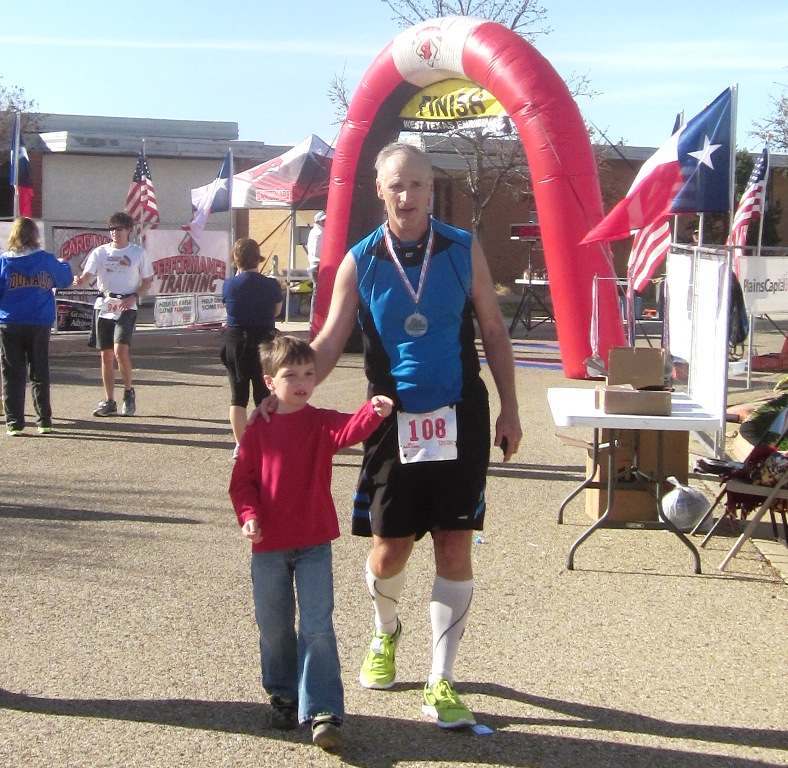 Back at the house after the race with my race shirt and finisher medal.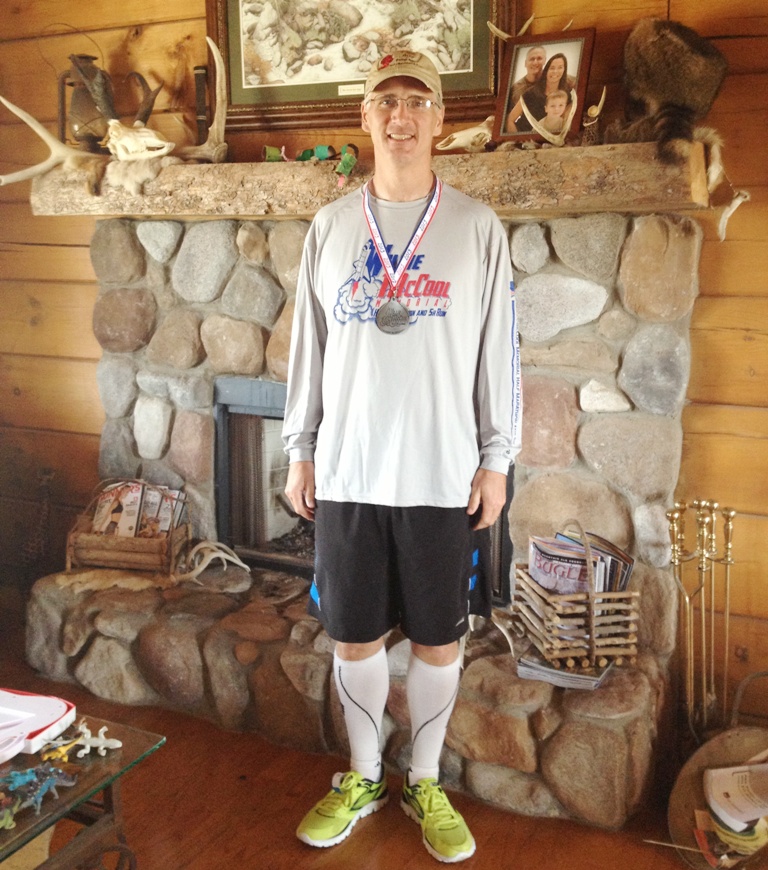 That's about it I guess. Still sticking with my plan on my marathon. Got in 6 miles on the treadmill last night and have 8 on the agenda today, so no break after the race Saturday. I'm actually feeling pretty good with no nagging aches or pains from the race.
Here's my splits. The first mile is wrong because I didn't get my GPS started for about 100 yards or so. I went back and corrected it to the right starting line, but that ended up showing the pace too fast. It was really right around an 8:00 pace on the first mile.
Splits (

GPS Interval

)
Type
Distance
Duration
Total Duration
Pace
Avg HR
Max HR
Notes
1
Manual
1 mi
7:28.07
7:28.07
7:29
2
Manual
1 mi
8:10.14
15:38.21
8:11
3
Manual
1 mi
8:06.62
23:44.83
8:07
4
Manual
1 mi
8:10.64
31:55.47
8:11
5
Manual
1 mi
8:27.58
40:23.05
8:28
6
Manual
1 mi
8:25.57
48:48.62
8:26
7
Manual
1 mi
8:23.25
57:11.87
8:24
8
Manual
1 mi
8:18.19
1:05:30.06
8:19
9
Manual
1 mi
8:23.79
1:13:53.85
8:24
10
Manual
1 mi
8:26.98
1:22:20.83
8:27
11
Manual
1 mi
8:01.13
1:30:21.96
8:02
12
Manual
1 mi
8:11.42
1:38:33.38
8:12
13
Manual
1 mi
8:26.08
1:46:59.46
8:27
14
Manual
0.37 mi
3:03.53
1:50:02.99
8:17
I'll try to start posting more regularly, but at least this brings this back from the dead for now.
Nathan