Well, I haven't posted in a while, but really haven't had much to post about.
Since hunting season has been over I've gotten back into my running routine and planning for this year's races and all that fun stuff.
I've been feeling like I have been getting stronger and faster recently after a while where I felt like I wasn't making much improvement so I have been looking for a fast marathon or half marathon to race to see if I was really getting faster or not.
I decided to sign up for the Cowtown Half Marathon since it has been around a long time, seems to be for a good charity and has a much easier course than the Buffalo Springs Wallow Half Marathon that is my current PR.
Anyway, the weather ended up being crazy and for a little while it looked like they may end up having to cancel the entire race. They had to cancel the 5K and 10K races that they normally hold on Saturday, but still made it sound like they were going to hold all of the Sunday races, so I went ahead and made the trip over to Fort Worth to see if I could put up a solid number for a half marathon PR.
The trip over to Fort Worth Saturday afternoon wasn't too bad, the temperatures were still below freezing, but there had been enough traffic that the interstate was not frozen anyway although there were more semi-trucks overturned and stuck in the snow and mud along the interstate than I can ever remember seeing before. It must have been a skating rink earlier that morning.
I got to the expo about an hour before it was supposed to close and right about the time I got there I got an email that said they ended up canceling the marathon and 50K on Sunday because they couldn't get the roads clear for them as some of those races use some walking paths along the Trinity River. But they were still planning on running the half marathon and everyone who had registered for the full marathon and 50K was welcome to run in the half marathon. I then proceeded to slip and slide across an ice covered parking lot to get to the expo. While I had been driving over I thought that this was a slam dunk that the race was going to be held, but sliding around in the parking lot and nearly falling a couple times made me start to worry. The lines were super long, but went quickly and I got my big and headed to the hotel.
I got checked in and there was a Dennys right next door to the hotel so I decided I would just walk over there and eat my pre-race meal instead of trying to get out somewhere. Once bacon double cheeseburger and spicy french fries later and I was hoping that wouldn't come back to haunt me as a poor choice midway through my race. I walked back over to the hotel and got my gear all ready to go and watched a little TV before going to bed about 10:00.
The race was delayed 1 hour for an 8:00 start time so I set my alarm for 6:00 and thought that would be plenty of time to get everything taken care of and get to the race the next morning. I actually slept pretty good and woke up just a little bit before the alarm went off and went ahead and got up and got going. I ate a banana and called it good.
The weather had been forecast to stay above freezing overnight and I checked and it was still just above freezing so that was good. I wasn't sure what to wear, but settled on shorts and a polyester blend t-shirt with a polyester ball cap. I had brought a polo shirt that I never wore anymore to use as a cover until race time as well.
Got to the race about 50 minutes before the start and actually just hung out in the car for a little while. It was a mist/light rain with fog and the wind wasn't bad, but a little stronger than they had forecast. I finally got out and walked to the expo building. The lines for the bathrooms were super long and even the lines for the porta pottys outside were long, but to be safe I made another pit stop and did manage to get a little out.
I generally warmup by running a mile or 1.5 miles easy before a race, but the sidewalks were still a little slippery although the roads seemed like they were going to be fine. Generally at these large races you have to get in your corral for the start about 30 minutes or so before the race start, but with about 15 minutes to go before the start they were pretty much empty. Finally people started to fill in and some folks started jogging back and forth in the corral so I followed suit and at least got in a half mile just going back and forth in the corral.
That was one thing that I was pretty happy with. They assign you to a corral based on your estimated finish time and there were 8 corrals. I was assigned to corral 1! Not sure why, but that seemed pretty cool to me.
The only thing that concerned me at the start was the announcer saying that there was still an icy spot around mile 8 that they were working to clear up and that there was some slush on the road for the first mile and a half. This really wasn't sounding like a good day to set a PR, but I was here so I was going to at least try.
Anyway, I did a little more dynamic stretching and took my polo shirt off and hung it on the railing and was ready to go. The corrals were filling up and the race was about to start.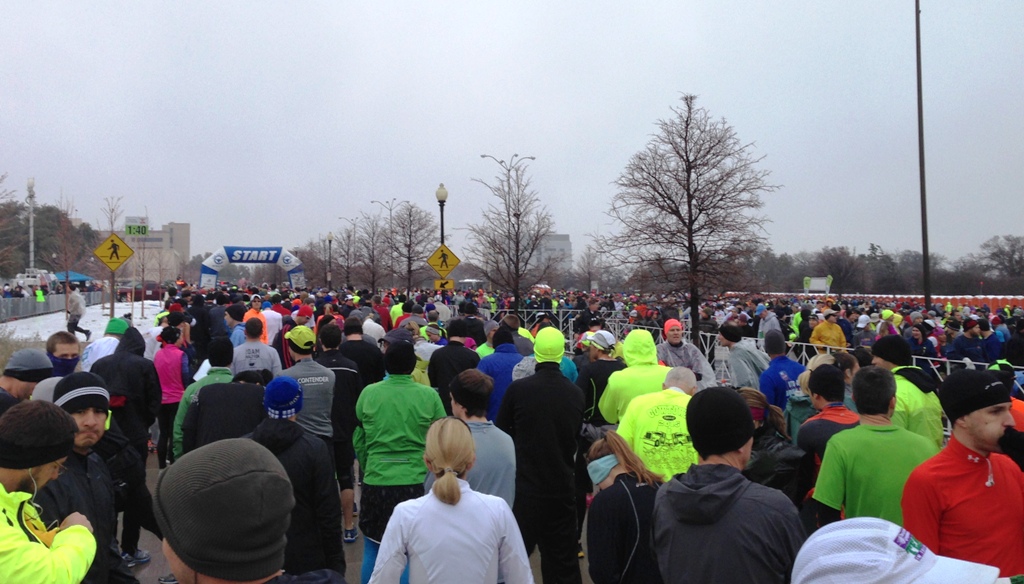 I went ahead an lined up behind the 1:40 pacer to make sure that I would start out slow. Sometimes I end up going out too fast on that first 1/4 mile or so and I didn't want to do that. I had originally planned on running with the 3:15 marathon pacer which would be a 7:26 pace, but since they weren't running the marathon, that option wasn't going to happen.
The race started and we started moving up toward the start line and I crossed the start line and started my GPS about 50 seconds after the gun went off. The road was a little wet, but seemed fine, at least until we turned the first corner. What had been a nice cement road that was 100% clear of slush and ice quickly became a road that was pretty much covered with slush and ice except for narrow tracks where car tires had been traveling. The crowd of runners were bunching up trying to stay in the tracks and everything slowed down. I found a Youtube video that someone took of the lead runners, I don't end up making it into the video before they turned it off, but you can get a good feel for what it was like running through this section. This spot was actually pretty clear, it got worse pretty quickly and was pretty much slush with narrow tracks for the next mile or so.
I had thought that getting behind the 1:40 pacer was a good idea, but I should have probably moved up in the corral a little farther. With everyone jammed into the middle of the road with the slush, we were starting out slower than I wanted to. The first few splits on my GPS had me running close to an 8:00 pace and I ended up having to move out onto the snow packed area of the road to get around slower runners in front of me.
My hands were pretty cold for the first mile and a half or so, there was kind of a mist in the air that wasn't helping and we were running into a slight north breeze. The roads were pretty slushy and I think I made a joke abut this being a steeplechase as we jumped over and went around some of the larger puddles in the road. That was another difference in this race from some of my previous half marathons, although there was a lot of runners, none of them were really interested in talking much. We all just settled into our own little worlds and kept chugging along. I ended up turning my music on my headphones and kept my focus on my feet and not falling down.
I really don't remember a whole lot about the race. Usually I OCD about the course and pretty much have it memorized before hand, but I really didn't have a clue on this other than some people don't like running on the cobblestones around the Stockyards and there are some rolling hills early and a decent hill on mile 10. With the fog I actually got turned around and couldn't even tell which direction I was running in most of the time.
The crowds were pretty sparse, a couple DJ's and a signing Elvis livened things up a little, but as bad as it was to be running on a day like this, it was worse to be standing around in it. I did give a couple kids a high five as I ran by, but other than that not much interaction.
There was a big downhill going into the Stockyards and then a big uphill leaving them and then we settled into a long straight section. I kept waiting for the big hill and the fog lifted a little and you could see it ahead for a mile or so before you got to it. They had an announcer at the top of the hill encouraging folks, but the promised spectators cheering you on weren't there due to the weather. I had been trading places with a short female runner until about this time and ended up losing her going up the hill. I didn't try to push it too hard up the hill, but I ended up passing several runners on that section.
After the big hill we made our way through downtown. My GPS got a bit mixed up in here and was giving me incorrect split times so I kind of just started ignoring it. My splits were faster than my goal pace and my GPS was behind on the mileage (e.g. I ran by the 12 mile mark and several hundred yards later my GPS said I was at 12 miles) so I knew I was doing good on my pace and that if I just held on that I would smoke my A goal of 1:38:01, but I ended up losing some concentration here and let up on the gas pedal a little bit. Mile 12 was mostly downhill and I should have logged another 7:15ish pace mile on it, but I only ran a 7:25 split and then on mile 13 I thought I was picking it up but evidently didn't as much as I though because it was the 3rd slowest mile of the entire race at 7:28.
I think it is probably impossible to finish a race and not second guess at least a few spots along the way though, and overall I felt that I did about as good as possible, especially considering the weather and road conditions.
Here are the splits:
Splits (

GPS Interval

)
Type
Distance
Duration
Total Duration
Pace
Avg HR
Max HR
Notes
1
Manual
1 mi
7:41.

5

7:41.

5

7:42
150
164
First mile - Slowest mile of the race
2
Manual
1 mi
7:18.

19

14:59.

69

7:19
165
169
A little faster than I intended on this mile.
3
Manual
1 mi
7:26.

7

22:26.

39

7:27
168
171
Locking into my target pace
4
Manual
1 mi
7:19.

64

29:46.

03

7:20
168
173
Feeling good, rocking along
5
Manual
1 mi
7:25.

51

37:11.

54

7:26
169
177
Slight uphill in here
6
Manual
1 mi
7:15.

69

44:27.

23

7:16
171
175
Didn't realize I was picking it up here
7
Manual
1 mi
7:10.

79

51:38.

02

7:11
171
175
Fastest mile of the race
8
Manual
1 mi
7:16.

96

58:54.

98

7:17
172
176
Continuing to rock along, feeling good
9
Manual
1 mi
7:14.

57

1:06:09.

55

7:15
172
174
For sure was in a rhythm here
10
Manual
1 mi
7:36.

31

1:13:45.

86

7:37
175
179
Largest hill of the race
11
Manual
1 mi
7:13.

99

1:20:59.

85

7:14
174
178
Running through downtown
12
Manual
1 mi
7:24.

62

1:28:24.

47

7:25
173
179
Downhill here - should have run faster
13
Manual
1 mi
7:27.

32

1:35:51.

79

7:28
176
182
Thought I was really picking it up here
14
Manual
0.15 mi
1:34.

2

1:37:25.

99

10:28
180
185
The finish was around a couple corners and I did finally pick it up closer to a sprint the last 100 yards or so, but so did pretty much everyone around me and I don't think I passed anyone there at the end.
It took me a while to get my GPS stopped so the time above is wrong, especially the last split, but I had it set to email me my splits and according to my email notifications it had my time as a 1:36:44 which was better than I thought possible going into this. Later, the official results shaved another 2 seconds off that to get me to a 1:36;42 which is a 7:23 average pace!
Here's the official results with 5K split times.
Gun Time
Chip Time
Bib
First Name
Last Name
City
State
Division
1:37:37
1:36:42
12298
Nathan


Slaton
TX
HALF MARATHON M 45-49
| | | | | | | |
| --- | --- | --- | --- | --- | --- | --- |
| Class | Overall | Gen | Total | Tot | Tot | Tot |
| Position | Place | Place | Pace | Div | Gend | AG |
| 28 | 269 | 225 | 7:23/M | 6566 | 3137 | 417 |
5K
5K
5K
10K
10K
10K
Rank
Pace
Rank
Pace
341
23:25
7:33/M
301
22:49
7:21/M
15K
15K
15K
20K
20K
20K
Rank
Pace
Rank
Pace
280
22:54
7:23/M
272
23:03
7:26/M
13.1
13.1
13.1
Rank
Pace
269
4:33
6:29/M
A little messy on the columns, but hopefully you can figure it out.
I pushed it pretty hard at the finish and was a little out of it when I crossed the line. They wrapped me up in a space blanket and it actually felt good as I started to get chilled as soon as I stopped running.
I was probably a little dehydrated as I didn't ever take any water or powerade during the entire race. With the cool temperature I just didn't feel like I really needed any and I have run that far on several training runs without drinking anything with no issues. I though about getting a drink at about the 9 mile mark and again at the 11 mile mark, but thought I might end up choking on it or something and decided it wasn't worth the risk.
Anyway I went through the finish chute and got my medal and somehow thought I was supposed to give my finisher's shirt coupon to the guy giving out the medals but he wouldn't take the coupon so I just kept it. It didn't even dawn on me that a coupon for a shirt wasn't the same as a finisher's medal!
Here'a a picture that I asked a guy to take after I crossed the finish line.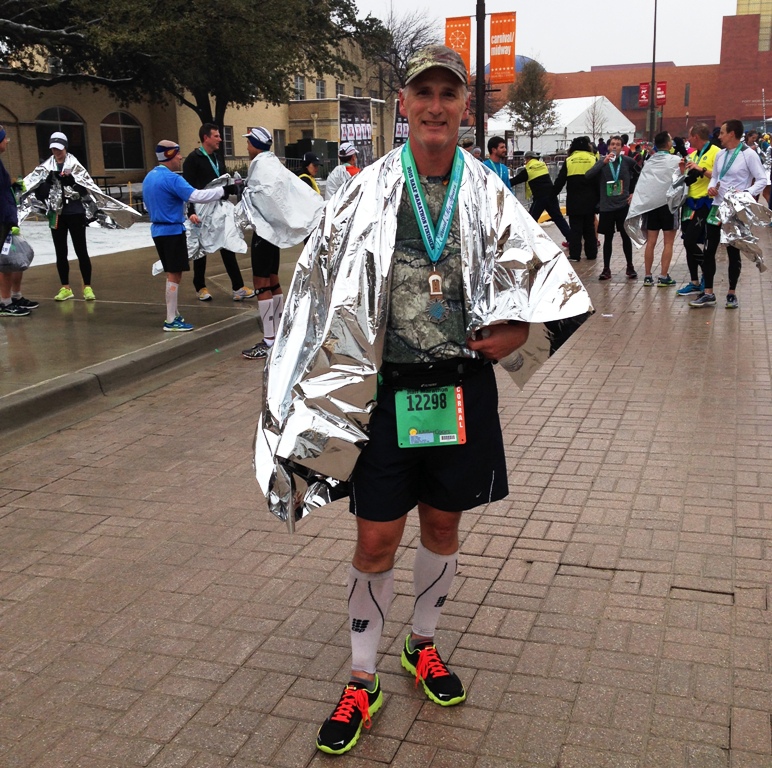 I went through the post race line and grabbed some food and decided that I would just head back to the hotel and take a hot shower and relax for a while. Of course as soon as I got to the hotel I realized that a finishers medal and a finishers shirt were not the same thing and I had to decide whether to go back and try to get my finishers shirt or not. I had finished early enough that I decided I had time to take and shower and then go back before the cut-off time and hopefully they would have some shirts left.
A quick shower and I packed up and headed back to the expo to pick up my shirt. I got pretty excited when I saw the shirts were a nice bright color as I've started to wear those bright colored shirts when running in town to hopefully be seen by people driving better and have less of a chance of getting run over, but when I got to the pick up area I realized that they were just a cotton t-shirt and not a technical running shirt, but it was still probably worth the drive back over to pick it up. Just wish I had realized what I was doing when I finished the race instead of having to go back and get it later.
Here's the shirt with my bib and the medal. The medal is pretty cool. It's supposed to be a spur and actually spins around on the leather strap.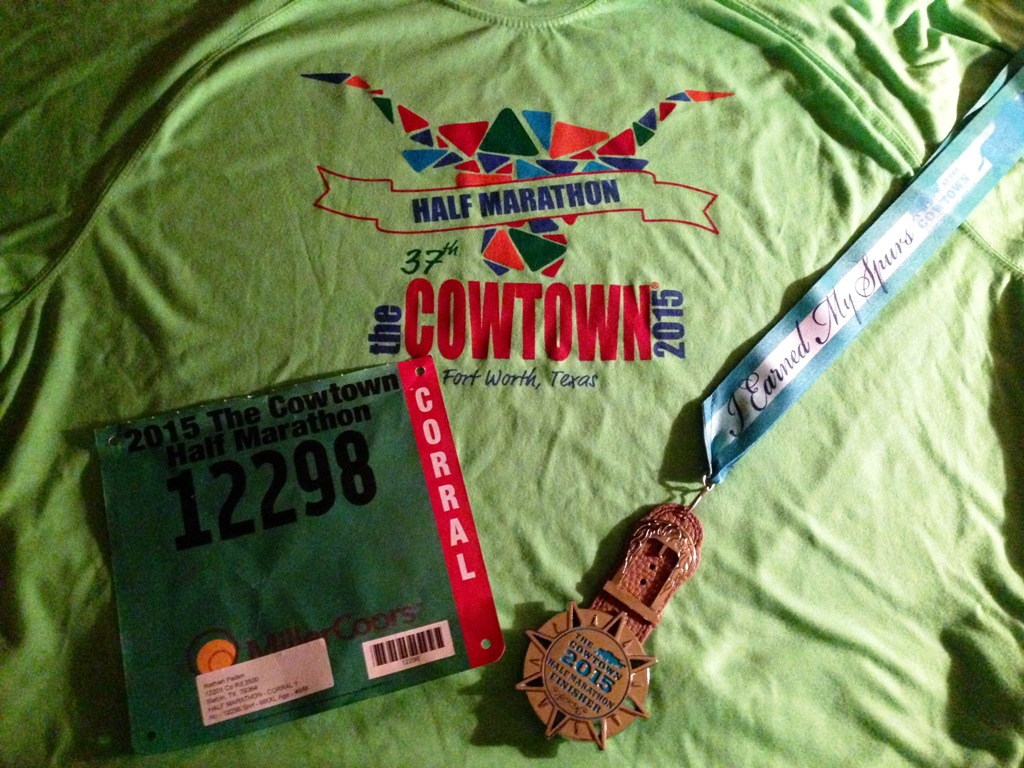 I didn't take any pictures during the race, but doing a google image search I found a few that were taken by the Fort Worth Star Telegram that do a good job showing what the conditions were like. Not sure what the official requirements are for sharing images for non commercial purposes are, but hopefully giving them credit above will be sufficient. If not I can take them down. I'm not in any of these pictures, but you can see that there was plenty of snow and slush around that needed to be avoided. The roads really were clear and I never did slip, but you had to be watching the ground ahead of you to make sure of your footing.
This was heading back to the finish, probably around mile 12.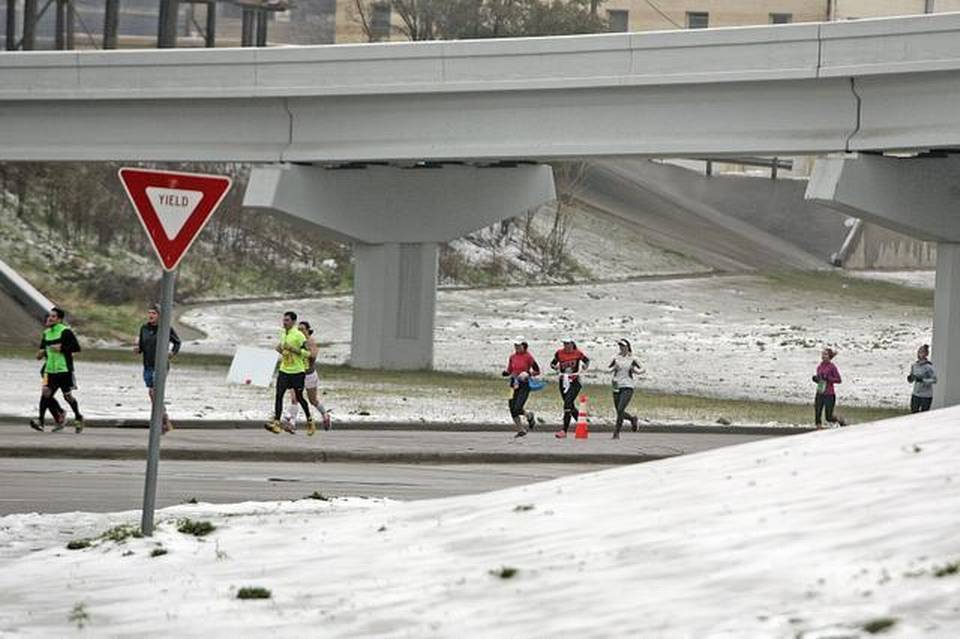 This was in the same general area, a decent downhill that I should have run faster on. Again, I'm not in the picture but you get an idea of the race conditions.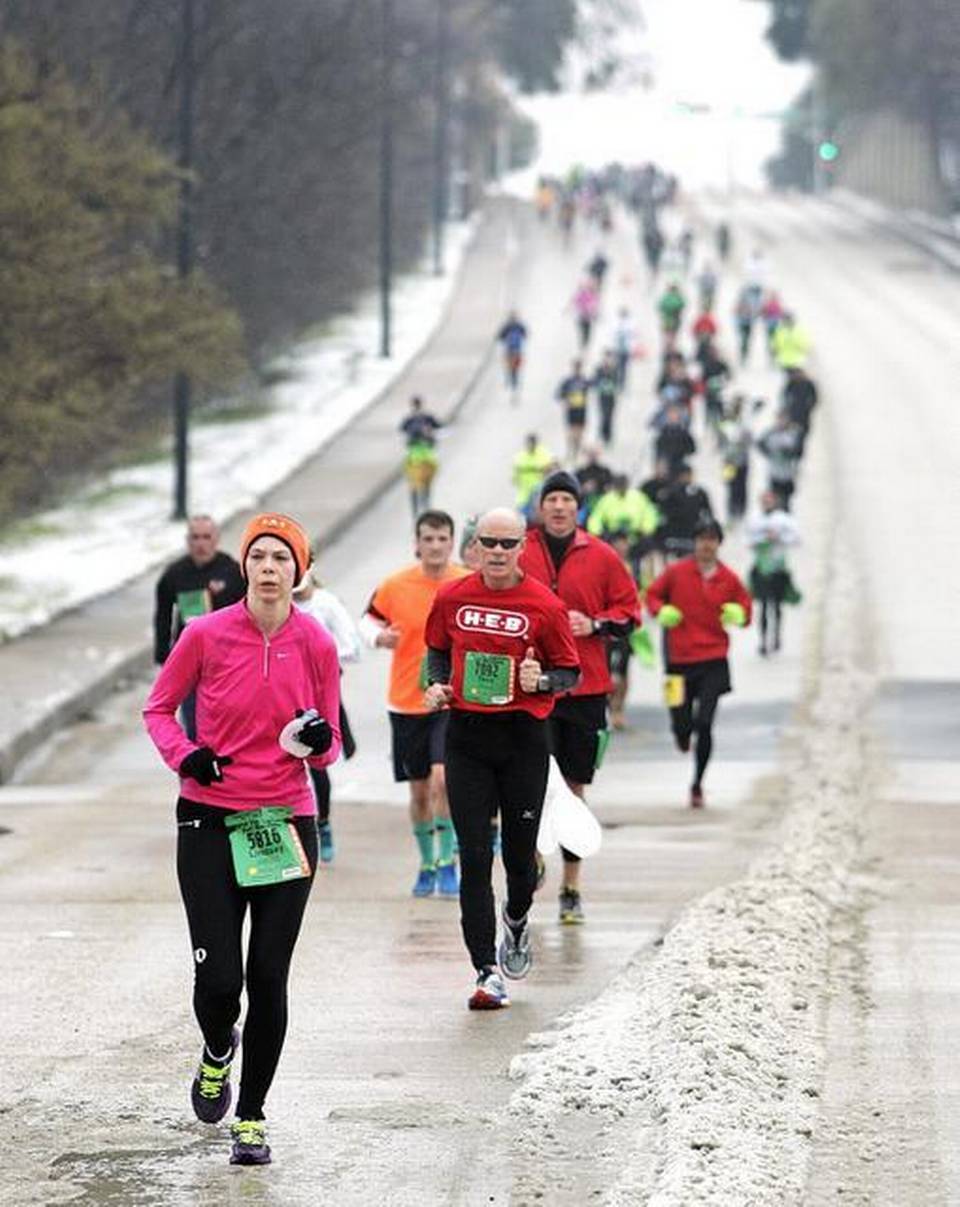 Well that's about it. Very happy to post up what I consider to be a very solid time. That 1:36:42 put me in at 269th place overall out of 6,566 runners so that is in the top 5%.
I think that about wraps this up.
Nathan